PARADIGM TO AQUIRE
THIRD COAST ARTISTS AGENCY
A HIGHLY RESPECTED CHRISTIAN MUSIC AGENCY
BASED IN NASHVILLE
Deal Will Greatly Enhance Paradigm's Nashville Presence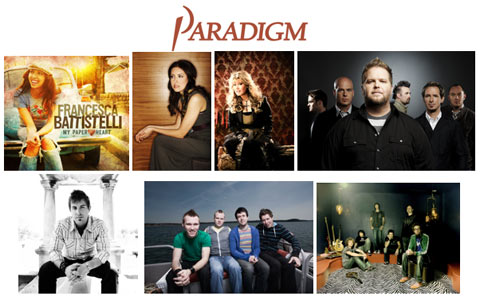 NEWS SOURCE: The M Collective
April 22, 2009
Nashville, TN (April 22, 2009)—Paradigm has once again aggressively expanded it's footprint in the music industry by announcing an agreement to acquire the Nashville based Christian Music Agency, Third Coast Artists Agency. The announcement was jointly made today by Sam Gores, Chairman of Paradigm and Mike Snider President of Third Coast Artists Agency (TCAA).
TCAA has some of the hottest acts in Christian Music including MercyMe, Jeremy Camp, David Crowder* Band, Hawk Nelson, Natalie Grant and Red.
The announcement was made to coincide with the Gospel Music Awards ceremony which takes place in Nashville tomorrow, Thursday, April 23. TCAA has numerous artists nominated for Dove Awards at the Gospel Music Awards including; MercyMe, Natalie Grant, Jeremy Camp, David Crowder* Band, Hawk Nelson, Red, Pillar, Meredith Andrews, Bebo Norman, Francesca Battistelli, Fee, Addison Road, Fee, Tenth Avenue North, Grits and Chris Sligh. Additionally, TCAA represents five of the seven nominated acts in the very important Best New Artist category including Addison Road, Chris Sligh, Fee, Francesca Battistelli and Tenth Avenue North. Tenth Avenue North and Francesca Battistelli are two of the hottest and best selling new artists of 2009.
The combination of both established artists and the hottest up and coming artists made TCAA a great fit for Paradigm. For TCAA, their artists will now be able to tap into the resources of a major agency across all platforms in all mediums, while still being primarily represented by their established agents in Nashville.
TCAA BACKGROUND
Mike Snider and Lisa Jones purchased Vanguard Entertainment in October 1999 and changed the name to Third Coast Artist Agency. In 9 years TCAA quickly grew from 3 employees and 12 artists to 10 employees and over 30 artists. The client roster went from smaller college acts to major headlining acts including The David Crowder* Band, MercyMe and Jeremy Camp, the later two are currently wrapping up their spring arena tour dates. Hot up and coming bands like Hawk Nelson, Red and Natalie Grant are working their way up and will quickly become the next in line for arena dates.
The college market has always been a mainstay of the TCAA's philosophy and currently the agency is busy booking acts including Shane and Shane, Bebo Norman, Derek Webb, Charlie Hall and Shawn McDonald at college campuses across the country.
ABOUT PARADIGM
Paradigm has offices in Beverly Hills, New York, Nashville and Monterey and is considered one of the major full service agencies in the entertainment business. Their roster of music artists include such superstar acts as Coldplay—Toby Keith--Dave Matthews Band—The Black Eyed Peas--Aerosmith--The Dead—Phish--Robert Plant and Alison Krause—Fergie--Jason Mraz--Avril Lavigne--The Fray—and Smashing Pumpkins—among many others.
In motion pictures and television, Paradigm represents some of the top actors in the business including Academy Award winners Philip Seymour Hoffman--Adrien Brody and Chris Cooper as well as Katherine Heigl-- Michael Cera--Laurence Fishburne--Gary Oldman--Andy Garcia-- Damon Wayans--Teri Hatcher--Neil Patrick Harris--Michael Clarke Duncan and Hayden Christensen and musical crossover stars Fergie-- Will.I.Am and Snoop Dogg.
SAID SAM GORES, Chairman of Paradigm
"By acquiring Third Coast Artists we continue to affirm our commitment to Nashville, which is such a unique and important music market with some of the most talented artists, musicians and songwriters in the world across all music genres. Like Monterey Peninsula Artists and Little Big Man Booking before them, what impresses me about Mike Snider and his team at Third Coast Artists is the meticulous approach they take in building their clients careers with a work ethic and integrity that distinguishes them among the best in our business. Adding them to our team will immediately and significantly strengthen not only our Nashville operation, but our entire Music Division. They will have all the freedom they need to grow their business as well as utilize Paradigm's vast resources to enhance their clients' careers across many different platforms."
SAID MIKE SNIDER, President and co-owner, TCAA
"When we started Third Coast Artists ten years ago we wanted to build a Christian music roster and agency that looked and felt a lot like Monterey Peninsula Artists and used them as a guide. Ironically, 10 years later, Fred Bohlander who founded Monterey Peninsula Artists with Dan Weiner, which was also acquired by Paradigm, was the one who initially approached us about joining them at Paradigm. Fred and Dan sold their gem of an agency to Sam Gores and Paradigm five years ago and they could not be happier with how things turned out and that gave us all the comfort we needed to make this deal."
"I look at this sale as an investment in the future for our roster. Being part of Paradigm gives us the ammunition to provide the full array of services only a major agency can provide, services we have always wanted to provide for our clients and now can."
SAID LISA SNIDER, co-owner, TCAA
"Mike and I have always shared a philosophy to surround ourselves with the best agents and support team, and the best artists would be sure to follow. Joining with the quality team at Paradigm creates an amazing opportunity to expand our philosophy to it's fullest potential. We are so blessed to have been a part of something as special as Third Coast, and now believe the future will be beyond our dreams."
SAID GREG JANESE, co-head, Paradigm's Nashville office.
"In Nashville and around the country, Third Coast Artists is recognized as an industry leader within the Christian Music world. Their tremendous client base and overall excellence will be a substantial addition to us as we continue to grow Paradigm's Nashville presence across all music genres."
###