DOVE AWARDS CELEBRATES 40th YEAR WITH GOOD NEWS FOR STEVEN CURTIS CHAPMAN, BRANDON HEATH AND CASTING CROWNS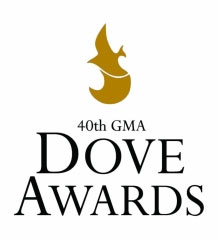 NEWS SOURCE: Spinhouse PR
April 23, 2009
NASHVILLE, Tenn. – April 24, 2009 -- Dove Awards were handed out last night in Nashville for the 40th Annual GMA Dove Awards with singer/songwriter Brandon Heath and worship band Casting Crowns earning the most awards. Steven Curtis Chapman was honored as Artist of the Year and Tenth Avenue North received the Dove Award for New Artist which for the first time were voted on by both the gospel/Christian music industry and its fans.
Televised live on the Gospel Music Channel and held at the Grand Ole Opry House in Nashville, this year's Dove Awards spread the love around like never before, with more than 75 artists, songwriters and producers receiving Dove trophies, including 38 out of the 43 award categories featuring different recipients. A complete list of all winners is avaiable at http://www.gospelmusic.org/newsmedia/pressRoom_detail.aspx?iid=40927&tid=33.
"Many different artists have obviously connected with people in powerful ways this year as evidenced by last night's impressive number of singular honorees. The list of Dove Award recipients is very culturally and musically diverse, yet together they reveal the unique ability for gospel and Christian music to reach across cultural, religious and generational divides to encourage and inspire with the good news of the Gospel," said John W. Styll, president of the Gospel Music Association (GMA) and executive producer of the Dove Awards.
This year's Dove Awards show offered a powerful picture of Christian/gospel music's appreciation for the past and embrace of the future. While the voting process welcomed new technologies that allowed fans to vote for the first time, southern gospel music icon Bill Gaither earned a Dove Award in 2009, 40 years after he received his first at the inaugural Dove Awards ceremony in 1969. The show's musical performances continued the theme with moving tributes to legendary artists and performances from several New Artist of the Year nominees.
The Dove Award recipients in the overall categories were:
Artist of the Year – Steven Curtis Chapman
New Artist of the Year – Tenth Avenue North
Song of the Year -- "Give Me Your Eyes"; songwriters Brandon Heath and Jason Ingram
Songwriter of the Year -- Steven Curtis Chapman
Male Vocalist of the Year -- Brandon Heath
Female Vocalist of the Year -- Natalie Grant
Group of the Year -- Casting Crowns
For the first time, fans became stakeholders in the Dove Awards with an opportunity to vote for the winner of Artist of the Year and New Artist of the Year, in a campaign coordinated by the Gospel Music Channel. In an unprecedented engagement of fans, 250,000 votes were cast on gospelmusicchannel.com and via text messaging, including through the first part of the live broadcast.
Steven Curtis Chapman, who is used to making Dove Awards history, having already received more Dove Awards than any other artist in the awards show's 40 years, was named Artist of the Year for the seventh time and Songwriter of the Year for the 10th time. His 2008-09 worldwide hit "Cinderella" not only brought Chapman praise for his always consummate songwriting skills, it became a worldwide hit and sentimental favorite because of the tragic loss he and his family experienced nearly a year ago, when five-year-old Maria, one of three Chinese-adopted daughters who inspired "Cinderella," died in an accident. Introduced by current tour mate Michael W. Smith and joined on stage in his band by sons Will Franklin and Caleb, Chapman's performance of "Cinderella" brought the audience to tears and to their feet.
Tenth Avenue North became the first New Artist of the Year to be voted on by fans. The melodic pop-rock group, currently on tour with MercyMe, became the best selling new Christian artist of 2008 with its debut CD Over and Underneath.
Heath, who was 2008's New Artist of the Year, proved he was no rookie by following that up with three Dove Awards this year, including Male Vocalist of the Year. Heath also received the prestigious Song of the Year Dove Award for co-writing with Jason Ingram "Give Me Your Eyes," from Heath's sophomore CD What If We. "Give Me Your Eyes," which spent 14 weeks at No.1 on Billboard's Hot Christian AC radio chart, and 27 weeks at No. 1 on iTunes Christian Song Chart also earned a trophy for Pop/Contemporary Recorded Song of the Year. Heath offered a compelling performance of "Give Me Your Eyes" during the live awards broadcast, that included a step/stomp dance routine that mirrored Heath's music video of the song.
Casting Crowns also earned three Dove Awards, including the band's fifth consecutive Group of the Year trophy, winning this award every year it has been nominated. The band also took home honors for Christmas Album of the Year for its 2008 chart-topping, first Christmas project Peace On Earth and a Dove Award for Short Form Music Video for the powerful music video "Slow Fade," which appears on the band's recent RIAA Gold-certified The Altar and The Door Live DVD/CD.
Grant extends her reign as Female Vocalist of the Year with her fourth consecutive trophy in that category. Only Sandi Patty has been honored as Female vocalist more times. Notably, Grant was not the only one in her family to be honored last night. Husband and songwriter/producer Bernie Herms was named Producer of the Year (He produced Grant's Relentless with Shaun Shankel). Grant shared the stage with hip/hop artist Group 1 Crew for an electric R&B-flavored performance of "Make it Matter."
Among the Dove Awards other multiple artist winners were Smith (for Inspirational Recorded Song and Praise & Worship Album), Blind Boys of Alabama (Traditional Gospel Recorded Song and Album), Chris Tomlin (for his contributions to Contemporary Gospel Recorded Song and Special Event Album), Jeff & Sherri Easter and Lewis Family (Bluegrass Recorded Song and Bluegrass Album).
Last night's broadcast of the Dove Awards featured nothing but unforgettable performances, starting with urban gospel duo Mary Mary's high energy rendition of their Dove Award-winning Contemporary Gospel Recorded Song "Get Up." and culminating with GMA Gospel Music Hall of Fame members and double Dove Award winners the Blind Boys of Alabama bringing a New Orleans jazz sound to "Free At Last," with special guest Mac Powell (of Third Day) who then introduced a final celebration of the 40th anniversary of "Oh Happy Day," the 18th century hymn which became gospel music's first mainstream crossover hit when it was arranged and recorded by the Edwin Hawkins Singers. Hawkins himself was joined onstage by a group of artists including Donnie McClurkin and American Idol finalists Mandisa and Phil Stacey and Gospel Dream Winner Melinda Watts.
Several other performances paid tribute to the past including an emotional multi-artist segment honoring Southern Gospel legend and GMA Gospel Music Hall of Famer Dottie Rambo who died in a tragic bus accident last year. Kim Hopper, Brian Free & Assurance, Ronnie Milsap, Jason Crabb and Rambo's daughter and family members Reba Rambo McGuire, Dony McGuire and Destiny McGuire and a reunion appearance of Larnelle Harris and Sandi Patty performed some of Rambo's biggest hits. MercyMe, reflecting on a decade in Christian music, performed a stirring arrangement of their huge mainstream hit single from 2001 "I Can Only Imagine." The band was introduced by Miss California U.S.A. Carrie Prejean.
Also appearing in performances or presenting on the Dove Awards were Kierra Sheard, Third Day, Chris Tomlin, Francesca Battistelli, Jonathan Nelson, Remedy Drive, Chris Sligh, Tenth Avenue North, Billy Baldwin, Chynna Vaughan, Sinbad, A.J. Styles, Fireflight, Kirk Franklin, Richie McDonald, Ronnie Milsap, Tye Tribbett, Jeremy Camp, Martha Munizzi, Mary Alessi, DecembeRadio, GRITS, Jason Crabb, Kim Hopper, The Afters, Canton Jones, Isaiah D. Thomas, Marty Magehee, Mark Harris, Wayne Watson, Rebecca St. James and Lisa Kimmey.
The Dove Awards pre-telecast featured the presentation of the majority of the evening's 43 Dove Awards as well as performances by Meredith Andrews, Downhere and J.R.
Also this evening, Jars of Clay was also recognized with Gospel Music Channel's annual Gospel Angels Award, which recognizes recording artists who activate and inspire others to positively change the lives of people. Jars of Clay was honored for its Blood:Water Mission project, a non-profit organization that empowers communities to work together against the HIV/AIDS and water crisis founded by the members of the multi-platinum, Grammy Award-winning band. To find out more about the Blood:Water Mission, please visit http://www.bloodwatermission.com/.
Steve Gilreath, producer of the GMA Dove Awards for the 8th consecutive year, was joined by producer Rob Cowlyn to put on the live stage show and broadcast.
This is the second straight year that Gospel Music Channel has televised the Dove Awards live. In addition to the exclusive live broadcast, Gospel Music Channel will present back-to-back encore broadcasts that night and additional re-airings following. Gospel Music Channel's rapid growth has made it the fastest growing network in television for the past two years and GMC is now available in more than 45 million homes in all major markets on the major cable systems as well as on DIRECTV on Channel 338.
The American Bible Society (http://www.americanbible.org) is the official charity for the 40th Annual GMA Dove Awards.
40th Annual GMA Dove Award Recipients
ARTIST OF THE YEAR
Steven Curtis Chapman
NEW ARTIST OF THE YEAR
Tenth Avenue North
SONGWRITER OF THE YEAR
Steven Curtis Chapman
SONG OF THE YEAR song title
; writer; publisher
(award to the writer and publisher)
"Give Me Your Eyes"
; Brandon Heath, Jason Ingram; Sitka 6 Music/Essential Music Publishing (ASCAP), Peertunes Ltd. (SESAC), Grange Hill Music (SESAC), Windsor Way (SESAC)
MALE VOCALIST OF THE YEAR
Brandon Heath
FEMALE VOCALIST OF THE YEAR
Natalie Grant
GROUP OF THE YEAR
Casting Crowns
PRODUCER OF THE YEAR
Bernie Herms
RAP/HIP HOP RECORDED SONG
(
song
;
album
; artist; writer; label)
"
Do Yo Thang
";
The Yearbook
; KJ-52; Jonah Sorrentino; BEC Recordings/Uprok
ROCK RECORDED SONG
"
Lost
";
End Of Silence
; Red; Jasen Rauch, Rob Graves, Chad Cates; Essential Records
ROCK/CONTEMPORARY RECORDED SONG
"
Washed By The Water
";
The Heat
; NEEDTOBREATHE; Bear Rinehart, Bo Rinehart; Atlantic Records
POP/CONTEMPORARY RECORDED SONG
"
Give Me Your Eyes
";
What If We
; Brandon Heath; Brandon Heath, Jason Ingram; Reunion Records
INSPIRATIONAL RECORDED SONG
"
A New Hallelujah
";
A New Hallelujah
; Michael W. Smith; Michael W. Smith, Debbie Smith, Paul Baloche; Reunion Records
SOUTHERN GOSPEL RECORDED SONG
"
Reason Enough
";
Dream On
; Ernie Haase & Signature Sound; Ernie Haase, Joel Lindsey, Wayne Haun; Gaither Music Group
BLUEGRASS RECORDED SONG
"
They're Holding Up The Ladder
";
We Are Family
; Jeff & Sheri Easter, Lewis Family, Easter Brothers; Russell Easter, James Easter, Edd Easter; Daywind Records
COUNTRY RECORDED SONG
"
I Wish
";
How You Live Deluxe Edition
; Point of Grace; Cindy Morgan, Phil Madeira; Word Records
URBAN RECORDED SONG
"
Get Up
";
The Sound
; Mary Mary; Warryn Campbell, Erica Campbell, Tina Campbell, Eric Dawkins; Columbia Records, Integrity Music
TRADITIONAL GOSPEL RECORDED SONG
"
Free At Last
";
Down In New Orleans
; The Blind Boys of Alabama; Traditional; Time Life Music
CONTEMPORARY GOSPEL RECORDED SONG
"
How Great Is Our God
";
How Great Is Our God
; LaRue Howard; Chris Tomlin, Jesse Reeves, Ed Cash; EMI Gospel
WORSHIP SONG
"
Mighty To Save
"; Ben Fielding, Reuben Morgan; Hillsong Publishing
RAP/HIP HOP ALBUM
(
album
; artist; producer; label)
Ordinary Dreamers
; Group 1 Crew; Andy Anderson, Christopher Stevens, Sam Mizell; Fervent Records
ROCK ALBUM
Satisfied
; DecembeRadio; Scotty Wilbanks; Slanted Records
ROCK/CONTEMPORARY ALBUM
Never Going Back To OK
; The Afters; Dan Muckala; INO Records
POP/CONTEMPORARY ALBUM
Revelation
; Third Day; Howard Benson; Essential Records
INSPIRATIONAL ALBUM
Great God Who Saves
; Laura Story; Ed Cash; INO Records
SOUTHERN GOSPEL ALBUM
Lovin' Life
; Ernie Gaither Vocal Band; Bill Gaither, Guy Penrod, Marshall Hall, Wes Hampton; Gaither Music Group
BLUEGRASS ALBUM
We Are Family
; Ricky Jeff & Sheri Easter, Lewis Family, Easter Brothers; Jeff Easter, Sheri Easter; Daywind Records
COUNTRY ALBUM
Around the Bend
; Randy Travis; Kyle Lehning; Warner Bros. Records
URBAN ALBUM
The Fight of My Life
; Kirk Franklin; Kirk Franklin; Zomba Gospel
TRADITIONAL GOSPEL ALBUM
Down In New Orleans
; The Blind Boys of Alabama; Chris Goldsmith; Time Life Music, Integrity Music
CONTEMPORARY GOSPEL ALBUM
Change the World
; Martha Munizzi; Aaron Lindsey, Israel Houghton; Martha Munizzi Music
INSTRUMENTAL ALBUM
Chronicles of Narnia: Prince Caspian
; Various; Harry Gregson-Williams; Walt Disney Records
CHILDREN'S MUSIC ALBUM
Absolute Modern Worship for Kids 4
; Various; Chance Scoggins; Fervent Records
SPANISH LANGUAGE ALBUM
Rescatame
; Seventh Day Slumber; Alejandro Allen, Susana Allen; BEC Recordings
SPECIAL EVENT ALBUM
Passion: God of This City
; Chris Tomlin, Charlie Hall, David Crowder*Band, Christy Nockels, Kristian Stanfill, Fee, Matt Redman; Nathan Nockels; Sparrow Records, sixsteps Records
CHRISTMAS ALBUM
Peace on Earth
; Casting Crowns; Mark Hall, Mark A. Miller; Beach Street
PRAISE & WORSHIP ALBUM
A New Hallelujah
; Michael W. Smith; Michael W. Smith; Reunion Records
MUSICAL
(
title
; creator; publisher (award given to creator)
God Bless the USA
; Sue C. Smith, Joel Lindsey, Russell Mauldin; Brentwood-Benson Music Publishing
YOUTH/CHILDREN'S MUSICAL
An Island Christmas
; Wayne Haun, Shelby Haun, Joel Lindsey; Lillenas Publishing Company
CHORAL COLLECTION
I'll Say Yes
; Carol Cymbala; Brooklyn Tabernacle Music
RECORDED MUSIC PACKAGING
(
product
; art director; graphic artist; illustrator/photographer; label)
Revelation
(Third Day); Tim Parker, Becka Blackburn; Tim Parker; David McClister, RW Sims; Essential Records
SHORT FORM MUSIC VIDEO
(
title
; artist; director; producer; production company; label)
"
Slow Fade
"; Casting Crowns; John Erwin, Andy Erwin; Erwin Brothers Motion Pictures; Beach Street
LONG FORM MUSIC VIDEO
(
title
; artist; director; producer; production company; label)
Alive and Transported
; TobyMac; Eric Welch; Tameron Hedge, Dan Pitts; Broken Poet Productions; ForeFront Records
About GMA:
Founded in 1964, the Gospel Music Association serves as the face and voice for the gospel/Christian music community and is dedicated to exposing, promoting and celebrating the gospel through music of all styles including pop, rock, praise & worship, black gospel, R&B, hip hop, southern gospel, country, and more. The GMA community consists of more than 3,000 members including agents, artists, church leaders, managers, promoters, radio personnel, record company executives, retailers, songwriters and other industry visionaries. The GMA produces the GMA Dove Awards, GMA Music Week and the GMA Academy. For more information, please visit http://www.gospelmusic.org/.
# # #
Pictured below are Dove Award Artist of the Year Steven Curtis Chapman and his wife Mary Beth.
More photos from the Dove Awards will be available on April 24, 2009.