DecembeRadio Takes Home Second Consecutive DOVE Award for Rock Album of the Year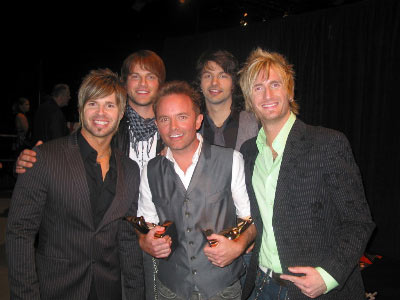 NEWS SOURCE: Nashville Publicity
April 24, 2009
(NASHVILLE, Tennessee) – Slanted Records' rock band DecembeRadio took home the Rock Album of the Year honors at last night's 40th Annual GMA DOVE Awards, which were aired LIVE on the Gospel Music Channel. The band, which also received Rock Album of the Year honors for its self-titled debut in 2007, continued its run of successes with this year's win for their acclaimed sophomore release, Satisfied, produced by Scotty Wilbanks.
"This is special to us because we are surrounded by so many incredible artists with these nominations," stated lead singer and bass player Josh Reedy. "It's amazing to be nominated in categories as strong as what we were in, so to actually win is unbelievable. It's something that will never get old, and it inspires us to be one better at what we do musically and bolder in what we believe in our faith."
"This is DecembeRadio's second DOVE Award for Rock Album of the Year, and they have only recorded two albums," stated Barry Jennings, president of Slanted Records, "so it is truly exciting to see this young, hard-working band making an impact in an industry full of talent. Everyone at Slanted is thrilled to work with a group that offers a unique, fresh approach to the positive message we represent."
DecembeRadio (Josh Reedy, Brian Bunn, Eric Miker, Boone Daughdrill and newly added keyboard player Josh Lovelace) received two other nominations for this year's awards including Rock Recorded Song of the Year ("Better Man") and Rock/Contemporary Recorded Song of the Year ("Find You Waiting"). The band was on hand as presenters on this year's show, giving away the trophy for Female Vocalist of the Year as part of the telecast.
Following the awards, the Virginia-based band rejoins the Newsboys tonight on the Join the Tribe tour, which has taken them to over 30 cities throughout the United States and into Canada. Their new single "Look for Me," continues to gain momentum; and their new concept video for the single is airing nationwide.
Satisfied is distributed by Word Entertainment/WEA with digital distribution by EMI CMG Distribution. For further information regarding the band and Satisfied, please visit www.slantedrecords.com/pr/decemberadio.
ABOUT DECEMBERADIO:
Classic rock band DECEMBERADIO has been making headlines since its debut initially hit the shelves, garnering a GRAMMY® nomination, a DOVE Award win for Rock Album of the Year, three DOVE nominations and several hits including Song of the Year nominee "Drifter." Whether opening a NASCAR event with songs like "Dangerous" or filling the AC radio airwaves with hit ballads such as "Find You Waiting," the foursome has brought a defining sound and energy to the world of Christian music.
###
And for more info on DecembeRadio, visit the JFH Artists Database.