LUKE BENWARD CONFIRMED AS SPECIAL GUEST PERFORMER ON ISHINE LIVE'S SPRING TOUR IN MIDST OF "HANNAH MONTANA: THE MOVIE" RED CARPET MADNESS
The Teen Actor Released Let Your Love Out Apr. 21st With Buzz From Popstar, Girls Life, Christianity Today and More

NEWS SOURCE: The M Collective
April 28, 2009
"Hannah Montana: The Movie" Red Carpet, Apr. 28, 2009… Pleasing anxious fans across the country, 14 year old Luke Benward released Let Your Love Out Apr. 21st and confirmed on the red carpet that he will in fact be performing during the 13-city iShine Live tour this spring.
"Singing has always been a passion of mine. I thought it would be fun to do a record that would inspire my generation to love, give and be themselves," says Benward. "The spring iShine Live tour is going to be a blast. I hope lots of fans come out to see the show."
At the recent movie premiere, the teen star spoke with People online, local Access Hollywood & Entertainment Tonight correspondents and more.
The release of Benward's first album comes with attention from Popstar, Girl's Life, Christianity Today and more. Popstar magazine online recently gave fans an at home look at what Benward has been up to with his new record releasing. To see the video, please visit http://www.popstaronline.com/blog/entry/luke-benward-lets-his-love-out/. The teen star also snagged praise from Christianity Today, Girls Life online and more.
"A confident vocal delivery that's further amplified by shimmering production…"
- Christianity Today
"… A perfect album for all to enjoy."
- Girls Life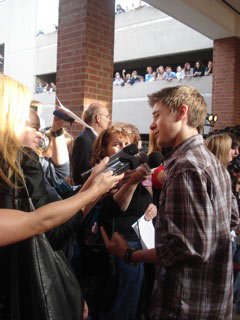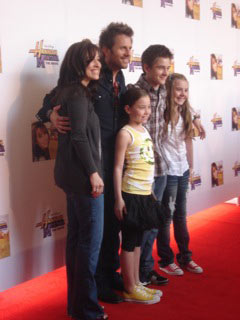 After a successful debut in the fall of 2008, teen star Benward will be performing on some of the iShine Live tour dates alongside young artists Mission Six, The Rubyz, Jasmine, Jamie-Grace and Logan Charles. With stops everywhere from Texas to Michigan, the tour will kick-off Apr. 30th. A complete list of tour dates are listed below as well as found on www.iShineLive.com.
Produced by "In Crowd," Shaun Shankel and Aaron Benward, the fourth generation singer's first album contains ten tracks, five songs sung by Benward and the remaining 5 instrumental versions for fans to sing along with. Besides the title track, other songs include "Get Up," "Shine" and "Everyday Hero," a song Benward dedicated to his mother. Teens, tweens and parents will also be familiar with the song "Higher Love," Benward's version of Steve Winwood's classic mega-hit.
Featured among the likes of Keith Urban, Taylor Swift and more, Benward was featured on iTunes ® "What's Hot" music page the week of March 2nd where fans were already weighing in on Let Your Love Out. The hit daytime television show Rachael Ray also selected Benward's title track "Let Your Love Out" for their sweeps starting March 16th.
At first glance, Luke Benward appears like any other typical 14 year old boy. Born and raised in Franklin, Tennessee, he spends his free time like most kids his age: playing football, video games and going to school. Lucky for the entertainment scene, Benward is not just your average 8th grader. Part of an entertainment family, Luke has acted since the age of five and now continues the legacy of music handed down from his father (music duo Aaron*Jeoffrey as well country duo Blue County). Luke's first break was at the age of five, appearing along side Mel Gibson in "We Were Soldiers." Since then Benward has appeared in films such as "Because of Winn-Dixie," "How to Eat Fried Worms," Disney Channel's "Minutemen" and "Mostly Ghostly," "Dog Gone" and more. In 2009, Luke will take his acting career to new heights by playing a teen with autism in "Dear John", a film based on a Nicholas Sparks novel.
# # #
www.lukebenwardonline.com
2009 spring iShine Live tour dates
* all dates subject to change, please visit www.iShineLive.com for most updated tour information.
04/30/09- Lubbock, TX
05/02/09- Sherman, TX
05/03/09 – Little Rock, AR
05/07/09 - Midland, MI
05/09/09 - Baltimore, MD
05/14/09- Evansville, IN
05/15/09 - Battle Creek, MI
05/16/09 - Flint, MI
05/28/09-Marion, IL
05/29/09- Paducah, KY
05/3/09- Little Rock, AR
05/30/09- Olathe, KS
05/31/09- Cincinnati, OH