"HELL OR HIGH WATER" AS CITIES BURN
DEBUTS ON BILLBOARD 200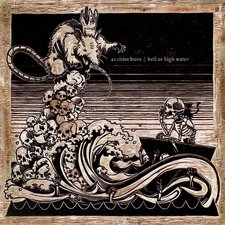 NEWS SOURCE: Overture Media
April 29, 2009
SEATTLE, WA...April 29, 2009...Releasing their third studio project on Tooth & Nail Records last week, As Cities Burn broke into the Billboard Top 200 at No. 109 selling more than 4600 units of Hell or High Water. This Louisiana-based released Hell or High Water to a huge wave of acclaimed reviews:
"There's some gems here that will likely get stuck in your head, and the album is a must own piece of art. You will be challenged and you will be better off for it." --Indievisionmusic.com
"As Cities Burn's third outing is an easy album to admire if not a candidate for love at first sight." --Soul-Audio.com
"'Hell or High Water' is As Cities Burn's best album. There isn't a dull moment, whether it's the album pulling you in with its dreamy dynamics or kicking you in the gluteus maximus." --Absolutepunk.net
"In all truth, As Cities Burn have been a jewel on Tooth and Nail's roster since signing. After three full length albums, there hasn't been a bit of bad material yet. I strongly suggest this album, though it's only April, it is musically one of the best records I have heard this year." --Bringonmixedreviews.com
About "Hell or High Water"
The album takes the sound of Come Now Sleep (2007) and strips it even barer instrumentally, while breathing a more reflective take on the music scene ("Errand Rum") love ("Lady Blue") and an artistically blunt finale that passes the torch to other great acts ("Capover"). With "Hell or High Water," the band has created a brutally honest and musically progressive record that wise listeners will surely be discussing about amongst themselves.
About As Cities Burn
As Cities Burn hails from Louisiana and includes Cody Bonnette (vocals, guitar), Christopher Lott (guitar), Colin Kimble (bass) and Aaron Lunsford -(drums). The band formed in 2002 and have released two projects on Solid State/ Tooth & Nail Records: "Son, I Loved You at Your Darkest" (2005); "Come Now, Sleep" (2007). The band has toured with Emery, So Long Forgotten and Jonezetta. You can find them online at www.myspace.com/ascitiesburn
For more info on As Cities Burn, visit the JFH Artists Database.


[2020]
Jan. | Feb. | March | April | May | June | July | Aug. | Sept. | Oct. | Nov. | Dec.
[2019]
Jan. | Feb. | March | April | May | June | July | Aug. | Sept. | Oct. | Nov. | Dec.
[2001 - 2018]
Visit our complete MUSIC NEWS ARCHIVE