SKILLET'S COMATOSE TOUR RAKES IN SOLD OUT AND CAPACITY CROWDS WHILE BAND GARNERS TWO BMI SONGWRITING AWARDS
Highly Anticipated New Album "Awake" to Release This August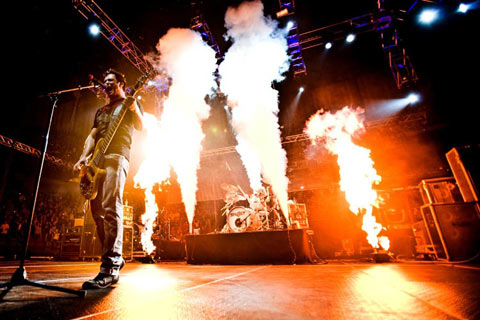 NEWS SOURCE: The M Collective
May 4, 2009
** After just 14 shows, two time GRAMMY ® nominated rock band Skillet has already received an overwhelming response to their headlining "COMATOSE" tour featuring label mates Disciple and Decyfer Down. Playing for over 26,000 people so far on the tour, nearly 70% of the shows have been sold out or capacity-filled crowds, in cities including Pittsburgh, Indianapolis, Nashville, and Oklahoma City. The 30+ city tour launched on Apr. 2 and will continue through May 24. Tour dates are listed below. For the most updated tour information visit www.skillet.com.
"SKILLET consistently sells tickets and we have multiple sold out shows with them every tour. However, one of the most rewarding aspects is that we consistently have concert goers tell us they beat an addiction or healed a relationship because of the songs and the live concert experience". Nothing like have a huge show and making a positive impact on the world at the same time! – Dan Fife, Awakening Events.
Last year, the first leg of the Comatose tour saw 60% of the shows sell out placing the tour in Pollstar's Concert Pulse Top 50 Tours .
** Continuing to reel in recognition for their most recent and best-selling album of their career "Comatose," band front man John Cooper with Brian Howes collected two BMI awards for "The Last Night" and "The Older I Get." U.S. performing rights organization BMI saluted the writers and publishers of the past year's most performed songs on Christian radio and television during the annual BMI Christian Music Awards in Nashville on Apr. 18, 2009.
** Skillet spent the last few months in Los Angeles recording their highly anticipated next studio project titled "Awake" with producer Howard Benson (Three Days Grace, Daughtry, Flyleaf, P.O.D.) due out this August.
Following the spring tour Skillet will be headlining several summer festivals, including Creation, Agape, Red Letter Rock, Ichthus, Alive, Atlantafest, Summerfest, Sonshine, Hills Alive, Soulfest, Kingdom Bound, Newsong and Disney's Night of Joy, all leading up to the new release.
2008 GMA Artist of the Year nominee Skillet's explosive 2006 Grammy®-nominated release, "Comatose" followed 2004's "Collide," which launched the group into the public eye and garnered the band their first prestigious Grammy® nomination. A critical fave, "Comatose" has become their best-selling project to date, nearly GOLD certified with more than double the sales of "Collide" in half the time. In follow up to packed out headline club shows, a tour with FlyLeaf, and summer festivals, Skillet spent the fall of 2007 opening for mainstream rockers Breaking Benjamin and Three Days Grace.
In the process of becoming one of the hardest working, most rocking, and broadly appealing acts of its generation, radio welcomed "Comatose" with open arms, as the first single, "Rebirthing" spent seven-weeks at No.1 on Christian Rock, while their five follow up singles all rose to No. 1 as well. Their single for the title track received a 2008 GMA Dove Award for "Rock Song of the Year," as well, and at the end of 2007 the band was named the No. 2 top artist on both CHR and ROCK radio year –end lists, and in 2008 named R&R's Top CHR Artist of the Year for 2008. Since R&R began publishing Christian radio charts, Skillet has garnered more #1 songs from one recording (COMATOSE/Ardent/Atlantic/INO) than any other artist in the industry, with their 6 consecutive radio hits. 60% of their 2008 "COMATOSE" tour shows were sold out, placing the tour in Pollstar's Concert Pulse Top 50 Tours.
# # #
COMATOSE SPRING 2009 TOUR DATES (for updated tour info go to http://www.skillet.com):
5/7 – Amarillo, TX
5/8 – Wichita Falls, TX
5/9 – Orange (Beaumont), TX
5/10 – Monroe, LA
5/12 – Hattiesburg, MS
5/14 – Montgomery, AL
5/15 – Longwood (Orlando), FL
5/16 – Fayetteville, NC
5/17 – Winston Salem, NC
5/20 – Vero Beach, FL
5/21 – Summerville (Charleston), SC
5/22 – Jacksonville, FL
5/23 – Myrtle Beach, SC
5/24 – Greenville, SC

*All dates subject to change
For more info on Skillet, visit the JFH Artists Database.


[2022]
Jan. | Feb. | March | April | May | June | July | Aug. | Sept. | Oct. | Nov. | Dec.
[2021]
Jan. | Feb. | March | April | May | June | July | Aug. | Sept. | Oct. | Nov. | Dec.
[2001 - 2022]
Visit our complete MUSIC NEWS ARCHIVE