REVOLUTION ART WELCOMES FIRST NEW SIGNING JADE HARRELL
Harrell to Release Debut Label Project, Class Reject, June 2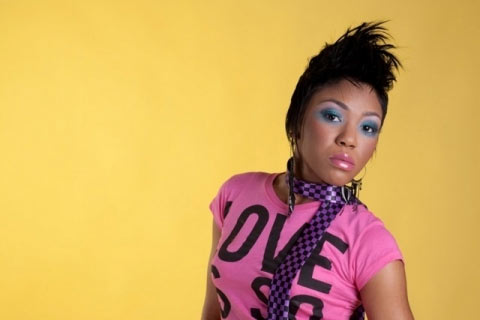 NEWS SOURCE: Savvy Media
May 11, 2009
(Nashville, Tenn.) May 11, 2009--Visionary label Revolution Art moves forward with its mission to "usher in the next generation of artist" with its latest signing, 20-year-old singing sensation, Jade Harrell. Harrell will release her national label debut, Class Reject, June 2, 2009.
The soulful singer, from Jacksonville, Fla., began her solo career at age 5, singing regularly for her home church. By age 13 she was singing background vocals for various local artists when the Revolution Art team discovered her.
"When I first heard Jade, I thought, 'this young girl has such great talent, how could I not work with her!' says GRITS' Stacy "Coffee" Jones. "The signing was just a natural progression. She reminded me of GRITS when we first signed with Gotee. She's already writing her own songs, she's passionate and knows what she wants."
Mo Henderson, president of Revolution Art, adds "Not only is Jade an amazing talent, but she provides a fresh artistic approach to music. And we believe her voice and message is one that the world will come to know and love."
With influences that range from Brandy to Trinity5:7 to Michael Jackson, Class Reject, produced by Mo Henderson and MichaelMillionz, regularly journeys from one genre to the next while remaining compelling and captivating. The Motownish feel of "Don't Leave," for instance, serves as a fervent backdrop for this love song to God, while the celestial "Only Human" augments her resolve not to be overcome when seemingly grand challenges present themselves.
Jade shifts gears on the club-styled "Me And My Radio," an ode to her affinity for dancing, and then again to an electronic sound as the backdrop for "Broken," an exercise in exorcising her inner demons. On the comforting "Rain," she sings about retaining one's strength and faith in the face of adversity.
Having co-written all the songs on Class Reject, Jade explains, "In a way, this album was very therapeutic for me. I was able to confront many of the challenges I face by writing and singing about them. I want to encourage others to open themselves up and be real as well. I think that's the easiest way to find out who you are."
The debut single from Class Reject, "Me and My Radio," is currently vying for adds at both the Christian CHR and Rock radio formats. A music video for the song will be serviced to national media outlets next month. Additionally, Jade will be joining labelmate GRITS for select tour dates. For more information on Jade, visit: www.myspace.com/jadeharrell.
Nashville-based Revolution Art was founded by GRITS members Teron "Bonafide" Carter and Stacy "Coffee" Jones along with business partner Mo Henderson in 2008. The label seeks to revolutionize the music community by being the difference, to make a difference. Its current roster includes GRITS, Jade Harrell, and Stefan the Scientist.
###


[2021]
Jan. | Feb. | March | April | May | June | July | Aug. | Sept. | Oct. | Nov. | Dec.
[2020]
Jan. | Feb. | March | April | May | June | July | Aug. | Sept. | Oct. | Nov. | Dec.
[2001 - 2020]
Visit our complete MUSIC NEWS ARCHIVE