TOP HIP-HOP ARTIST BOBBY BISHOP TO RELEASE
NEW PROJECT, EVERYDAY MAN, IN JULY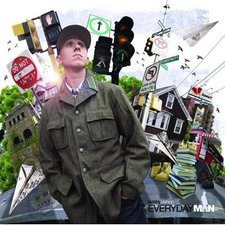 NEWS SOURCE: Christian Publicity Services
May 12, 2009
(Nashville, TN) - Bobby Bishop is set to release his third national recording on July 7 via Chosen/Executive/Universal Music Christian Group. Entitled Everyday Man, the full-length CD will feature production from DJ Shok, The Abolitionists, Enock, and Battleaxe, among others.
The first music video from Everyday Man will be a song entitled "Please," scheduled to be released to video shows in early June. "Please" was written by Bishop and Brian "Enock" Perales, a campus missionary in New Orleans, Louisiana who has produced tracks for some of hip-hop's heaviest hitters, including Lil' Wayne and Juvenile, as well as several major motion pictures and television networks.
Named by CCM Magazine as one of the top artists in the Christian hip-hop genre, Bishop began serving teenagers as a youth minister in Lynn, Massachusetts in 1996, and has been there ever since. He began writing and recording rap music as a teenager himself, and the fusion of his faith in God and a passion for rap was a natural one. He realized his experience as a youth mentor and minister gave him the opportunity to reach out using hip-hop, particularly as he discovered his knack for storytelling. "Amy's Song," the true story of a teenage rape victim, gained a tremendous amount of exposure when it was released in 2002 and set the stage for Bishop's national career. Several independent projects and national tours later, Bishop was offered his first national recording contract. Government Name released into the marketplace in 2005, and Bishop hit the ground running, balancing his local youth ministry with touring the country. MTV, in particular, took to the record, and placed nearly the entire project into rotation on some of the network's most popular shows.
Bishop has since been featured on national tours with The Seven Project, and shared stages with countless Christian music artists from John Reuben to Jars of Clay. He has recorded songs with KJ-52, Pigeon John, Michael Sweet, and been featured on multiple nationally-distributed projects including DJ Maj's The Ringleader (Gotee Records/EMI), Beatmart Records Best of the Submissions Volumes 1,2&3 (Beatmart Records/Sony BMG), and Pee Wee Callins' Street Soul (Beatmart Records/Sony BMG), to name a few.
Bishop calls the title song from the new CD, "Everyday Man," his most vulnerable to date. "In a genre of braggadocio and pride, I decided to 'spill my guts' on this one," says Bishop. "The song is a reminder that God is in control of our lives, and He lays down the path before us. It's our job to obey and walk, and trust He'll handle the rest. He came as a man to set an example of His love in a fashion we can emulate."
In addition to his concert schedule across the U.S., Bishop will be traveling with a street outreach group from Atlanta's Northpoint Church (Pastor Andy Stanley) to Jamaica in early June. Bishop will be conducting the music portion of the street outreach for three days, alongside Cross Movement Records artist R. Swift, and renowned artist Young Josh.
For further information on Bobby Bishop, visit: www.BobbyBishop.com.
###


[2021]
Jan. | Feb. | March | April | May | June | July | Aug. | Sept. | Oct. | Nov. | Dec.
[2020]
Jan. | Feb. | March | April | May | June | July | Aug. | Sept. | Oct. | Nov. | Dec.
[2001 - 2020]
Visit our complete MUSIC NEWS ARCHIVE