The Wrecking Partners with Founding Member of P.O.D.

NEWS SOURCE: Adams Group
May 27, 2009
FOR IMMEDIATE RELEASE (Nashville, TN) -- The Wrecking has announced an exclusive management agreement with Mark "Traa" Daniels of Ryot Entertainment Group. Based in southern California, Ryot Entertainment specializes in Production, Management, Grass roots promotions, Street Team/Fan Based Development, Image development, Song arrangement, Band and artist infrastructure, Internet and New Media Campaigns, Tour and Booking Assistance, Creative Marketing, and Consulting in all areas of music.
Daniels is one of the founding members of the platinum selling band P.O.D. With nine million albums sold, three worldwide tours, eight major label releases, and numerous motion picture soundtracks under his belt, he is very aware of what it takes to be successful. Daniels helped P.O.D sell almost 40,000 cds before getting signed to a major label, ensuring a strong fan base. Over the years, Traa has helped to build a large fan base consisting of over 200,000 members.
"I am honored to have the opportunity to work with this group of guys," says Daniels. "The music, drive, passion, and work ethic that these guys possess are rare traits in this industry. We are gearing up for an exciting 2009 and beyond."
In addition to his success as a musician, Daniels has been able to be in the studio with award-winning producers such as Glen Ballard, Travis Wyrick, Howard Benson, and Jay Baumgardner. Daniels has worked with acts such as The Dirty Heads, The Katinas, and Stars Go Dim, among others.
The Wrecking will release a Special Edition Digital version of their successful national debut entitled A New Abolition. In addition to the eleven original songs on their Chosen/Executive/Universal project, A New Abolition, the digital, repackage version will include three "live" versions of the songs as well as two cover tunes of Coldplay's "Lost" and U2's "Get On Your Boots." The Wrecking's video of "Get On Your Boots" was recently named one of the top 50 music videos on YouTube. As an exclusive bonus via iTunes, the Special Digital Repackage of A New Abolition will also include the music video of "You Remain." The digital repackage will retail for $9.99 and should be available June 2.
"You Remain," the current music video from The Wrecking, is being played nationwide on several video shows including Gospel Music Channel. The video is also featured on Interlinc's Spring Music Video Loop which is serviced to thousands of youth leaders across the country. The Wrecking continues to tour the country and is set to appear at several music festivals this summer including Cornerstone, Lifest, Icthus, Soul Fest, Rock the Light, SoulJam, Unity Fest, among others.
For more information, visit www.TheWrecking.net.
###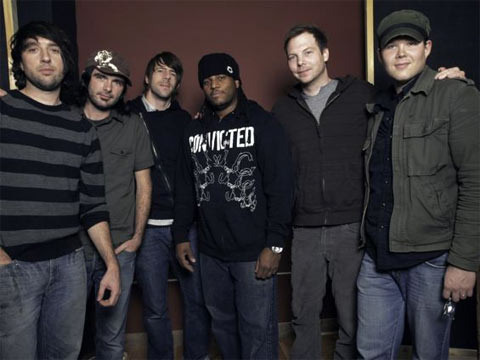 L to R: The Wrecking's Darren Elder (drums); Doug Elder (lead vocals); Joe McCann (turntables/synth/vocals); Mark "Traa" Daniels; Dustin Burnett, producer; Karl Anderson (keys/bass)
For more info on The Wrecking, visit the JFH Artists Database.


[2021]
Jan. | Feb. | March | April | May | June | July | Aug. | Sept. | Oct. | Nov. | Dec.
[2020]
Jan. | Feb. | March | April | May | June | July | Aug. | Sept. | Oct. | Nov. | Dec.
[2001 - 2020]
Visit our complete MUSIC NEWS ARCHIVE