MR. DEL, FORMER MEMBER OF HARDCORE RAP GROUP THREE 6 MAFIA, SET FOR JUNE 30TH RELEASE OF THRILLA
Holy South Records Partners with Universal Music Christian Group for Highly Anticipated Album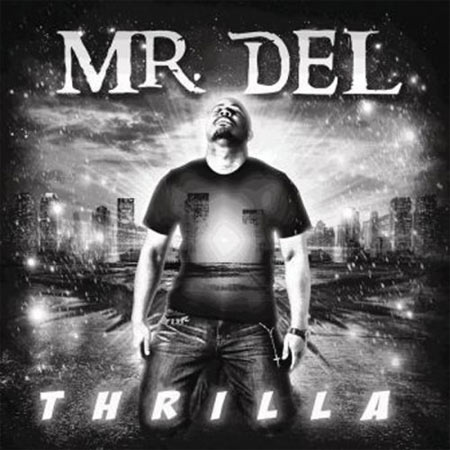 NEWS SOURCE: Nashville Publicity
June 16, 2009
(NASHVILLE, Tennessee) – Mr. Del, former member of the multi-platinum, hardcore rap group Three 6 Mafia, will release his third solo album, THRILLA, on June 30th. The highly anticipated project will be the first release through Holy South's new major distribution partnership with Universal Music Christian Group.
The Memphis-based rapper is widely recognized as an innovator in the genre, both as an artist and a producer. Mr. Del's first solo effort, 2005's The Future (EMI Gospel), debuted at #15 on Billboard's Gospel Chart. In 2007, he followed it up with the equally successful Hope Dealer (Holy South), which featured a collaboration with jazz master Kirk Whalum.
In addition to his solo work, Mr. Del put together 2008's Gumbo Red, an extraordinary collaboration with Canton Jones, Lisa McClendon and newcomer Ramona Jones. He has also worked with multi-platinum artist Salt of Salt-n-Pepa and Dove Award-winning Christian pop group Out of Eden.
THRILLA is Mr. Del's most musically diverse project to date. The project includes a collaboration with rap mate Mali Music on the reggae-infused "Spread the Gospel," as well as the high energy "Rock it Out," which features performances by IroCc and Canton Jones.
"THRILLA shows more of a deeper, transparent side of me," says Mr. Del. THRILLA, which is an acronym for THE REAL ANOINTING, allows the listener to submerge into the heart of an artist who has overcome weakness and insurmountable obstacles, and is now refined and stronger through Christ.
"Life motivates and inspires me to write," says Mr. Del. "My lyrics aren't just for entertaining, but for piercing the heart of the listener and igniting life-changing actions."
Mr. Del opens his personal journals on songs like "Don't Do It" and "My Life Rated 'R' (Real)," using his lyrics to tell of life growing up with an abusive stepfather, life in the streets and living with a wounded soul.
"Beyond the beats and lyrics, God's grace is sufficient enough for your weakness," reminds Mr. Del. "And through your weakness and pressing, out of that comes an anointing."
With THRILLA, Mr. Del hopes to cross borders and break down barriers that still exist within the Christian community.
"I want this industry to not be so segregated," he stresses. "What we see is that Christian represents Caucasian, and Gospel represents African-American. This isn't a true representation of the Kingdom."
The Christian Hip Hop genre is still viewed with skepticism by many in the church, which can affect the promotion and visibility of the genre.
"The biggest misconception is that what we do is not of God," states Mr. Del. "But I don't let those small hurdles limit my ministry and mission. I am not bound to the Christian and Gospel box. My orders are from God himself. With Him there is no limit. I didn't come here to lose."
It's with that same tenacity and determination that Mr. Del has reached into his local community with a powerful ministry that far exceeds the confines of the "Christian rapper" title. He is known throughout the Memphis area as a powerful minister, serving as the pastor of the church he founded, City of Refuge. City of Refuge started as a Bible study on the campus of the University of Memphis and truly meets a generation where they are as a non-traditional, non-religious radical youth movement that empowers, uplifts and edifies the body.
When not tending to his pastoral duties at City of Refuge, Mr. Del will spend much of 2009 on the road promoting THRILLA. An aggressive touring schedule is in the works, as is a July/August media tour.


[2022]
Jan. | Feb. | March | April | May | June | July | Aug. | Sept. | Oct. | Nov. | Dec.
[2021]
Jan. | Feb. | March | April | May | June | July | Aug. | Sept. | Oct. | Nov. | Dec.
[2001 - 2021]
Visit our complete MUSIC NEWS ARCHIVE