WINNER OF GOSPEL DREAM
MELINDA WATTS
TO RELEASE DEBUT ALBUM, PEOPLE GET READY
SET FOR RELEASE JULY 28TH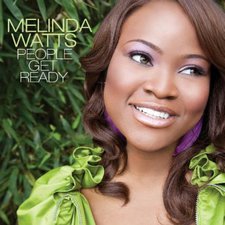 NEWS SOURCE: TKO Marketing
June 17, 2009
(New York, NY) – Melinda Watts, the season three winner of Gospel Music Channel's popular reality talent search series, Gospel Dream, will fulfill her life long dream as she is set to release her first album this summer. Signed with Razor & Tie Entertainment for a worldwide multi-album deal, Watt's debut album, PEOPLE GET READY, will be released nationwide on July 28th.
Born in New Jersey and hailing from Sacramento, CA, Watts began singing at the age of six. Her powerhouse vocals and warm bravado have captured the hearts of millions of fans, when she won the American Idol-esque show. Influenced by legends CeCe Winans, Natalie Grant and Shirley Caesar, Melinda shares a love of music and her church.
PEOPLE GET READY is a bright and dynamic album that showcases Watts' vibrant vocals along with strong contemporary production. The celebratory first single, "So Good," has already made waves at Gospel radio and is upbeat pop track that absolutely defies you to get up and dance.
Slick grooves, hopeful lyrics, and an exuberant vibe are interwoven throughout PEOPLE GET READY, which recalls other leading ladies of urban gospel like Mary Mary and Kierra Sheard. From the explosive, dance-friendly tracks of "Say Yes," and "Happy" to intimate worship songs like "Available To You," a duet with J. Moss, and wonderful rendition of "Faith," there is no doubt as to why Watts won over judges and audiences alike.
Watts will be set out on a promotional tour this summer in support of the release with stops in New York, Atlanta, Chicago and Philadelphia. She's already been chosen to tape an upcoming episode BET's "LIFT EVERY VOICE," and will be a part of the Gospel Music Channel's Gospel Dream 2009 season set to start airing in June.
"I've always had a love of music and I have been singing in church my whole life," Watts explains. "God's grace brought me here. A lot of faith in God and remembering that it's okay to dream even when you feel you can't."
Watts, a former high school English teacher and active member of her Sacramento community, started the nonprofit organizations Project Sunday and Heaven's House to address the great need for mentoring and ministering to young women in her community.
Melinda Watts is managed by Mitchell Solarek of Maximum Artist Management.


[2022]
Jan. | Feb. | March | April | May | June | July | Aug. | Sept. | Oct. | Nov. | Dec.
[2021]
Jan. | Feb. | March | April | May | June | July | Aug. | Sept. | Oct. | Nov. | Dec.
[2001 - 2022]
Visit our complete MUSIC NEWS ARCHIVE