JFH EVENING NEWS SHORTS FOR WEDNESDAY JULY 1, 2009
News on Stavesacre, Britt Nicole, Gotee, Tooth & Nail, August Burns Red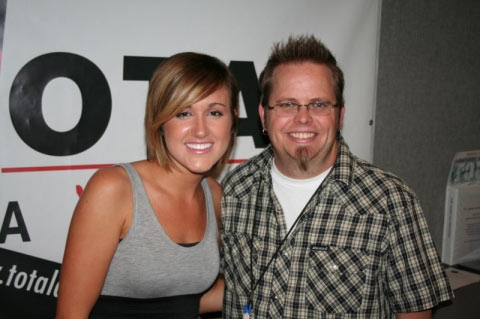 NEWS SOURCE: a Jesusfreakhideout.com report
July 1, 2009
>> Britt Nicole Wraps 21-Station Promo Tour
CAPTION: Sparrow recording artist Britt Nicole stops by the WAY-FM studios in Franklin, Tenn. earlier this month as part of a 21-station radio tour to promote her new single, "The Lost Get Found." The song will be featured on her forthcoming sophomore release of the same title, in stores Aug. 11. Pictured (l-r) are Britt Nicole and Wally, host of CHRSN's "Total Axxess." (source: Savvy Media)
>> Stavesacre Returns With New EP CD/DVD
Since late last year, Stavesacre has been plotting the release of their new EP, Against The Silence. The band's long awaited new release is finally set to drop on July 14th and you can grab it here in their Zambooie.com store. The EP CD also comes with a DVD which is described as "Making of the Against The Silence EP and the story of Stavesacre told by the band. First project since Speakeasy that has included founding member Jeff Bellew."
>> Gotee Records Celebrates 15 Years With 3-Month Sale
2009 marks the 15 year anniversary of Gotee Records and the label is celebrating by offering select releases for $5.99 each month on iTunes from June til August. For July, you can grab albums like Relient K's Two Lefts Don't Make A Right… But Three Do, Out Of Eden's This Is Your Life, Grits' Art of Translation, John Reuben's Hindsight, Sarah Kelly's Where The Past Meets Today, Mars Ill's ProPain, and many others! See the complete album lists here!
>> Tooth & Nail Offers Sampler With New and Unreleeased Songs
The new Tooth & Nail Records "Fuel" sampler boasts new and unreleased songs from a selection of artists that includes Emery, August Burns Red, mewithoutYou, The Chariot, The Almost, Underoath, As Cities Burn, Showbread, And Then There Were None and more! Check it out for free here: http://www.toothandnail.com/fuelsampler/
>> August Burns Red Preorder Offers Rare Vinyl
Among the many preorder opportunities for August Burns Red's Constellations (out July 14) is one from Interpunk that includes a 7" vinyl with a bonus track. Check out the stores description of the bonus: "Available only in this pre-order, an exclusive ABR 7" featuring an alternate version of the song "Indonesia" and a cover of NOFX's "Linoleum." When asked the reason for the choice of cover song, guitarist JB Brubaker replied "In a way, this is us going back to our roots, growing up on Punk Rock and bands like NOFX, for us this is a timeless Punk Rock Classic." Order now! Limited to 1,000 copies pressed." Visit the preorder page here.
For more info on these artists, visit the JFH Artists Database.


[2021]
Jan. | Feb. | March | April | May | June | July | Aug. | Sept. | Oct. | Nov. | Dec.
[2020]
Jan. | Feb. | March | April | May | June | July | Aug. | Sept. | Oct. | Nov. | Dec.
[2001 - 2020]
Visit our complete MUSIC NEWS ARCHIVE