JEREMY CAMP HEADS OUT ON THE ROAD TO SPEAK LOUDER THIS FALL
SPEAKING LOUDER THAN BEFORE THE TOUR HITS THE COUNTRY WITH A PURPOSE BEGINNING 9/10/09
TICKETS ON SALE NATIONALLY THIS FRIDAY, JULY 10TH

iTICKETS / iTUNES PROMOTION JULY 10-24TH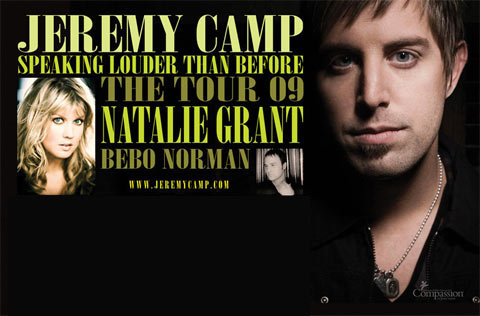 NEWS SOURCE: Overture Media
July 8, 2009
SEATTLE, WA...July 8, 2009...Making his passion known this past year with the release of "Speaking Louder Than Before," BEC Recordings artist Jeremy Camp is introducing his fall tour named after the recently released CD and with a purpose at hand. As his first headlining tour in almost two years, Camp will be joined by reigning Dove Female Artist of the Year Natalie Grant and label-mate Bebo Norman. The "Speaking Louder Than Before" The Tour is kicking off in Florida on September 10th (dates below). The tour will also be sponsored by Compassion International.
Tickets for the anticipated tour will go on sale Friday, July 10th in addition to a special iTickets / iTunes promotion. For those who purchase tickets via iTickets from July 10th until July 24th, they will receive a code for two free downloads at iTunes ("Beyond Measure" by Jeremy Camp and "Never Saw You Coming" by Bebo Norman). The codes will be given out for each ticket purchased (not per order).
Earlier this year, Camp and his management company began a ministry called "Speaking Louder Ministries," a direct correlation to his recent release, which produced his seventeenth No. 1 radio single ("There Will Be a Day"). The purpose behind "Speaking Louder Ministries" is tri-fold: bringing a raised awareness to the local outreaches in the cities that Jeremy Camp performs, helping equip the church body and local community to get involved in ministry together, and impacting the needs of the community/organization with physical goods. For more information and specific local market info go to the ministry homepage.
On the fall tour, Speaking Louder Ministries will partner with a local radio station to promote the local outreach. At each concert, there will be a booth present as a distribution point to draw a larger awareness for the ministry organization.
This 30+ city tour will make a huge impact in each market, and Camp is thrilled about this opportunity. "I'm really looking forward to the tour and to what's being planned with Speaking Louder Ministries," shares Camp. "We'll have unique opportunities in each and every town that we play on this tour to be a part of local ministry. I'm hoping to see the body of Christ engaged and fired up to help local ministries in need. This will be more than just a typical concert experience, we will be working and worshiping together for the Kingdom of God."
See below for the tour dates as well as additional information regarding each artist on the "Speaking Louder Than Before" The Tour. Tour publicity contact also listed below.
About Jeremy Camp:
Since his debut BEC Recordings' project in 2002 (Stay), Jeremy Camp has made a definitive mark in the industry with his ability to compose hit songs and capture audiences of all ages selling more than three million records. Following his Gold-selling debut, Camp has released four additional studio projects, which have garnered a total of three RIAA Gold-Selling albums. With 17 career No. 1 radio hits under his belt, Jeremy Camp is clearly a powerhouse on the radio waves nationwide across all formats (CHR, AC, INSPO, and Rock). Jeremy has the most consecutive No. 1 singles at AC Monitored since 2003 when R&R began their Christian chart. His debut single from "Speaking Louder Than Before," "There Will Be A Day" hit the top on three formats on AC Indicator (16 weeks), CHR (10 weeks) and AC Monitored (6 weeks). Jeremy Camp has also been honored with multiple Dove-nominations and five awards, a 2007 American Music Award nomination, and three-time ASCAP Christian Music Awards "Songwriter of the Year" (2008, 2006, 2005) winner including "Song of the Year" (2006). In 2008, Jeremy Camp was voted for the fifth consecutive year in a row by readers on Christianity Today's music site as the "Best Male Artist."
About Natalie Grant:
One of the genre's biggest names and GMA Dove Award Female Vocalist of the Year for four consecutive years, Curb recording artist Natalie Grant is among a select number of artists to have also achieved a formidable foothold at mainstream media and radio. A powerhouse vocalist, heart-gripping songwriter and charismatic performer, she's eager to push boundaries and thus has become Christian music's top selling Adult Contemporary female solo artist in 2005, 2006 and 2008. Recently, Grant received RIAA Gold certification of her 2005 breakthrough album, Awaken. In addition to her music, she is an outspoken advocate for victims of human trafficking. The Home Foundation, which Grant created in 2005, has raised over a quarter of a million dollars to fight the trafficking of women and children for the purpose of sexual exploitation. For further information, visit www.thehomefoundation.net or www.nataliegrant.com
About Bebo Norman:
Norman's 1999's national debut, Ten Thousand Days, received much acclaim for a new artist. The follow-up, Big Blue Sky, was voted No. 1 Christian album of 2001 by the editors at Amazon.com. Myself When I Am Real (2002) earned seven Dove Award nods and charted the defining hit, "Great Light of the World." In 2007, Norman partnered with Seattle's BEC Recordings to release his first Christmas project that garnered him another Dove nomination. In 2008, he released his self-titled album, which was said of Billboard as "the beginning of a vibrant new chapter in an already distinguished career." For more information: www.myspace.com/bebonorman
JEREMY CAMP - SPEAKING LOUDER THAN BEFORE - THE TOUR 09
**All Dates Subject to Change**
September 2009
09/10/09 Panama City, FL Marina Civic Center
09/12/09 Birmingham, AL TBA?
09/13/09 Alpharetta, GA (Atlanta) Mount Pisgah United Methodist Church
09/17/09 Champaign, IL Univ. of IL/ Assembly Hall
09/18/09 Omaha, NE Bellevue Christian Center
09/20/09 Little Rock, AR Church at Rock Creek
09/24/09 Lexington, KY Quest Community Church
09/25/09 Bristol, TN Viking Hall* (Special guest, Fee)
09/26/09 Leesburg, VA Awakening Music Festival*
09/27/09 New Castle, PA (Pittsburgh) The Scottish Rite Cathedral
October 2009
10/01/09 Grand Rapids, MI Sunshine Community Church
10/02/09 West Chicago, IL Wheaton Bible Church
10/03/09 Evansville, IN The Centre
10/04/09 Anderson, IN Reardon Auditorium
10/23/09 Raleigh, NC North Carolina State Fair
10/24/09 Baltimore, MD The Lyric Opera House
10/25/09 Charleston, WV Charleston Municipal Auditorium
10/29/09 Corpus Christi, TX Bay Area Fellowship
10/30/09 Katy, TX (Houston) Merrell Center
10/31/09 Austin, TX Riverbend Centre
November 2009
11/01/09 Abilene, TX Abilene Civic Center
11/05/09 Lenexa, KS (Kansas City) Lenexa Christian Center
11/06/09 Moore, OK (Oklahoma City) First Baptist Church
11/07/09 Amarillo, TX The Church at Quail Creek
11/08/09 Roswell, NM Pearson Auditorium*
?11/10/09 Albuquerque, NM Hoffmantown Church
11/12/09 Phoenix, AZ North Phoenix Baptist Church
11/13/09 Santa Ana, CA Calvary Church Santa Ana
11/14/09 Fresno, CA Warnor's Theater
11/15/09 Modesto, CA Calvary Temple Worship Center
11/17/09 Santa Rosa, CA Wells Fargo Center for the Arts
11/18/09 Roseville, CA (Sacramento) Adventure Christian Church
11/20/09 Portland, OR Rolling Hills Community Church
11/21/09 Federal Way, WA (Seattle) Christian Faith Center
*No Natalie Grant


[2021]
Jan. | Feb. | March | April | May | June | July | Aug. | Sept. | Oct. | Nov. | Dec.
[2020]
Jan. | Feb. | March | April | May | June | July | Aug. | Sept. | Oct. | Nov. | Dec.
[2001 - 2020]
Visit our complete MUSIC NEWS ARCHIVE