PILLAR PROMISES MAJOR CONFESSIONS COMING SEPTEMBER 22
Chemistry, Approach and Sound--All New--Mark Reinvention of Rock Powerhouse

Simultaneous Radio Singles Impact July 17
"Secrets and Regrets" - CHR and "Fire on the Inside" - Rock

Confessions Tour To Launch This Fall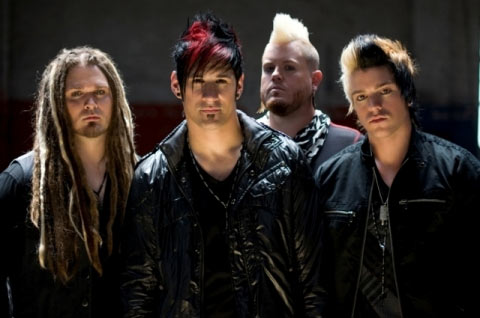 Photo Credit: Cooper Harrison
Photo ID (L-R): Noah Henson, Rob Beckley, Rich Gilliland and Taylor Carroll
NEWS SOURCE: Provident Label Group
July 13, 2009
(Nashville, Tenn.) July 13, 2009 –Dove and GRAMMY nominated rock act Pillar recently completed recording its career-shifting sixth album Confessions (Essential/Provident) set to release September 22. In a bold move by one of Christian music's preeminent rock bands, Pillar reinvented its approach to songwriting and studio production, as well as half its line-up. The result: a rich, melodic, transparent yet hard-hitting project with weighty appeal.
While lead singer Rob Beckley and guitarist Noah Henson have been the band's principal songwriters the past eight years, Confessions marks the first time the two of them have collaborated with writers outside the band. Guest composers include Chris Stevens (tobyMac, Sanctus Real), Skidd Mills (Saving Abel, Skillet), Keith Wallen (Fuel), Red guitarist Jasen Rauch and Building 429 front man Jason Roy.
Confessions' production marks equally new territory. For all of Pillar's previous hit albums, the band had teamed with brilliant producer Travis Wyrick (P.O.D., Superchick), this outing, however, Wyrick and other confidants suggested they go with versatile producer/songwriter Rob Graves (Red, Wavorly). The results are dramatic as Confessions' sound is further enhanced by new bassist Rich Gilliland (KJ-52, Brandon Heath) and drummer Taylor Carroll (After Edmund).
"I had never had goose bumps listening to our own music before, but this album is just on a whole different level," says Pillar's Beckley. "We're indebted to everyone who played a role in pushing us out of our comfort zones. And I couldn't be more proud of our band."
Both in its songwriting sessions and in the recording studio, Pillar decided melody, composition and hooks would rule the day. With that set in stone, the resulting album features songs which range from muscular, guitar-driven gut rock to beautiful, orchestral ballads. "Confessions is the kind of album that will make CHR radio listeners fans of rock music," says Blaine Barcus, VP of A&R, Provident Label Group. "The goal was that every single song on this album would be a great fit for radio, and I think the overall project reflects that goal. Rob and the guys poured themselves into the music and this project really delivers."
Thematically, the album picks up where Pillar's profound "Confessions Tour" left off earlier this year. A confessional curriculum--called "My Secret"--being taught in their local Tulsa, Oklahoma church changed the way the members of Pillar wanted to engage their audiences on tour. "We decided to give our fans a way to pour out their hearts anonymously, yet before God" says Beckley. "We took thousands of blank confession cards [distributed via a confessional booth] on the road. It definitely brought kids to the point of acknowledging their sin and what was going on." The "Confessions Tour" had a defining impact on Pillar as its members read and prayed over each audience's confession cards. Explains Beckley, "More than ever, it put things into a perspective of 'what we do matters.'
That approach obviously carried over to the new album. Says Beckley, "1 John 1:9 says, 'If we confess our sins, God is faithful and just to forgive us our sins and cleanse us from all unrighteousness.' Every song on this album could be broken down to 'If you just confess.'" Under this umbrella, recurring themes on Confessions include unity, commitment and perseverance.
Pillar will hit the road on the Confessions Tour early this fall with KJ-52, Run Kid Run and 7eventh Time Down. Tour markets and venues are forthcoming.
About Pillar
Pillar's previous studio album, For the Love of the Game (02/26/08), debuted at No. 4 on SoundScan's Christian (overall) album chart. Since Pillar's Dove Award-winning label debut Above in 2001, the band has performed for more than 3 million people and tallied 10 No. 1 radio singles, 13 top five hits, a GRAMMY nomination, four Dove Awards, nine national headlining tours, covers of numerous Christian and mainstream magazines, features in Rolling Stone, Spin, Bass Player, and Hit Parader, and album sales approaching one million (including two albums with sales exceeding 300,000 copies each). The Tulsa, Oklahoma-based band also won Fuse TV's "Next Big Thing" Award and has seen its music played on numerous ESPN sports programs, including SportsCenter, Baseball Tonight (during montage highlights from the 2007 World Series) and College Gameday, as well as CBS and FOX Sports.
Find more information at www.pillarmusic.com and www.myspace.com/pillar.
# # #
For more info on Pillar, visit the JFH Artists Database.


[2021]
Jan. | Feb. | March | April | May | June | July | Aug. | Sept. | Oct. | Nov. | Dec.
[2020]
Jan. | Feb. | March | April | May | June | July | Aug. | Sept. | Oct. | Nov. | Dec.
[2001 - 2020]
Visit our complete MUSIC NEWS ARCHIVE