JFH EARLY MORNING NEWS SHORTS FOR TUESDAY JULY 14, 2009
News on Flynn Adam, John Reuben, Living Sacrifice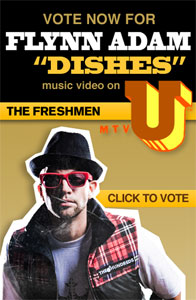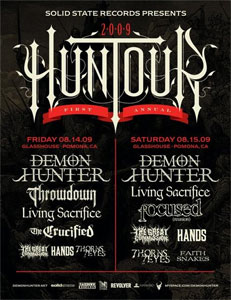 NEWS SOURCE: a Jesusfreakhideout.com report
July 14, 2009
>> Vote For Flynn Adam's Video On mtvU
Flynn Adam's video "Dishes" is one of the 5 featured videos on mtvU's The Freshmen this week! Check it out at http://www.mtvu.com/category/music/the-freshmen. You can vote as many times as you want from now until Friday at 2pm CST. If he wins, it will land him a spot in mtvU's regular rotation! Also, check out the 'lil video that Flynn did to promote it: http://www.youtube.com/watch?v=Wq8BPlFmh-Q
>> John Reuben To Release Four New Singles
Gotee Records hip hop artist John Reuben is finally releasing brand new tunes. As he prepares for his new full-length studio album, Sex, Drugs, and Self-Control on December 22, he will be releasing four new digital singles and music videos via iTunes, one each for the next four months. Starting TODAY with Town Folk, Reuben and Gotee will then release Jamboree on August 18th, Confident on September 15th, and Nobenah on October 20th. Check out "Town Folk" on iTunes now!
>> Living Sacrifice Join Demon Hunter's 2009 HunTour
Last night, Living Sacrifice gave their fans an update on a couple of special shows the band is playing with Demon Hunter next month...
"We are playing two of three very special Demon Hunter shows -- the only shows DH is playing in 2009. We are playing both of the Pomona dates, Friday August 14 and Saturday August 15 at the Glasshouse.

The first night features Demon Hunter, Throwdown, Living Sacrifice, The Crucified, The Great Commission, Hands and 7 Horns 7 Eyes. The second night is Demon Hunter, Living Sacrifice, Focused (reunion!), The Great Commission, Hands, 7 Horns 7 Eyes and Faith Snakes.
For more info on these artists, visit the JFH Artists Database.


[2021]
Jan. | Feb. | March | April | May | June | July | Aug. | Sept. | Oct. | Nov. | Dec.
[2020]
Jan. | Feb. | March | April | May | June | July | Aug. | Sept. | Oct. | Nov. | Dec.
[2001 - 2020]
Visit our complete MUSIC NEWS ARCHIVE