SKILLET ANNOUNCES 'AWAKE & ALIVE' 50 CITY FALL TOUR WHILE CELEBRATING #1 ROCK SONG
New Album "AWAKE" Already Garnering Critical Acclaim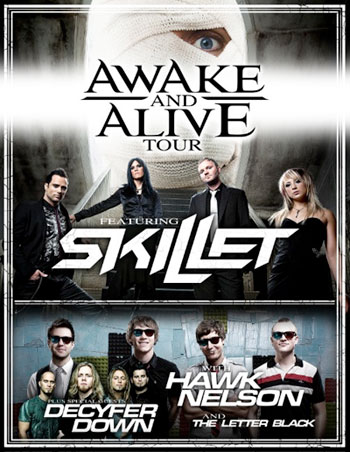 NEWS SOURCE: The M Collective
July 16, 2009
NASHVILLE, TN....7/16/09....As they prepare for the August 25th release of their already-critically acclaimed CD "AWAKE" (Atlantic/Ardent/INO), the GRAMMY® nominated outfit SKILLET is celebrating a new #1 Rock single with "HERO" and has announced plans for their 50 city "AWAKE & ALIVE" fall tour, which will feature Hawk Nelson, Decyfer Down and The Letter Black (see details on each band below).
On the heels of fall and spring legs of their "COMATOSE" tour, which saw an average of 70% of their shows sell out and also landed them in Pollstar's Concert Pulse Top 50 tours, SKILLET will spend September to December rocking across the country, hitting such major markets as New York City, Los Angeles, Atlanta, Phoenix, Seattle, Dallas, and their hometown base of Chicago (full tour schedule below). As they become more and more well known for their electric, pulsating and of course rocking live show, lead singer John Cooper says the band will continue to push the envelope when it comes to giving their fans the best show possible:
"Skillet wants this to be the biggest, baddest tour we've ever done, and we're happy to be going out with these bands" he says. "We always try to put everything we have into our shows and the "Awake and Alive" tour will not disappoint – we're pulling out all the bells and whistles we can, and these new songs are going to be incredible to perform live. We can't wait to get out there and see everyone – our fans are amazing."
"AWAKE" SINGLE SUCCESS & EARLY CRTICIAL ACCLAIM:
As "Hero," the first radio single from "AWAKE" is also climbing the CHR Christian rock charts, this week jumping to #11, and continues to be a top 20 best-selling i-Tunes® rock single, "Monster" will be solicited to Mainstream and Active Rock radio this month.
To top it all off, with over a month before "AWAKE" hits the market, SKILLET is already garnering critical acclaim for their 7th studio project:
"While Comatose marked Skillet's arrival on the mainstream scene without ever abandoning its Christian roots, Awake marks its full-fledged domination of both scenes simultaneously. Loaded with fist pumping rockers, heart wrenching ballads and thought provoking lyrics of social and spiritual sensibility no matter what the style, Skillet is truly one of today's most innovative, entertaining and inspiring modern rock bands." - Andy Argyrakis (freelancer writer with ChristianMusicToday.com, HearSay magazine, CCMmagazine.com and GospelMusicChannel.com)
" 'Awake,' the latest from hard rockers Skillet, is thunderous, motivating, and will do its best to wake your heart up and sync it with its rhythms. The beats are pulsing in our brains, the truth is resonating in our hearts—we love this album!" -YouthWalk magazine
"'Awake' wastes no time giving fans plenty to cheer about. In fact, I would say this record easily stands out as the best work the band has done in years, possibly of their career. I know I'm going out on a limb here, but I predict this record will be at least twice as successful as the last. This is it. This is the one that will fully bring Skillet into the mainstream spotlight." -UndertheGunreviews.net
###
Since 2006's breakthrough project "Comatose," which is approaching RIAA Gold certification, Skillet has toured with the likes of mainstream megastars Breaking Benjamin, Three Days Grace, Seether and Flyleaf, and headlined a slew of major Christian festivals, all followed by solo tours that ranked within Pollstar's Concert Pulse Top 50 Tours. Along the way, the two-time Grammy®-nominated alternative outfit also scored six consecutive number one Christian radio singles, a 2008 GMA Dove Award for "Rock Song of the Year," and a 2009 nomination for Artist of the Year. Along with a trio of singles on Billboard's Mainstream Rock charts, a pair of BMI Songwriting Awards, and being chosen as Reader's Poll favorites on several top ccm websites, they also released their first ever concert CD/DVD combo pack "Comatose Comes Alive." For more information on Skillet, go to: www.skillet.com and/or www.myspace.com/skilletmusic
The powerhouse, pop rock foursome hailing from Canada has won the hearts of thousands since their debut release. Already in 2009, Hawk Nelson has performed for more than 350,000 fans across the country with the Winter Jam Tour Spectacular, REVOLVE tour and the Rock and Worship Roadshow. Despite their insane touring schedule, the guys have recorded their upcoming fourth studio album, "Live Life Loud" due September 22, 2009. This forthcoming release follows the successful release, Hawk Nelson Is My Friend, which debuted at #34 on the Billboard Top 200 selling more than 18k units in its first week. Hawk Nelson has also appeared on NBC's drama "American Dreams," a cameo appearance in the Nickelodeon film "Yours, Mine, & Ours" as well as had their songs featured on NBC's Stanley Cup promo spots, WB's Smallville, Summerland, & Laguna Beach. Most recently the band has formed a lasting relationship with TOMS Shoes. TOMS Shoes provide shoes for children in poverty stricken areas with the motto "One for One." For the band's effort, every pair of shoes purchased via Hawk Nelson's website, TOMS donates a pair of shoes to someone in Haiti as the band's ongoing involvement with the Hands & Feet Orphanage. For more information visit www.hawknelson.com.
Following the success of their debut album End Of Grey, Decyfer Down continues to soar with their recently released sophomore album amply titled CRASH, which debuted at No. 3 on Christian Soundscan charts while topping iTunes ® Christian Chart at No. 1. Produced by Paul Ebersold (3 Doors Down, Saliva, Sister Hazel, Skillet) the band already has two No. 1 singles on Christian Rock Radio: "Crash" and "Fading" and their title-track was featured on WWE's Hardy History Montage a Brother vs. Brother WrestleMania preview. Fans were introduced to Decyfer Down in 2006 with their debut album, "End of Grey," which garnered four No.1 hits and had a top 10 song at WARQ in Columbia, SC, a mainstream Alternative Rock station. "Fight Like This" was also the band's fourth consecutive No.1 Christian Rock single, and was heard by millions in a special promo promoting an Ultimate Fighting Championship title fight. Also from their debut album, "Break Free" was played during some of the most watched sports games of the year and heard by over 9 million sports fanatics through website and television views. The rock band has found itself playing with mainstream rockers like Cold, Puddle of Mudd, Breaking Benjamin, Theory of a Dead Man, Pillar, Thousand Foot Krutch, Red and more. www.decyferdown.com
Hard rock, female-fronted band, The Letter Black, formally known as Breaking the Silence, recently signed to Tooth & Nail Records. Formed in 2006, the band already has a strong established fan-base and plan to continue to expand as they've been playing major festivals this summer including the historical rock Cornerstone Festival and Rock the Desert. With an impressive streak of 150 shows a year, a recent slot on the successful Five 4 Five Tour, this Uniontown, Pennsylvania-based band is sure to bring a major amount of attention with the release of "Breaking the Silence" on September 22nd. Their label debut is produced by the legendary Toby Wright as well as being mixed by JR McNeely. The Letter Black is fronted by female vocalist Sarah Anthony, followed by her husband Mark Anthony (guitar / background vocals), Matt Beal (bass), Mat Slagle (drummer) and Perry Johnson (guitar). For more information visit their MySpace, http://www.myspace.com/theletterblack.
"AWAKE & ALIVE" TOUR DATES
(*all dates subject to change and more to be added soon)
September
9/24/09 Embassy Theater- Ft. Wayne, IN
9/25/09 Grace Brethren Church -Columbus, OH
9/26/09 Awakening Music Festival -Leesburg, VA
9/27/09 The Tabernacle -Atlanta, GA
9/29/09 Freedom Hall -Johnson City, TN
October
10/1/09 Washington Avenue Armory Convention Center -Albany, NY
10/2/09 Manhattan Center Studios - Hammerstein Ballroom -New York, NY
10/3/09 The Palladium -Worster, MA
10/4/09 Electric Factory—Philadelphia, PA
10/6/09 Salem Civic Center -Salem, VA
10/8/09 Minglewood Hall -Memphis, TN
10/9/09 Riverfest Amphitheater -Little Rock, AR
10/10/09 Cullman County Fairgrounds - Youthquake Cullman, AL
10/11/09 Mobile Civic Center -Mobile, AL
10/15/09 Spirit Bank Event Center -Tulsa, OK
10/16/09 South Plains Fair Coliseum- Lubbock, TX
10/17/09 Abraham Chavez Theater- El Paso, TX
10/18/09 Kiva Theater -Albuquerque, NM
10/20/09 Mcgee Park - Memorial Coliseum -Farmington, NM
10/22/09 Celebrity Theater -Phoenix, AZ
10/23/09 Club Nokia LA Live- Los Angeles, CA
10/25/09 Warnors Theater -Fresno, CA
10/27/09 Redding Convention Center Auditorium -Redding, CA
10/29/09 Medford Armory -Central Point, OR
10/30/09 Ost Pavillion -Salem, OR
10/31/09 Showare Center -Seattle, WA
November
11/1/09 Inb Performing Arts Center Spokane, WA
11/3/09 Toyota Center Kennewick, WA
11/5/09 Qwest Arena Boise, ID
11/7/09 Paramount Theater Denver, CO
11/13/09 Stephens Auditorium - Iowa State Univ. Ames, IA
11/14/09 Minn Convention Center Aud -Minneapolis, MN
11/15/09 House of Blues- Chicago, IL
11/19/09 Maude Cobb Center- Longview, TX
11/20/09 Palladium Ballroom -Dallas, TX
11/21/09 The Berry Center- Cypress, TX
11/22/09 Abilene Civic Center- Abilene, TX
11/27/09 Remingtons- Springfield, MO
11/28/09 Adler Theater- Davenport, IA
11/29/09 Duluth Entertainment Conv. Center -Duluth, MN
December
12/3/09 Memorial Auditorium- Chattanooga, TN
12/4/09 Hobart Arena Troy, OH
12/5/09 Agora Theater -Cleveland, OH
12/6/09 Deltaplex -Grand Rapids, MI
For more info on Skillet, visit the JFH Artists Database.


[2021]
Jan. | Feb. | March | April | May | June | July | Aug. | Sept. | Oct. | Nov. | Dec.
[2020]
Jan. | Feb. | March | April | May | June | July | Aug. | Sept. | Oct. | Nov. | Dec.
[2001 - 2020]
Visit our complete MUSIC NEWS ARCHIVE