JFH NEWS SHORTS FOR WEDNESDAY JULY 22, 2009
News on Rebecca St. James, Nevertheless, Joy Williams, As Cities Burn, Tree63, Abel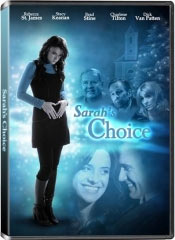 NEWS SOURCE: a Jesusfreakhideout.com report
July 22, 2009
>> Trailer For Rebecca St. James' Movie Sarah's Choice Debuts
"Anticipation in building towards the November release of Rebecca's first ever leading role in the film, "Sarah's Choice." In it, Rebecca portrays a successful young single business woman on the fast track to making her dreams come true when she discovers she's pregnant outside of marriage. A moving testimony on the realities of life and the decisions faced by millions of young women each year, the movie is destined to move audiences and change lives. Much more coming on how you can support Sarah's Choice in your area!" (from Morning Star PR)

Click here to see the trailer for Sarah's Choice!
>> Nevertheless Readying New EP Release
Yesterday, Nevertheless gave a little update on a pending new EP release... "we are almost ready to spill all of the beans about our BRAND NEW EP coming out. We should be putting up a NEW SONG in the next week or so. Keep checking back for more details..." Sounds good! More to come...
>> Joy Williams To Release Double EP
Check out 2 new songs, "Fine Line" & "You're My Favorite" from Joy Williams' upcoming double EP: http://joywilliams.com ...more info TBA soon!
>> As Cities Burn Calls It A Day
The rumors are no more, it's official: As Cities Burn is done. The band has updated their myspace page with the statement "As Cities Burn has broken up. We are happily moving on after 6 good years. Our lives and our wives have called us in different directions. Thanks to anyone who has come out to a show, had words to say, or bought a cd to help us fill the tank." We wish all of the guys the best in their future endeavors!
>> Tree63 Disbands
South African pop/worship band Tree63 has also decided to part ways. Frontman John Ellis has taken some time off but will be working on his own music as well as continuing to perform classic Tree songs live. The rest of the guys are continuing to pursue their own separate music ventures. We also wish the Tree63 guys the best.
>> Dreamt Music's Abel To Tour This August With Deas Vail
Abel has captured the heart of the indie movement by equipping the honesty in their creativity, and they are careful to let themselves be led by that honesty. Abel will release their 5 song EP The Honest Love September 1 with Dreamt Music.
http://www.myspace.com/abeltheband (from Facedown Records)
For more info on these artists, visit the JFH Artists Database.


[2021]
Jan. | Feb. | March | April | May | June | July | Aug. | Sept. | Oct. | Nov. | Dec.
[2020]
Jan. | Feb. | March | April | May | June | July | Aug. | Sept. | Oct. | Nov. | Dec.
[2001 - 2020]
Visit our complete MUSIC NEWS ARCHIVE