JFH NEWS SHORTS FOR FRIDAY JULY 24, 2009
News on Nevertheless, Superchick, Third Day, Matthew West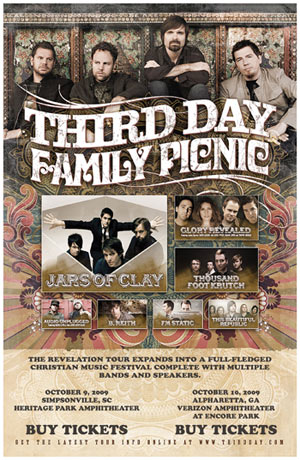 NEWS SOURCE: a Jesusfreakhideout.com report
July 24, 2009
>> Nevertheless To Release New EP August 18
Today, indie rock band Nevertheless announced the release of a new independent EP for August 18th. The EP, titled When I'm With You, is a collection of love songs the guys wrote for their wives and displays a raw acoustic pop feel. About the EP, the band writes, "Ah yes, love is in the air... and by love I mean Nevertheless... and by Nevertheless I mean that we wrote some songs about falling in love for our new EP. We are excited that we could finally put up some new music for you all! We are busy writing for our third full length record now, but we wanted you to have some new tunes to enjoy the rest of your summer with! Put it on, roll the windows down, cruise the town... we hope you likes! Peace and Love!" Check out the 5-song EP online or on the road at NTL shows Summer starting August 18.
>> Superchick Announce Fall Tour With BarlowGirl
This just in from the Superchick team: "Get ready for this... Superchick will be heading out on a big tour this fall with our friends Barlowgirl and VOTA! Tour dates and more information will be releasing soon, but look for the tour coming to a city near you! We know a lot of you fans have been waiting a long time for a Superchick/BarlowGirl tour, so we hope you come check it out! Keep up with Superchick online! Visit SuperchickOnline.com"
>> Third Day Introduces The "Third Day Family Picnic"
Third Day announced yesterday, "Two of our Revelation Tour Dates this fall will expand to an exciting festival experience called the THIRD DAY FAMILY PICNIC. These show will feature an expanded line up of Artists including Jars of Clay, Thousand Foot Krutch, Glory Revealed and many more. In addition, these shows will offer family friendly ticketing packages and unique activities throughout the day." The two dates include Simpsonville, SC on October 9 and Alpharetta, GA on October 10. For more information, click here!
>> Matthew West's Something To Say Today On AmazonMP3 For $2.99
Take advantage of the deal of the day at Amazon.com! Matthew West's best-selling album Something To Say, featuring no. 1 radio hits "You Are Everything" and "The Motions," is available for digital purchase today only at the low price of $2.99! (from Savvy Media)
For more info on these artists, visit the JFH Artists Database.


[2021]
Jan. | Feb. | March | April | May | June | July | Aug. | Sept. | Oct. | Nov. | Dec.
[2020]
Jan. | Feb. | March | April | May | June | July | Aug. | Sept. | Oct. | Nov. | Dec.
[2001 - 2020]
Visit our complete MUSIC NEWS ARCHIVE