GRAMMY-NOMINATED ARTISTS BRANDON HEATH AND LEELAND
CO-HEADLINE 43-CITY "FOLLOW YOU TOUR" THIS FALL
WITH SPECIAL GUEST FRANCESCA BATTISTELLI
Offering highly anticipated new music and call to action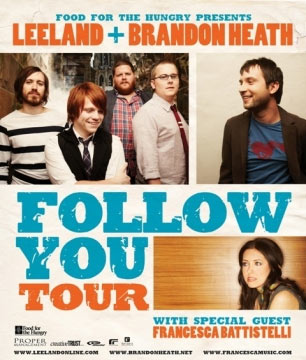 NEWS SOURCE: Provident Label Group
July 27, 2009
Nashville, Tenn. (July 27, 2009) – Grammy® nominee and GMA Dove Award winning Male Vocalist of the Year, Brandon Heath and Grammy®-nominated progressive rock act, Leeland, will co-headline the Follow You Tour in 43-cities this fall, featuring special guest Francesca Battistelli. The Follow You Tour introduces new music from Leeland's anticipated third album titled Love Is On The Move releasing Aug. 25, and Heath's award-winning sophomore album What If We, featuring his Dove Award-winning Song of the Year "Give Me Your Eyes" and Christian AC radio's recent No.1 song "Wait And See." The high-profile touring event kicks off at the Johnny Carson Theatre in Norfolk, Neb., September 23 and wraps up on November 22 at Samford University in Birmingham, Ala.
Along with offering audiences a night of great music and worship with three of the most popular artists in Christian music today, the Follow You Tour also engages attendees with a message close to the hearts of these artists. With a collective mission to love and serve the poor and broken, Leeland and Heath recently traveled to Cambodia. Each night on tour, audiences will hear more about that experience and have the chance to respond to each night's worship with immediate action offering child sponsorships through Food for the Hungry.
Leeland, Brandon Heath and Francesca Battistelli hope to inspire Christians to engage actively with world need. "We see our calling as a band as two-fold: reaching out to the poor and reaching the 'up-and outers.' America's a rich nation, but we're spiritually poor," explains Leeland Mooring. "We want to see God bring a personal revival in the hearts of Americans and transform our nation."
"After traveling through Asia with Leeland, more specifically Cambodia, I can say that we've seen God with the poor," says Brandon Heath. "This tour is about sharing what we've learned among the least of these. Cambodia was about going and listening and being changed. We hope that audiences will have the same experience at the Follow You Tour. We're on the same page with each other," explains Jack, keyboardist for Leeland. "Brandon's heart, like ours, is focused on being about action."
Brandon Heath is a respected songwriter and considered a radio hit-maker in the Nashville music community. He first began writing at age 13 and his background is rooted in a history with Christian youth-based organization, Young Life, which is grounded in relationship and mentoring. Heath's most current hit list includes Grammy®-nominated single "Give Me Your Eyes," from sophomore release, What If We. The song was recently awarded a GMA Dove Award for Song of the Year and spent 14 weeks at No.1 on Billboard's Hot Christian AC radio chart, and 27 weeks at No. 1 on iTunes Christian Song Chart. To date, the album's breakout first single continues to lead digitally, selling more than 360,000 total downloads of the track across all digital providers. The second single "Wait and See" was recently the top song in the country on the Christian AC Indicator chart.
Often quoted as one of Christian music's most gripping live bands, the 2006 debut Sound of Melodies and 2008's Opposite Way quickly established Leeland as a leader in the worship community and beyond. While both previous albums were Grammy®-nominated and drew a combined eight Dove nominations, Leeland's measure of success has always been the human heart. And now Leeland's third album, Love Is On The Move is a landmark in the deepest sense.
Featured guest for the Follow You Tour is Francesca Battistelli, who received five Dove Nominations in 2009, a remarkable feat for a new artist. Francesca continues to experience chart-breaking radio success, substantial play on popular TV and film and contagious online fan interaction. "It's Your Life" from My Paper Heart releases on July 10 and follows debut chart-topping single, "Free To Be Me", which was the first No.1 single from a female artist on AC radio since 2005 also ranking her as the most added female artist and new artist in Christian radio history. "I'm so excited to be part of this Fall tour with Leeland and Brandon," says Francesca. "This tour is a great opportunity for us to all take a step outside of our comfort zone and move deliberately toward helping others and answering the call to action that the Lord establishes for each one of us, each day."
For More Information:
Leeland:
www.leelandonline.com
twitter.com/leelandofficial
Brandon Heath:
www.brandonheath.net
twitter.com/brandonheath
Francesca:
www.francescamusic.com
twitter.com/francescamusic
*Itinerary is subject to change without advance notice.
9/23/09 Johnny Carson Theater Norfolk, Neb.
9/24/09 Memorial Auditorium at Concordia College Moorhead, Minn.
9/25/09 Northwestern College St. Paul, Minn.
9/26/09 Highland Community Church Wausau, Wis.
9/29/09 North Syracuse Baptist Church Syracuse, N.Y.
9/30/09 Augusta Armory Augusta, Maine
10/1/09 Lancaster Bible College Lancaster, Pa.
10/2/09 Family Worship Center Beckley, W.Va.
10/3/09 Vines Center-Liberty University Lynchburg, Va.
10/4/09 World Worship Center Charlotte, N.C.
10/6/09 Calvary Church Savannah, Ga.
10/9/09 First Baptist Church Ocala Ocala, Fla.
10/10/09 Countryside Christian Center Clearwater, Fla.
10/11/09 Sebastian High School Sebastian, Fla.
10/14/09 Bethany World Prayer Center Baton Rouge, La.
10/16/09 Woodlands Church The Woodlands, TX
10/17/09 FBC Wichita Falls Wichita Falls, TX
10/18/09 Metro Center Arlington - Fielder Road Baptist Arlington, TX
10/19/09 The Lords Christian Center Donna, TX
10/22/09 Lufkin Civic Center Lufkin, TX
10/23/09 Concordia Lutheran Church San Antonio, TX
10/24/09 Dodson Auditorium Kilgore, TX
10/25/09 First Baptist Church Lubbock Lubbock, TX
10/29/09 Hope Church Cordova, Tenn.
10/31/09 Remingtons Springfield, Mo.
11/1/09 Christian Fellowship Church Evansville, Ind.
11/4/09 Cathedral of Praise Charleston, S.C.
11/5/09 Cornerstone Baptist Church Darlington, S.C.
11/6/09 The Plaza Theatre Orlando, Fla.
11/7/09 Taylor Church Sanderson, Fla.
11/8/09 Myrtle Beach Community Church Myrtle Beach, S.C.
11/10/09 Culpeper Baptist Church Culpeper, Va.
11/12/09 Community Reformed Church - Zeeland, Mich.
11/13/09 The Underground Cincinnati, Ohio
11/14/09 Willoughby Hills Friends Church Willoughby Hills, Ohio
11/15/09 Riverside Community Church Peoria, Ill.
11/16/09 First Assembly of God Fort Wayne, Ind.
11/19/09 Woodland Heights Baptist Church Conway, Ark.
11/20/09 Decatur Baptist Church Decatur, Ala.
11/22/09 Wright Center, Samford University Birmingham, Ala.
For more info on Leeland, visit the JFH Artists Database.
For more info on Brandon Heath, visit the JFH Artists Database.
For more info on Francesca Battistelli, visit the JFH Artists Database.


[2021]
Jan. | Feb. | March | April | May | June | July | Aug. | Sept. | Oct. | Nov. | Dec.
[2020]
Jan. | Feb. | March | April | May | June | July | Aug. | Sept. | Oct. | Nov. | Dec.
[2001 - 2020]
Visit our complete MUSIC NEWS ARCHIVE