MATT BROUWER TO HEADLINE HOUSTON DYNAMO FAITH & FAMILY NIGHT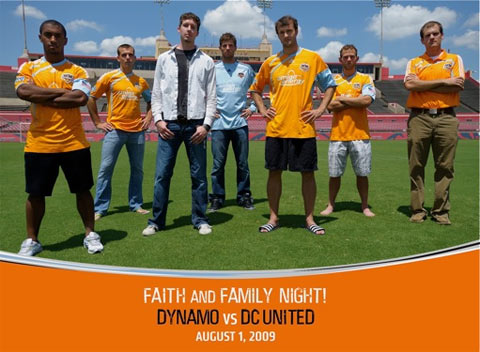 NEWS SOURCE: Turning Point
July 30, 2009
HOUSTON—Award-winning singer/songwriter Matt Brouwer will headline the Houston Dynamo Faith & Family Night, to be held Saturday, August 1 at 7:30 pm at UH Robertson Stadium. Brouwer and band will perform in concert following the Dynamo's soccer match against DC United.
In addition, Faith & Family Night will also feature a number of Dynamo players who will share their testimony following the game. 2006 and 2007 MLS Cup Champions, the Houston Dynamo is currently ranked #1 in the league according to ESPN.go.com Power Rankings dated July 27 while DC United is ranked #5.
"Partnering together with the Houston Dynamo for this game and concert is something I'm so excited about," said Brouwer. "What a great way to support our local team and celebrate music, faith, and community in the great city of Houston."
Originally from Canada and now residing in Houston, Brouwer is an acclaimed singer/songwriter with two Vibe Awards (Canadian People's Choice) to his credit. Debuting on Reunion Records in 2001, Brouwer's hit radio singles have included "Water," "I Shall Believe," "Surrender," "Father I Adore You," and most recently, "Beautiful Now" and "Come Back Around." In addition to national and international touring, Brouwer is an Artist In Residence at Woodlands United Methodist Church in Houston. His third studio recording, Where's Our Revolution, produced by Grammy Award-winner Michael Omartian, releases August 25 on Indie Extreme/Black Shoe Records, distributed by Universal Music Christian Group/Fontana.
For further information on Houston Dynamo Faith Night, visit www.houstondynamo.com. For further information on Matt Brouwer, visit www.mattbrouwer.com.
###


[2021]
Jan. | Feb. | March | April | May | June | July | Aug. | Sept. | Oct. | Nov. | Dec.
[2020]
Jan. | Feb. | March | April | May | June | July | Aug. | Sept. | Oct. | Nov. | Dec.
[2001 - 2020]
Visit our complete MUSIC NEWS ARCHIVE