JFH EARLY MORNING NEWS SHORTS FOR MONDAY AUGUST 3, 2009
News on Newsboys, Plumb, Stellar Kart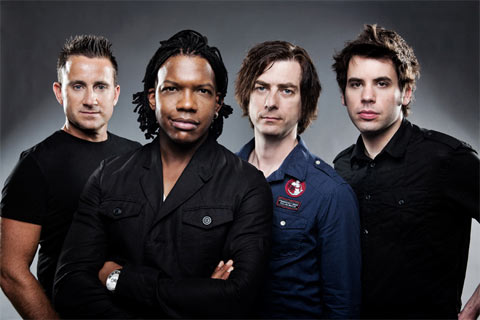 NEWS SOURCE: a Jesusfreakhideout.com report
August 3, 2009
>> Newsboys Re-record Single Featuring Tait On Vocals
Ever since the news that Michael Tait had replaced Peter Furler in Newsboys once the Aussie decided to step down, fans and music listeners alike have wondered what in the world the Newsboys will sound like. Recently, a stream popped up on YouTube of the band's current single "Glorious" featuring Tait on vocals. As the band prepares for their first release with the former dc Talk singer at the helm, check out this link for a taste of the new Newsboys. We have to admit we're digging it! (thanks to Galen for the link!)
>> Plumb Announces November Release For Beautiful History
Yesterday, Plumb posted a candid update on her life and music endeavors, including the release date for her latest project. Below is here announcement:
"They gave me a release date on the new album...its November 3rd. Its called Beautiful History and it's done! I think all of you are going to be pleasantly surprised by all that's included... that's the date and I'll be playing some of the new stuff for the real first time in a few weeks in Montana. So August 15th Montana will have more to offer than just its beautiful landscape...it will host the first plumb show of 2009. :) And then Sept has several more shows and it'll pick up from there...I'm eager to start some touring again now that I'm finished with bearing children and even nursing... I have actually been pregnant AND/OR nursing for 5 years. So in a few weeks I will literally experience life for the first time in a way I have not known for 5+ years now. It's been an absolute honor but I'm sorta ready to have my body back to myself. Ha."
You can also now follow Plumb on Twitter! --
@plumb_artist
>> Stellar Kart To Release New Album September 10th
Well this snuck up rather quickly! Stellar Kart has finished a brand new album which will be for sale at the band's shows and online starting September 10th. Frontman Adam Agee who announced the release on the band's own blog recently did not give a store release date for the album just yet. The band is no longer on Word Records and will release the album, appropriately titled Everything Is Different Now, on INO Records. (thanks to Kenny for the link!)
"Everything Is Different Now. There it is...the title of the new Stellar Kart record! it's also the title of the first single we are releasing to radio. we're super excited. the recording is done and we're getting it mixed this week. i can't wait for all of you to hear it. i don't have an exact release date, but as those details come in, you will be the first to know. :)

In other news, we signed a new record deal with INO Records (MercyMe, Skillet, Disciple, etc..) and i can't express enough how happy we are with this new deal. also, some of you have figured out by now that cody has left the band. he feels God is calling him to other things, most importantly being home more with his family. we wish him the best. our new guitarist is jon howard formerly of the band dizmas. he is a perfect fit for us and has made the transition smoother than i ever thought possible.

We are looking forward to what God has for us with this new record and we are so stoked to release it! check out our myspace @ http://www.myspace.com/stellarkart for an updated list of show dates. new website and facebook stuff coming soon. be sure follow me on twitter @ http:www.twitter.com/adamagee for daily updates.

So...here's the inside scoop. we are redesigning our website and getting all new stuff ready for you guys in order to properly release this new record of ours early next year. it will probably release to stores in Jan/Feb sometime, BUT...we will start selling it on the road at shows and at our online store http://shop.stellarkart.com as early as September 10th. so what that means is...in order to get the new SK record before it comes out in stores you either have to come to a show (preferred method) or order it through our online store (also not a bad option.)"
For more info on these artists, visit the JFH Artists Database.


[2021]
Jan. | Feb. | March | April | May | June | July | Aug. | Sept. | Oct. | Nov. | Dec.
[2020]
Jan. | Feb. | March | April | May | June | July | Aug. | Sept. | Oct. | Nov. | Dec.
[2001 - 2020]
Visit our complete MUSIC NEWS ARCHIVE