NOMAD SERIES FOLLOWS UP CRITICALLY ACCLAIMED SARA GROVES' DOCUMENTARY WITH "THE GREAT REVERSE"
Film Follows Nine Young Travelers in West Africa.
Features the music of MercyMe, John Foreman, Sara Groves, Jars of Clay and more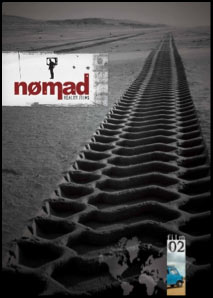 NEWS SOURCE: Morning Star PR
August 19, 2009
NASHVILLE, TN.....8/19/09....The documentary film-makers from the Nomad Series who brought us Sara Groves: Just Showed Up For My Own Life DVD in 2006, have returned to the CBA market with "The Great Reverse." Available September 15, 2009 through INO Records/Provident-Integrity, the film follows nine young travelers as they aim to make a change in West Africa.
Out of their element and exposed to the raw emotion of the moment, the travelers experience the greatest culture shock of their young lives. Hoping to impart time tested lessons, they soon learn that the roles change as they become students; gaining insight into life, loss, strength and love. In discovering the world, they discover themselves. To catch a glimpse of their journey you can view multiple clips at www.nomadshow.com
The film's soundtrack features a diverse sound, with music by popular bands such as MercyMe, Seabird, Sara Groves, Jars of Clay and Sleeping At Last. Plus, as a way to introduce and promote a host of stellar indie artists, the film also includes music from Jon Foreman, Dave Barnes, Lori Chaffer, Gerod Grigor, Tyler Burkum.
With comments ranging from "your own view of the world may be changed," "you can't help but be awakened as well," and "nothing short of courageous" for the first documentary, the anticipation for this next project is great.
"We were pleasantly surprised with the great reception and reviews of our first film," recalls Backroad Entertainment's Troy Groves. "That confirmed that these unsanitized stories of faith are needed."
The difference with this reality series and much of what is on reality television is that there is no set up, no auditions, no game show element. It's a pure inside look at the lives of every day believers and reveals what happens when people put themselves in a position to depend on God.
###


[2021]
Jan. | Feb. | March | April | May | June | July | Aug. | Sept. | Oct. | Nov. | Dec.
[2020]
Jan. | Feb. | March | April | May | June | July | Aug. | Sept. | Oct. | Nov. | Dec.
[2001 - 2020]
Visit our complete MUSIC NEWS ARCHIVE