DIAMOND RIO FRONT MAN MARTY ROE TO APPEAR ON HANNITY THIS THURS. AUG. 27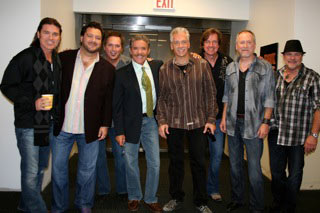 Diamond Rio alongside fellow country artist Billy Ray Cyrus and famed news reporter
Geraldo Riviera after a performance on Fox and Friends "All American Concert Series" last Friday.
NEWS SOURCE: The M Collective
August 25, 2009
Nashville, Tenn. Aug. 25, 2009…. Diamond Rio lead singer Marty Roe will be a guest on Hannity's "Great American Panel" this Thurs. The program airs on Fox News Channel weeknight's at 9pm EST. Hosted by one of the most prominent and influential conservative voices in the country, Sean Hannity, the program offers a mix of news, commentary, interviews and branded segments such as the Great American Panel -- made up of three nightly in-studio guests from across the political spectrum to discuss the issues of the day.
Diamond Rio will release The Reason on Word Records on Sept. 22 as well as the band's first autobiography titled Beautiful Mess with Thomas Nelson on the same day.
Formed in 1984, Diamond Rio features lead singer Marty Roe, guitarist Jimmy Olander, drummer Brian Prout, keyboardist Dan Truman, bassist/harmony Dana Williams and Gene Johnson on mandolin/harmony. The band signed with Arista in 1988 and embarked on one of the most successful careers in country music. The band has sold over 10 million albums earning three platinum and five gold records and won the Country Music Association's Vocal Group of the Year award four times as well as netting two Academy of Country Music Awards in the top Vocal Group of the Year category and thirteen GRAMMY ® nominations. When they debuted in 1991 with the hit "Meet in the Middle," Diamond Rio became the first group in the history of country music to have a debut single reach No. 1. They continued to place 32 more singles on the Billboard chart, including "How Your Love Makes Me Feel," "Norma Jean Riley," "Beautiful Mess" and "Love a Little Stronger." Their last recording, A Diamond Rio Christmas: The Star Still Shines, a 2007 holiday album marked their debut with Word Records.


[2021]
Jan. | Feb. | March | April | May | June | July | Aug. | Sept. | Oct. | Nov. | Dec.
[2020]
Jan. | Feb. | March | April | May | June | July | Aug. | Sept. | Oct. | Nov. | Dec.
[2001 - 2020]
Visit our complete MUSIC NEWS ARCHIVE