33MILES PARTNERS WITH FOOD FOR THE HUNGRY TO PRESENT THE "ONE LIFE" TOUR
John Waller and Pocket Full of Rocks Also Join Concert Bill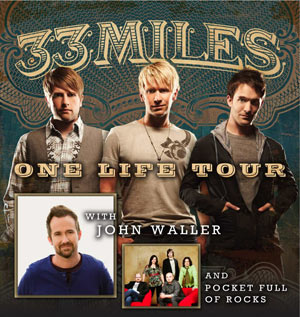 NEWS SOURCE: The M Collective
September 1, 2009
Nashville, Tenn. Sept. 1, 2009… INO Records' trio 33Miles will partner with international philanthropic organization Food for the Hungry for the "One Life" tour hitting approximately 20 cities this fall.
Provident recording artist John Waller and Word Records' Pocket Full of Rocks will also be performing on the tour that will kick off this Sept.
"We are so excited about hitting the road this fall on our very first headlining tour with John Waller and Pocket Full of Rocks!" states 33Miles frontman Jason Barton. "We look forward to seeing our friends at radio and all those who support and pray for us. It is such a blessing to be able to travel and spread the hope of Christ through music and to encourage people to make the most of their 'One Life.'"
In addition to the tour, 33Miles is prepping to release their first Christmas album titled Believe available exclusively with Family Christian Stores this year.
More about 33Miles:
After logging in over 120,000 miles (not including air travel), performing at over 200 churches, garnering radio hits and a 2008 Dove nomination for "New Artist of the Year," 33Miles released their sophomore record One Life on Sept. 16, 2007 to much praise. Critically acclaimed One Life entered the Top Christian Soundscan Album Sales chart and the Christian Digital chart at No. 5, while debuting at No. 160 on the Billboard Top 200. Since their debut in 2007, 33Miles' Jason Barton (lead vocals), Chris Lockwood (guitar) and Collin Stoddard (keys) celebrated one of the highest-selling freshman albums of 2007 with their GMA Dove nominated project 33Miles. The band will release their first Christmas project this year titled Believe exclusively with Family Christian Stores.
More about Food for the Hungry:
Since 1971, Food for the Hungry has boldly served and spoken out for the poor. Food for the Hungry is more than a relief and development organization, they are tested, trusted and innovative partner who respectively walks with the poor in more than 26 countries worldwide while intentionally reflecting the love of Jesus. For more information, please visit www.fh.org
More about John Waller:
Before his solo career, John Waller was the founding member of Christian group According To John. While serving as a worship pastor in 2006, Waller began writing songs for his church congregation in Colorado. After years outside of the music business, Waller's powerful lyrical style caught the attention of Mark Hall, lead singer of Casting Crowns. Waller became labelmates with Casting Crowns, signing with Beach Street Records and releasing his debut album titled The Blessing in 2007. He was named by Billboard magazine as one of the top ten new "Faces To Watch" in 2007, and toured extensively with Casting Crowns on "The Altar and The Door Tour" through spring 2008. For more on John Waller, and a listing of tour dates, please visit: www.johnwallermusic.com
More about Pocket Full of Rocks:
Dove Award-nominated worship group Pocket Full of Rocks first made a splash on the Christian music scene with their hit songs, "Let It Rain," and "Let the Worshippers Arise," found on Michael W. Smith's platinum-certified Worship album, and Phillips, Craig and Dean's recent release, respectively. The group later released their debut commercial project, Song to the King, in 2006 to critical acclaim, followed by their sophomore album, Manifesto, in 2007. The band is currently working on their third studio album produced by Ed Cash titled, More Than Noise which will release March 2010. "Alive," the first single off of More Than Noise is scheduled to release to radio on September 18, 2009. For more information, please visit: www.PocketFullofRocks.com
One Life Tour dates:
9/23/09 – Lake Charles, LA – Rosa Hart Theatre
9/24/09 – Karnes City, TX – Karnes City High School Auditorium
9/25/09 – Baytown, TX – Memorial Baptist Church
9/26/09 – Silsbee, TX – Silsbee High School
9/27/09 – Livingston, TX – First Baptist Church Livingston
10/1/09 – Cape Girardeau, MO – Cape First Church
10/2/09 – Jackson, KY – Douthitt City Park
10/3/09 – Flint, MI – Central Church Of The Nazarene
10/4/09 – Adrian, MI – The Christian Family Centre
10/8/09 – TBA
10/9/09 – Charlotte, NC – Myers Park United Methodist Church
10/10/09 – Charleston, WV – Morris Memorial United Methodist Church
10/11/09 – Marietta, OH – Marietta High School Auditorium
10/15/09 – TBA
10/16/09 – Richmond, KY – Red House Baptist Church
10/17/09 – Wise, VA – Gracepoint Church
10/18/09 – TBA
10/22/09 – Graniteville, SC – Christian Heritage Church
10/23/09 – TBA
10/24/09 – Teachey, NC – Wallace Rose Hill Fine Arts Center
10/25/09 – TBA
*all dates subject to change, please visit www.33milesonline.com for the most updated tour information.
For more info on 33Miles, visit the JFH Artists Database.


[2022]
Jan. | Feb. | March | April | May | June | July | Aug. | Sept. | Oct. | Nov. | Dec.
[2021]
Jan. | Feb. | March | April | May | June | July | Aug. | Sept. | Oct. | Nov. | Dec.
[2001 - 2021]
Visit our complete MUSIC NEWS ARCHIVE