MATTHEW WEST HEADLINES "THE MOTIONS TOUR" THIS FALL
Speaker Lance McAfee To Share How "The Motions" Impacted His Family

Singer-Songwriter Josh Wilson Also Featured on Tour Bill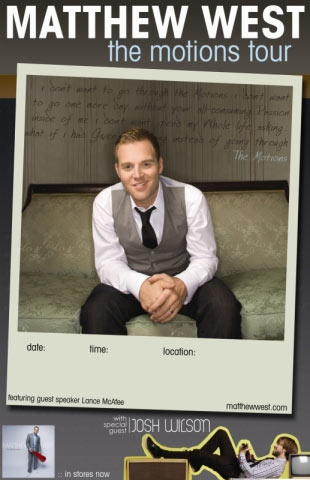 NEWS SOURCE: Savvy Media
September 29, 2009
(NASHVILLE, Tenn.) Sept. 29, 2009-- Award-winning artist Matthew West announces the kick-off of "The Motions Tour," launching next month and running through early November. The tour will additionally feature speaker Lance McAfee, who was impacted by West's song "The Motions," and Sparrow Records singer-songwriter Josh Wilson.
Named after West's most recent hit, which was No. 1 at Christian AC radio for 14 consecutive weeks, the tour is an extension of "The Motions" national campaign that has captured hearts across America. Like "The Motions" web site (www.MatthewWest.com/themotions), where fans can voice their commitment to "avoid the trap of simply going through the motions," the tour intends to connect attendees with the song's life-changing message. Lance McAfee, whose story was one of 2,700 resolutions posted to The Motions web site, left an indelible impression on West, who invited McAffee to share how the song affected his brother Ryan's life while encouraging concert-goers to live their own lives intentionally as well.
"I think one of the greatest challenges in actively living out a relationship with Christ on earth is to avoid the trap of simply going through THE MOTIONS," says West. "God is a God of PASSION. His true plan for our lives is anything but boring. Every day, the God of adventure beckons his sons and daughters to quit going through the motions, and walk into a life filled with passion and wonder. Our desire is for 'The Motions Tour' to be more than just a show...more than just a night of entertainment. We have put a lot of prayer and thought into providing an evening that will leave a lasting impact on the lives of those who attend."
A tour itinerary follow this release. For venue and ticket information, visit: http://www.matthewwest.com.
West catapulted onto the Christian music scene in 2003 with his debut single, "More," which was the most played Christian AC song of 2003. The multi-Dove Award nominee and sought-after songwriter released two critically-acclaimed recordings, Happy (2003) and History (2005); has been a mainstay at Christian radio with memorable hits like "Only Grace," "History" and "Next Thing You Know"; and has toured with such artists as tobyMac and Jeremy Camp on the wildly popular 2008 "Boomin' Beyond Measure" tour. In addition, West has penned songs for Rascal Flatts, Billy Ray Cyrus, Natalie Grant and Mandisa, among others. West's third studio recording, Something To Say, released January 15, 2008 and produced the No. 1 AC radio hit "You Are Everything," which was also the most played Christian song of 2008, as well as "Something to Say," which climbed to No. 7 at AC radio. His most recent single, "The Motions," was No. 1 on Radio & Records' Christian AC Monitored chart and the Billboard Christian chart for 14 weeks as well as the most downloaded Christian digital track 15 weeks running, according to SoundScan. For more information on Matthew West, visit www.matthewwest.com or www.myspace.com/matthewwest.
Guest speaker Lance McAfee is the brother of Ryan McAfee, whose story was submitted to "The Motions" web site on March 6, 2009. Ryan had posted "The Motions" lyrics to his Facebook page, asking his friends to hold him accountable to a life beyond just going through the motions. Only hours after making this pledge, Ryan lost his life in a tragic car accident. Upon contacting the family, West learned more about Ryan and how his life impacted others for eternity. Lance has found purpose in the midst of tremendous loss, and joins "The Motions Tour" to share his brother's story in hopes of inspiring others to live life intentionally. To read the story in its entirety, visit: http://matthewwest.com/2009/05/26/ryan-mcafee's-story/.
Singer/songwriter Josh Wilson grew up the son of a preacher in Lubbock, Texas. Learning to play both guitar and piano at a young age, he began leading worship for his church's youth group. After high school, Wilson attended Belmont University in Nashville, Tenn., where he won the Christian Music Showcase his junior year. He signed to Sparrow Records in 2006 and released his major label debut, Trying to Fit the Ocean in a Cup, April 29, 2008. The album was met with critical acclaim, hailed by Christian Retailing as "the future of Christian pop" and named among the Top Ten Best Albums of 2008 by GospelMusicChannel.com. Trying to Fit the Ocean in a Cup additionally spawned the Top 10 radio hit "Savior Please," and earned Wilson tour positioning alongside such high profile artists as Big Daddy Weave and Matthew West. Wilson's sophomore album, Life Is Not A Snapshot, releases Sept. 8, 2009 and is seven-song collection of contemporary theological musings that reflect Wilson's remarkable penchant for framing cold and calculated questions of faith into wild, unbridled musical expressions of trust. For more information on Josh Wilson, visit www.myspace.com/joshwilson.
###
"The Motions Tour" Itinerary

Date City
10/15 McAlester, OK
10/16 St. Louis, MO
10/17 Decatur, IL
10/18 Kansas City, MO
10/22 Manchester, NH
10/23 Fredericton, New Brunswick CANADA
10/24 Bangor, ME
10/25 Freeport, ME
10/29 Midland, MI
10/30 Lansing, MI
10/31 Flint, MI
11/1 Muskegon, MI
For more info on Matthew West, visit the JFH Artists Database.


[2022]
Jan. | Feb. | March | April | May | June | July | Aug. | Sept. | Oct. | Nov. | Dec.
[2021]
Jan. | Feb. | March | April | May | June | July | Aug. | Sept. | Oct. | Nov. | Dec.
[2001 - 2021]
Visit our complete MUSIC NEWS ARCHIVE