HOUSE OF HEROES TO JOIN "THE FAMILY FORCE 5 CHRISTMAS PAGEANT TOUR"
BAND TO RELEASE CHRISTMAS EP ON NOVEMBER 10

BAND CURRENTLY ON THE SUPER BIG TIME AMERICAN TRAVELING CONCERT TOUR WITH THE WEDDING AND ABANDON KANSAS

"sizzling pop-punk/pop-rock heat that decimates everything left in its wake" --Absolute Punk 2009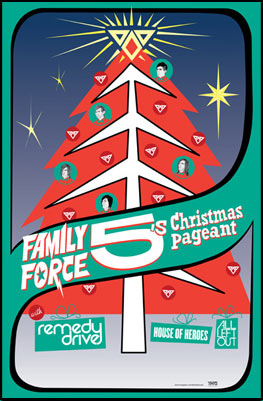 NEWS SOURCE: Independent Music Media
September 30, 2009
It's been a busy year for House Of Heroes with the release The End Is Not The End CD followed by two EP releases The Acoustic End and House Of Heroes Meets The Beatles as well as non-stop touring, and it's not over as the band is looking to end the year with a bang with the release of their first holiday EP on November 10 as well they will be embarking on the biggest traveling Christmas party to date "The Family Force 5 Christmas Pageant Tour" with special guest Remedy Drive kicking off on November 28 for a 3 week trek. With a holiday themed backdrop adorning the stage you can expect this to be a Christmas party like no other.
"We had a blast making the Silent Night single last year and it was fun to go in and make a full EP of Christmas tunes. To make things even better, we're going to be doing a Christmas tour with some of our very best friends in Family Force 5! What a great way to close out the year!" Says frontman Tim Skipper
House Of Heroes is –
Tim Skipper -lead vocals, guitar
Colin Rigsby - drums, backing vocals
AJ Babcock - bass guitar, backing vocals
Jared Rigsby- guitar, backing vocals
"It has been a very busy year for us. It's nice to feel like the band is our job again after a few years of writing, recording, and limited touring. We've been on the road a lot supporting a full length and 2 EP's that we've released so far this year. We want to keep that momentum going so we've been writing a lot lately and can't wait to get back in the studio for another full length!" – Says Skipper
The band can currently be found heating up stages on the SuperBigTime American Concert Tour with The Wedding and label mates Abandon Kansas.
See them live:
With The Wedding and Abandon Kansas

Sept. 3o Plaza Theatre Orlando, FL
Oct. 1 Murray Hill Theatre Jacksonville, FL
Oct. 2 Gallery 13 Columbus, GA
Oct. 3 The Fish Music Hall McCalla, AL
Oct. 4 The Furnished Montgomery, AL
Oct. 6 Cafe Chi Alpha Lafayette, LA
Oct. 9 The Core Houston, TX
Oct. 10 The Door Plano, TX
Oct. 11 I Love Evelyn Texarkana, TX

The first annual Christmas Pageant Tour with Family Force 5 and Remedy Drive

Nov. 28 Resurrection Church Grand Rapids, MI
Nov. 29 The Chapel Grayslike, IL
Nov. 30 Chalfant Hall at ONU Kankakee, IL
Dec. 3 The gather ing Place Indianapolis, IN
Dec. 4 The Underground Cincinnati, OH
Dec. 5 Rocketown Nashville, TN
Dec. 6 Hope Church Memphis, TN
Dec. 8 Church @Rock Creek Little Rock, AR
Dec. 10 &nb sp; Bricktown Event Center Oklahoma City, OK
Dec. 11 Celebration Church Georgetown, TX
Dec. 12 Pasadena Convention Center Houston, TX
Dec. 13 TriPoint San Antonio, TX
Dec. 15 Plaza Theater Orlando, FL
Dec. 16 Murray Hill Theater Jacksonville, FL
Follow them at twitter.com/HouseOfHeroes
For more info on House Of Heroes, visit the JFH Artists Database.
# # #


[2022]
Jan. | Feb. | March | April | May | June | July | Aug. | Sept. | Oct. | Nov. | Dec.
[2021]
Jan. | Feb. | March | April | May | June | July | Aug. | Sept. | Oct. | Nov. | Dec.
[2001 - 2021]
Visit our complete MUSIC NEWS ARCHIVE