JFH MORNING NEWS SHORTS FOR WEDNESDAY OCTOBER 14, 2009
News on Red, Staple, Fireflight, Tal & Acacia, Third Day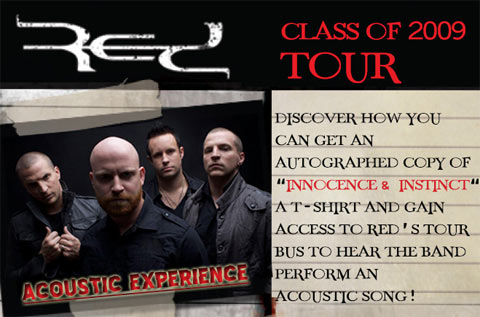 NEWS SOURCE: a Jesusfreakhideout.com report
October 14, 2009
>> Red Offers fans Special "Acoustic Experience"
Want to get special access to an acoustic set on RED's bus? Now you can!...
"Hey guys, we are offering a very cool "ACOUSTIC EXPERIENCE" offer during the CLASS OF 2009 TOUR, which starts 10/27 in San Antonio.

Visit this link to learn more about this limited, special offer, where you can get an autographed copy of Innocence & Instinct, a t-shirt and gain access to RED's tour bus to hear the band perform an acoustic song.

See you soon, and don't forget to stop by our new website, RedMusicOnline.com.
RED"
>> Staple Currently Writing For A New Album
As 2009 seems to be the year for former Flicker Records bands to return with Staple and Kids In The Way making comebacks (although Nevertheless did just announce their split for the end of the year...), Staple has announced that they are hard at work writing for a new record! In their recent announcement, they also gave some info on how fans can order the new EP they cut this year as well...
"We are currently hard at work writing some new tunes for you all. We are tentatively scheduled to record in December with our good friend and former drummer Grant Beachy from Electric Angel Studios (be sure to check his stuff out at his myspace. He's in our top friends). We're not putting any time limits for a minimum or maximum amount of songs to have ready by then, but instead we're just writing each song until we feel satisfied with it, so if we have 1 song or 100 songs ready by then, then that's how we'll approach how many will get recorded during that session. Thanks for staying in the loop with us and spreading the word about our new music. We've been very encouraged by your responses to it.

Also worth mentioning, we are in the process of overhauling our myspace page, where you will eventually be able to order all music, merchandise, and anything else Staple related directly from the page. We're kicking around new designs and themes right now, as well as planning a tentative photo shoot in the near future. We've been getting a lot of questions about where to buy the new EP at, as well as our older music. For now, if you are interested, send a check made out to Staple at:

Staple
24 W Sandusky St
Mechanicsburg, OH 43044

Prices are as follows:
Gatekeeper EP: $5
Flicker Releases: $12
2003 EP: $5
2002 Full Length: $12

Add $1 per cd for shipping and we'll get them sent out to you.

Thanks!!
The Staples"
>> Fireflight Schedules New Album For February 9th Release!
We found out last night from Fireflight that their third studio album will be titled For Those Who Wait and is slated for a February 9th, 2010 release. Things are starting to amp up a bit for the new album! More to come...
>> Tal & Acacia's "Drifting Away" Featured on ABC's Private Practice
Check out this news from Tal & Acacia about their song "Drifting Away..."
"Just wanted to let you guys know that "Drifting Away" is going to be featured in this week's episode of Private Practice. It airs on ABC Thursday night, October 15, at 10/9c. ...tune in if you can! "
>> Third Day Hangs With Bono
Third Day spent time with U2 prior to its "U2 360° Tour: 2009" tour stop last week in Atlanta. The bands are both active with the One Campaign (www.one.org) which encourages people to action supporting social justice on local and global levels.

Pictured: Third Day members- David Carr, Mark Lee, Tai Anderson and Mac Powell with U2 front man, Bono.
(source: Provident Label Group)
For more info on these artists, visit the JFH Artists Database.


[2021]
Jan. | Feb. | March | April | May | June | July | Aug. | Sept. | Oct. | Nov. | Dec.
[2020]
Jan. | Feb. | March | April | May | June | July | Aug. | Sept. | Oct. | Nov. | Dec.
[2001 - 2020]
Visit our complete MUSIC NEWS ARCHIVE