JFH NEWS SHORTS FOR THURSDAY OCTOBER 22, 2009
News on SONICFLOOd, Family Force 5, Kids In The Way, The Almost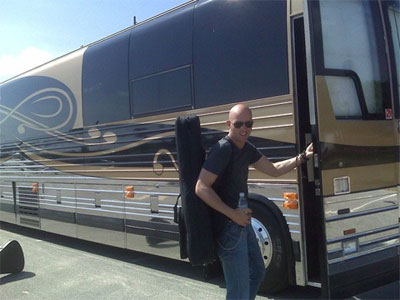 NEWS SOURCE: a Jesusfreakhideout.com report
October 22, 2009
>> SONICFLOOd Guitarist Leaves For Afghanistan
Along with the announcement of a brand new Christmas album, When Love First Cried, SONICFLOOd recently announced that their guitarist Phil Baquie is shipping out to Afghanistan. Below is their announcement...
"Nashville, TN - October 21, 2009 - Last Wednesday, Phil received orders that he is being being deployed to Afghanistan for about one year as part of "Operation Enduring Freedom."

'To say I am in shock would be an understatement & I was not anticipating this happening anytime soon as I'm in the Inactive Ready Reserve. Having said that, I will serve my country with honor & am grateful for all America has done for me & do still feel a sense of duty to serve in the areas I have been trained...I write this with tears as I have loved being a part of this band & believe in everything it's trying to accomplish. I hope that the position of guitar/bgv will be held upon my hopeful return from Afghanistan. I love you guys so much & am believing that God is in control & has amazing things planned for SONICFLOOd & the journey he has me on.

To God be the Glory & God bless America,
Phil'

While we are saddened at his departure, we are equally honored by Phil's willingness to protect his adopted country and protect our freedoms. Although he has lived in the US for over ten years, Phil is not an American although he would like to become a US citizen before leaving to serve. It is our prayer that this is accomplished. We have been trying to go to Afghanistan to perform for the troops as part of SONICFLOOd's ongoing military ministry and now we are even more motivated."
>> Family Force 5 Release Behind The Scenes Of "Dance Or Die" Music Video
Check out this video below to get a little peek into the making of the "Dance Or Die" Music Video!


>> Kids In The Way To Film Documentary
The newly revived Kids In The Way are wasting no time getting back in action. The guys have begun playing a few shows again and have just announced plans to film a new documentary. The band writes, "Hey everybody... We are pleased to announce that Walnut Films will be filming a documentary of our trip to Germany in December. Check out www.walnutfilms.de to see some of their other films... Release date TBA..."
>> Special The Almost Pre-Order On iTunes
The Almost announced a new iTunes pre-order special... "You can now pre-order the new album Monster Monster on iTunes for only $9.99 and get an exclusive iTunes only bonus track "Me and Alone," which won't be available anywhere else. And don't forget you can purchase the Monster EP + Monster Monster from www.thealmostmerch.com, at any Hot Topic Store, or on The Almost's current tour"
For more info on these artists, visit the JFH Artists Database.


[2021]
Jan. | Feb. | March | April | May | June | July | Aug. | Sept. | Oct. | Nov. | Dec.
[2020]
Jan. | Feb. | March | April | May | June | July | Aug. | Sept. | Oct. | Nov. | Dec.
[2001 - 2020]
Visit our complete MUSIC NEWS ARCHIVE