JOANNA MARTINO BEASLEY REVEALS NEW NAME AND VISION, AND READIES FOR THE RELEASE OF HER SOPHOMORE ALBUM
Newly Married Singer/Songwriter Unveils Patiently Waiting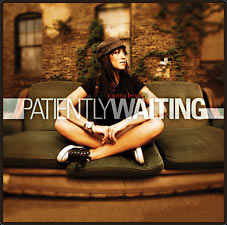 NEWS SOURCE: SPRINGBOARD Entertainment
November 11, 2009
Nashville, TN (November 11, 2009) – Building on the success of her debut album, My World, newly married Joanna Martino Beasley is excited to announce the release of her sophomore project, Patiently Waiting, available now.
Her marriage to Kerry Beasley in late 2008 served as a catalyst for the new album.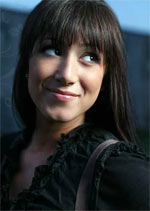 "This project is a beautiful collage of the past few years growing, changing and learning more about the love of Christ through my marriage to Kerry," explains Joanna, who will now be going by her married name, Beasley. "Christ has grown me more than I ever thought possible. In this process of Patiently Waiting, my heart has ached, learned and found joy greater than I've ever known. It hasn't been an easy process, but I see the goodness and love of God in it, His patience in teaching me and waiting for me to respond to Him."
One area of growth for Beasley was songwriting, as she either wrote or co-wrote all original songs on the album. The other co-writers are Dustin Burnett (Philmont, The Wrecking) and Drew Cline (NewSong, Shelly Jennings), who also shared production credit. Stephen Leiweke (Jars of Clay, Natalie Grant) also assisted with additional production.
"To me, writing is like wearing your heart on your sleeve," says Beasley. "Because I've only been writing few years and don't feel very experienced yet, it took me a while to get comfortable writing with other people. Usually I just write things down when they come to me; it's hard to make yourself 'inspired' in the moment. Drew and Dustin made it so easy though - we had a blast - and now i just want to work with other writers all the time! I do still enjoy jamming out in my room with just me and my guitar, though, too... worshiping Jesus has inspired a lot of more intimate songs with Him."
A special release bash for hometown fans, family and friends was held Sunday, November 1st in South Bend, IN. Sponsored by PULSE FM, the event was standing room only.
"Sharing my new album with all the people who knew me from the beginning, plus many more fans who've joined along the way, was more than the best way I could've hoped to kick off this new album-to say it was a blast feels like an understatement!" says Beasley.
"Wishing Well" is the first radio single from Patiently Waiting and is available for airplay now.
A former "American Idol" contestant, Joanna (Martino) Beasley released her debt album, My World, in 2005 and saw great success. The single, "Right Where You Want Me," was recognized as "Most Added" on the CRW radio charts and the album was featured by many media outlets, including CCM Magazine, CRW and PluggedIn. Beasley has performed shows around the world and shared the stage with artists such as Michael W. Smith, MercyMe, Chris Tomlin and Natalie Grant, and performed for private groups, including the University of Tennessee Volunteers football team and staff. Additionally, Beasley has partnered with organizations like Compassion International, Chic-Fil-A's Winshape Camp for Girls and Josiah Venture in Europe. Most recently, Beasley took on the role of television personality, and served as the host for STEELROOTS' "Top 10 Countdown" on INSP Network for the past two years. She has also partnered with Global Pastor Outreach, a non-profit organization striving to make a difference in the lives of pastors in developing countries by connecting them for support and providing them with resources.
The new album, Patiently Waiting, can be found online at iTunes, Amazon.com and CDBaby as well as through the website www.joannabeasley.com and at live performances.
For more information about Joanna (Martino) Beasley or Patiently Waiting, please visit www.joannabeasley.com.
# # #


[2021]
Jan. | Feb. | March | April | May | June | July | Aug. | Sept. | Oct. | Nov. | Dec.
[2020]
Jan. | Feb. | March | April | May | June | July | Aug. | Sept. | Oct. | Nov. | Dec.
[2001 - 2020]
Visit our complete MUSIC NEWS ARCHIVE