DIAMOND RIO GEARS UP FOR SIXTH ANNUAL TEAM RIO TO RAISE FUNDING AND AWARENESS FOR BIG BROTHERS BIG SISTERS
Multi-Platinum Selling Group Launches 2010 Recruitment Initiative For
Country Music Marathon and Half Marathon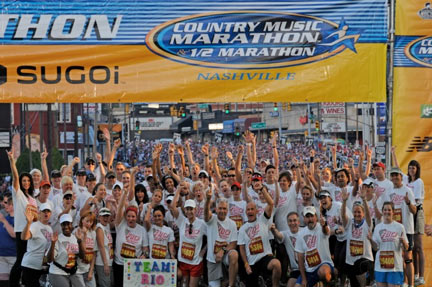 NEWS SOURCE: The M Collective
November 17, 2009
Nashville, Tenn. Nov. 17, 2009… Diamond Rio's Jimmy Olander and Marty Roe are getting ready to upgrade last years running shoes and continue to add to the over 133,000 training miles that have been walked or run as part of an initiative to raise money and awareness for Big Brothers Big Sisters of Middle Tennessee. Diamond Rio has opened recruitment for runners or walkers for Team Rio 2010 in preparation for the Country Music Marathon and Half Marathon on April 24, 2010.
"It's right about this time of year when people stop taking my calls and start walking the other way when they see me coming. They know I am hardcore at recruiting for our team and I am going to be hitting them up to join Team Rio," shares Celebrity Running Captain and co-founder Jimmy Olander. "The great thing about our team is you can train from anywhere in the country. We've had runners join us from as far as California and D.C. They train in their hometown and run with their fellow Team Rio members on the day of the marathon. We start off with a sixteen week program so that all fitness levels start at a comfortable pace."
Training for Team Rio kicks off in January. Team Rio provides training schedules for the full and half marathon on a weekly basis, specialty clinics, group support and discounts to local retailers to assist in training. Team members train during the week individually and meet for optional group runs on Saturday mornings. Team Members are required to raise a minimum of $250.00 in pledges. For more information on how you can get involved, visit www.teamrio.org. Additionally, Team Rio offers the below informational sessions through the month of December.
Tuesday, December 1 at Noon and Wednesday, December 2 at 5:30 pm CST
Big Brothers Big Sisters
1704 Charlotte Avenue (17th and Charlotte)
Youth Opportunity Center
Last year Team Rio raised over $116,000 and over $425,000 in just five years. Over 150 adult participants took part in Team Rio last year. Additionally, Team Rio Kids had 80 children take part in the kid's race in 2009.
About Team Rio:
Team Rio was founded in the winter of 2004 by Diamond Rio's guitarist, Jimmy Olander and Modern Management's Renee Behrman-Greiman. Diamond Rio, long-time National Ambassadors for Big Brothers Big Sisters and Behrman-Greiman, a Big Sister and Board Member with the agency allocated BBBS as the team's benefactor. Neither of them remember 100% committing to running the Country Music Marathon and Half Marathon in 2005, however they do remember crossing the finish line for the first time with twenty-five committed team members, an amazing cheering section and raising over $24,000.00 for Big Brothers Big Sisters of Middle Tennessee. In the past four years over $425,000.00 has been raised for the Middle Tennessee agency. Team Rio Running/Walking for Big Brothers Big Sisters has grown to over 150 runners and walkers and added Team Rio Kids with over 80 kid participants in the kid's marathon. Team Rio is celebrating its sixth anniversary.
About Team Rio Kids:
In addition to raising funds and awareness for the agency, a main goal of Team Rio Running and Walking for Big Brothers Big Sisters is to promote health and fitness to local kids. The youth team, TEAM RIO KIDS, partners with local schools to teach and encourage a healthier lifestyle and assist the kids with their training for the Kids Marathon. Team Rio Kids will train within their respective schools or with their parents to complete 25.2 miles prior to April 24th when they will complete the last mile of the actual course and cross the official Country Music Marathon finish line. SGT Ken, Team Rio Kids Coach, provides training schedules and health tips in his weekly email newsletters, "SGT Ken Says."
About Diamond Rio:
Diamond Rio unveiled their 11th album The Reason on Word Records on Sept. 22. The autobiography "Beautiful Mess" from Thomas Nelson coincided with the album release. Formed in 1984, Diamond Rio features lead singer Marty Roe, guitarist Jimmy Olander, drummer Brian Prout, keyboardist Dan Truman, bassist/harmony Dana Williams and Gene Johnson on mandolin/harmony. The band signed with Arista in 1988 and embarked on one of the most successful careers in country music. The band has sold over 10 million albums earning three platinum and five gold records and won the Country Music Association's Vocal Group of the Year award four times as well as netting two Academy of Country Music Awards in the top Vocal Group of the Year category and thirteen GRAMMY ® nominations. When they debuted in 1991 with the hit "Meet in the Middle," Diamond Rio became the first group in the history of country music to have a debut single reach No. 1. They continued to place 32 more singles on the Billboard chart, including "How Your Love Makes Me Feel," "Norma Jean Riley," "Beautiful Mess" and "Love a Little Stronger." Their previous recording, A Diamond Rio Christmas: The Star Still Shines, a 2007 holiday album marked their debut with Word Records.
About Big Brothers Big Sisters of Middle Tennessee:
Big Brothers Big Sisters improves children's chances for succeeding in school, behaving nonviolently, avoiding drugs and alcohol, and breaking negative cycles. Located in Nashville and providing services to Davidson County and the contiguous counties, Big Brothers Big Sisters of Middle Tennessee is on track to serve 2,500 children in 2009.
The social profit agency depends on financial investments to help recruit volunteers and reach more children. Funding is used to conduct background checks on volunteers to ensure child safety, and provide ongoing support for children, families and volunteers to build and sustain long-lasting relationships. The average annual cost per child is $1,000.
You can change how children grow up in Middle Tennessee by going to www.mentorakid.org or calling (615) 329-9191.
# # #

www.teamrio.org
http://www.myspace.com/diamondriosteamrio
twitter.com/teamrio2010
www.facebook.com/diamondriosteamrio
www.diamondrio.com
twitter.com/diamondrioband


[2022]
Jan. | Feb. | March | April | May | June | July | Aug. | Sept. | Oct. | Nov. | Dec.
[2021]
Jan. | Feb. | March | April | May | June | July | Aug. | Sept. | Oct. | Nov. | Dec.
[2001 - 2021]
Visit our complete MUSIC NEWS ARCHIVE