BYRON "MR. TALKBOX" CHAMBERS JOINS TOBYMAC'S DIVERSE CITY BAND FOR WINTER WONDER SLAM TOUR
Chambers Gears Up To Hit The Road As "Ground Zero" Single Continues To Make An Impact At Radio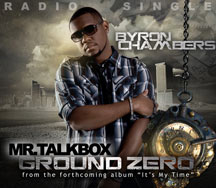 NEWS SOURCE: Springboard Entertainment
November 19, 2009
Nashville, TN (November 19, 2009) – Byron "Mr. Talkbox" Chambers is excited to announce that he will be joining the 2009 Winter Wonder Slam Tour as a member of TobyMac's Diverse City Band. As he gears up to hit the road, "Ground Zero," the first single from his forthcoming album, continues to make an impact at radio.
Chambers will be playing guitar and keyboard in the Diverse City Band, and will also step out to perform his "Mr. Talkbox" guest spots, as featured on TobyMac's three albums.
"When I got the call from Toby to come out, I was so excited! He totally caught me off guard," exclaims Chambers. "I realize that it is God who opens doors like this and I am stoked to be a part of such an amazing group of players and people!"
In its fifth year, the 20-city Winter Wonder Slam Tour begins today in University Park, PA and will head to the West Coast for 2009, as well as make its way to New York City, Pittsburgh, Louisville and more. GRAMMY Award winner TobyMac once again headlines his popular tour, which also features the talents of Relient K, B.Reith and Stephanie Smith. Continuing its tradition of giving, Winter Wonder Slam is teaming up with the U.S. Marine Corps to help with their Toys for Tots campaign.
Byron Chambers is set to take the world by storm with his "Mr. Talkbox" album in early 2010. "Ground Zero," the first single from the project is garnering quite a bit of attention at radio and is being played on stations across the country. The single can be purchased online through iTunes.
Beginning his career singing and performing in a gospel group with his father, Byron Chambers soon caught the attention of key industry gatekeepers and garnered a spot playing keys and touring with *NSYNC. From there, he has had the opportunity to play with Britney Spears, Gloria Estefan and Jordan Knight, to name a few. Other highlights from Chambers' bright career include: doing a guest appearance on O-Town's "All For Love," arranging songs for and touring with American Idol Finalist, Danny Gokey, writing and arranging Group 1 Crew's #4 Billboard-charting song, "Movin'," co-writing and performing on TobyMac's gold-selling, GRAMMY nominated album Diverse City and doing a guest appearance on the gold-selling album, Portable Sounds, which garnered a Dove award, and a guest appearance on Martha Munizzi's smash-hit song "Jesus Is The Best Thing," which he also co-wrote. Additionally, Chambers has released two solo albums to the gospel market.
Information about the Winter Wonder Slam Tour, including dates and ticket information can be found at www.winterwonderslam.com.
For more information about Byron "Mr. Talkbox" Chambers and for up to the minute news on the upcoming album, please visit www.mrtalkbox.com and follow him on Twitter at www.twitter.com/MrTalkbox.
# # #


[2022]
Jan. | Feb. | March | April | May | June | July | Aug. | Sept. | Oct. | Nov. | Dec.
[2021]
Jan. | Feb. | March | April | May | June | July | Aug. | Sept. | Oct. | Nov. | Dec.
[2001 - 2021]
Visit our complete MUSIC NEWS ARCHIVE