SEABIRD'S "JOY TO THE WORLD" FEATURED ON TONIGHT'S "GREY'S ANATOMY"
Band Promotes Rocks Into Rivers on Album Release Tour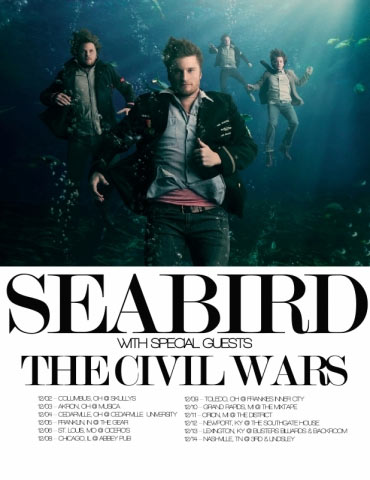 NEWS SOURCE: Savvy Media
November 19, 2009
(NASHVILLE, Tenn.) Nov. 19, 2009—Cincinnati pop-rock band Seabird's "Joy to the World" will be featured on tonight's episode of the ABC award-winning series, "Grey's Anatomy." The spotlight is timely for Seabird, who heads out next month on a national promotional tour in support of its Dec. 15 release, Rocks Into Rivers.
Helping to fuel the momentum of its forthcoming release, Seabird's modern take on "Joy to the World" will be featured on an all-new "Grey's Anatomy" tonight at 9:00 pm EST/8:00 CST. The song is included on Seabird's The Silent Night EP, currently available at iTunes: http://bit.ly/Tqqw3. The EP will be available at all digital music outlets beginning Nov. 24.
Opening Dec. 2 in Columbus, Ohio, Seabird will celebrate the debut of its new record with live performances in 12 cities including major markets Chicago, St. Louis and Detroit. Special guest The Civil Wars (featuring Joy Williams and John Paul White) will join the band on select dates. Additionally, Seabird will make promotional stops at Fearless Radio (Chicago), RadioU (Columbus, Ohio) and YES FM (Toledo, Ohio) among other national media outlets. The band will host a CD release concert for fans in its hometown on Dec. 12, wrapping up the tour in Nashville Dec. 14. Tickets are on sale now, visit www.seabirdmusic.com for additional information. A complete tour itinerary follows this release.
A follow up to Seabird's 2008 critically acclaimed label debut, 'Til We See The Shore, Rocks Into Rivers features top-notch production by Paul Moak (Mat Kearney, Sixpence None The Richer) and Matt Hales from Aqualung. The band split its time between Ocean Studios in Los Angeles and The Smoakstack in Nashville, honing what brothers Aaron and Ryan Morgan are calling their most exciting project to date. The album's first CHR/AC single, "Don't You Know You're Beautiful," is now available at iTunes and other digital music outlets. Currently, Seabird is wrapping a 30-city stint on David Crowder Band's fall tour.
Cincinnati-based Seabird comprises brothers Aaron (vocals/keys) and Ryan (guitar) Morgan as well as Preston Lane (drums) and Brandon Weaver (bass). The band signed with Credential Recordings in late 2007 and released its debut label project,'Til We See The Shore, June 24, 2008. A collaborative effort with producers Jacquire King (Modest Mouse, Kings Of Leon, Tom Waits, Switchfoot) and Allen Salmon (Mute Math, This Beautiful Republic), the album received phenomenal national publicity, featured on episodes of "Numb3rs," "Grey's Anatomy," and promos for ABC's 12-time Emmy-nominated series, "Pushing Daisies." The band was also recognized by its hometown as "Artist of the Year" at the 2008 Cincinnati Entertainment Awards and toured with artists including Barcelona, Meese, and Jars of Clay throughout the spring and summer of 2009. For more information on Seabird, visit: www.seabirdmusic.com or www.myspace.com/seabird.
###
Seabird Album Release Tour Itinerary
Date/City/Venue
12-2-09/Columbus, OH/Skullys
12-3-09/Akron, OH/Musica
12-4-09/Cedarville, OH/Cedarville University
12-5-09/Franklin, IN/The Gear
12-6-09/St. Louis, MO/Cicero's
12-8-09/Chicago, IL/Abbey Pub
12-9-09/Toledo, OH/Frankies Inner City
12-10-09/Grand Rapids, MI/The Mixtape
12-11-09/Orion, MI/The District
12-12-09/Newport, KY/The Southgate House
12-13-09/Lexington, KY/Busters Billiards
12-14-09/Nashville, TN/3rd & Lindsley
For more info on Seabird, visit the JFH Artists Database.


[2021]
Jan. | Feb. | March | April | May | June | July | Aug. | Sept. | Oct. | Nov. | Dec.
[2020]
Jan. | Feb. | March | April | May | June | July | Aug. | Sept. | Oct. | Nov. | Dec.
[2001 - 2020]
Visit our complete MUSIC NEWS ARCHIVE