MUSIC BOAT 2010: REACHES NEW HEIGHTS--DEATH DEFYING HIGH WIRE WALK AT SEA, TV PERSONALITIES, SPORTS STARS, TOP NAMES IN CHRISTIAN MUSIC—MAKE THIS THE ULTIMATE CRUISE EXPERIENCE!
THIRD DAY WILL HOST—MORE PORTS WILL BE VISITED.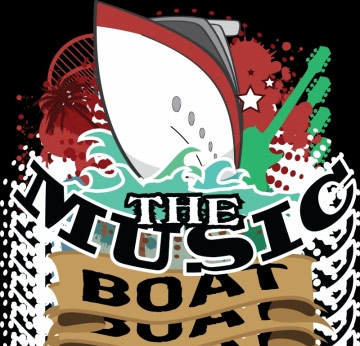 NEWS SOURCE: Morningstar PR
December 17, 2009
(Nashville, Tennessee) – December 17, 2009 –With little less than a year before raising anchor, plans are set for the Royal Caribbean's luxury ship, Majesty of the Sea to host the biggest Music Boat sailing to date. "Biggest" by definition of caliber of talent line-up, the array of shipboard activities, add-on amenities, pre-promotional marketing campaign, and ports to be visited over the 4 day sailing from Miami, November 8-12th.
New in 2010 will be the addition of World Hope as the presenting flagship ministry in the annual Music Boat outreach to impact lives. With their stated mission to bring the hope and love of Christ to the hopeless, World Hope has a global missions program that includes extensive training and discipleship for the missionary field as well as hands-on outreaches currently established in Kenya, Nicaragua, and the Philippines. The James Fund and their international outreach will also be a returning ministry presence on the 2010 cruise.
Notes John Sanders of Premier: "World Hope is a tremendously effective ministry in bringing the love Jesus to the world's most needy. Their presentation of the Music Boat is a real 'heart alliance' that touches the core of our mission at Premier. This cruise has year after year proven to be much more than a family friendly fun time at sea. The Music Boat has annually raised both awareness and major financial support for the intended purpose of taking the gospel around the world."
More than a cruise, the Music Boat has also gained the deserved reputation of being a "premier experience at sea." Combining the themes of family friendly activities and a strong array of top name Christian music artists and celebrities, with a careful attention to amenities and customer services for their shipboard guests, Premier has developed a niche as America's top producer of Christian cruises.
Notes Robyn Klass, Marketing Director for Premier: "The Music Boat has transcended the draw of individual music names for many reasons. Our community always knows that the music line-up we bring will be second to none. Whether we are having a big band play, bringing on TV celebrities, or staging a first ever high-wire walk over the ocean, the Music Boat has grown into a family who are as much a part of the cruise as the entertainment itself. All these things add up to create a luxury experience unmatched in the industry. Proof is the 2010 sailing which was nearing a 50% sell-out before our talent line-up was ever announced to the press."
When anchors do finally go up in November 2010, the Music Boat will for the first time have a designated 'artist host' for the cruise. Multi-platinum, multi-Grammy and Dove Award winning band, Third Day will act as hosts for the all-star talent extravaganza onboard. The ship will make port stops in Nassau, Key West, and Royal Caribbean's private island, CoCoCay.
Music artists booked include Newsboys, David Crowder Band, Jeremy Camp, Denver & the Mile High Orchestra, Fee, Mandisa, Addison Road, Thousand Foot Krutch, Jonny Diaz, Glory Revealed. Additionally, a special musical reunion performance from 4HIM will be featured. Other talent attractions will include 321 Improv, and the loveable characters from VeggieTales. Premier has also contracted world renowned high-wire artist, Bello the Clown who will stage a 'first ever' high wire performance at sea. Matt Diaz from the Atlanta Braves, Sean Algaire from this television season's 'Biggest Loser,' and the comedy of George Bush impersonator, John Morgan, will join author/speakers Candace Cameron Bure and David Nasser in rounding out the full talent roster.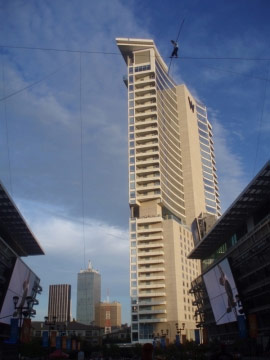 PHOTO ID: High-wire artist, Bello, will perform his artistry high over the sea on the 2010 Music Boat.
Notes John Sanders of Premier: "Success of the Music Boat is a God thing. Our community is not only made up of the passengers onboard but we are additionally blessed with a great working relationship with wonderful Christian radio stations."
Michelle Younkman, who oversees the ongoing promotional relationship on the Music Boat cruise with more than 40 Christian radio partners, adds: "We stress to our radio partners that the further out their listeners book their staterooms, the better early booking pricings we can accord them. The Music Boat is a fast pre-sale due to the high volume of repeat bookings from our community as well as the great word of mouth endorsements that this cruise consistently generates."
General cabin sales for the Music Boat 2010 will go on sale on January 25th. Bookings may be reserved by calling: 1-800-889-5265.
For further information and reservations, resource the Music Boat online at: www.musicboatonline.com
Resource World Hope online at: http://weareworldhope.com/
# # #
For more info on Third Day, visit the JFH Artists Database.


[2021]
Jan. | Feb. | March | April | May | June | July | Aug. | Sept. | Oct. | Nov. | Dec.
[2020]
Jan. | Feb. | March | April | May | June | July | Aug. | Sept. | Oct. | Nov. | Dec.
[2001 - 2020]
Visit our complete MUSIC NEWS ARCHIVE