LONG AWAITED FIVE IRON FRENZY DVD PREORDERS BEGIN
DVD Preorders Ship March 2, 2010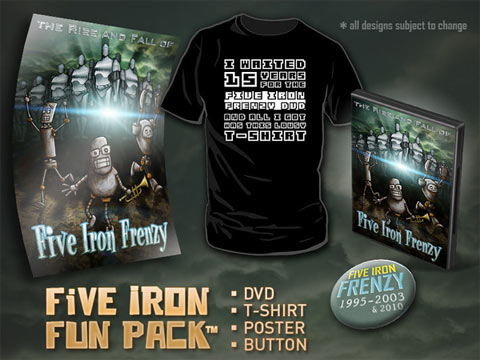 NEWS SOURCE: FIFDVD.com, a Jesusfreakhideout.com report
January 5, 2010
It may come as a bit of surprise (and clearly it's not April 1st yet), but Five Iron Frenzy's long awaited, much delayed DVD release is here! Preorders have begun at FIFDVD.com, allowing fans to grab the Double-DVD for $19.95 or as part of a combo with an exclusive T-shirt, poster, and button for only $27.00.
According to Asian Man Records' site, "We will ship pre-orders starting MARCH 2nd, 2010. These will not be available in stores until MARCH 16th, so you will be the first to enjoy the premiere of this double DVD. We are also offering a limited edition FIF PACKAGE DEAL to the first 500 people. You will receive the double disc, an exclusive 5 Iron t-shirt just for this deal, an exclusive 5 Iron button just for this deal, and a full color 11 x 17 poster of the DVD. The packages are $27, but of course if you just want the double DVD, those are $19.95. ENJOY!!
"Riding the fence between a secular fad and a Christian phenomenon, Five Iron Frenzy never quite belonged in either place. Finally, 15 years after their formation, comes "The Rise and Fall of Five Iron Frenzy". This special two-disc set takes you behind the stage to hear the untold stories. Alongside the feature length documentary is a load of special features such as music videos (including one never before released), short films made by the band, a commentary track, live footage (including last tour and last show), and much more. We hope you hate it."
More details to come, but in the meantime... now's the time to reserve your copy! Head over to www.fifdvd.com!
# # #
For more info on Five Iron Frenzy, visit the JFH Artists Database.


[2020]
Jan. | Feb. | March | April | May | June | July | Aug. | Sept. | Oct. | Nov. | Dec.
[2019]
Jan. | Feb. | March | April | May | June | July | Aug. | Sept. | Oct. | Nov. | Dec.
[2001 - 2018]
Visit our complete MUSIC NEWS ARCHIVE