FAIR REAPPEARS ON 2/9/10 WITH SOPHOMORE RELEASE DISAPPEARING WORLD
Album Follows 2006's Acclaimed Debut
NEWS SOURCE: Overture Media
January 7, 2010
SEATTLE, WA...January 7, 2010...Most associate the name Aaron Sprinkle with production credits in liner notes as an all-star producer (Anberlin, Acceptance, Copeland, The Almost, Demon Hunter, Kutless, Jeremy Camp) based in Seattle, WA. However for those that pay attention, he has also been a leader of Poor Old Lu and Rose Blossom Punch and more recently Fair, who released their debut album "The Best Worst-Case Scenario" in 2006 on Tooth & Nail Records. Sprinkle and team are back with Fair's sophomore release, "Disappearing World," set to release February 9, 2010.
With their debut album, Fair received wide media acclaim. Absolutepunk.net stated that it was "toward the top of their list for 2006"; Jesusfreakhideout.com named the album "really impressive"; Emotionalpunk.com said it was "a perfect collection of songs"; Sputnikmusic.com touted that "Fair is much better than its name." It is no surprise that fans are ready for the second dose of this band who is known for sophisticated songwriting and structured pop song appeal.
"Musically I wanted to really tap into my influences, which are mostly '60s and '70s and lot of '80s too," says Sprinkle. "And that's really the feel of this record- a lot of very retro moments wearing those influences on our sleeve. The record's more dynamic and exciting in some places than the last one, but it's also more fragile and sincere in other places."
Putting himself in the spotlight as opposed to sitting in the producer seat, Sprinkle is excited about this album more than any other record.
"I've never been this excited about something I've done before," he promises. "I don't question a single moment on this record and that's a huge thing for me because normally I'm incredibly insecure when it comes to my own music. I'm so happy with every moment and I owe that to the guys in the band because it's a great place for me to bounce ideas off of."
Back this second round are members Erick Newbill (guitar), Joey Sanchez (drums, percussion) Nick Barber (bass) and Aaron Sprinkle (vocals, guitar). For more information visit: www.myspace.com/fair. Follow on Twitter http://twitter.com/fairforever
- ### -
For more info on Fair, visit the JFH Artists Database.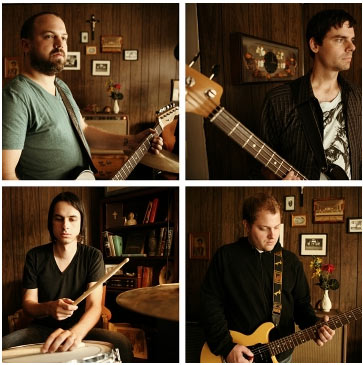 Fair Members (L to R Top): Aaron Sprinkle, Nick Barber,
(Bottom) Joey Sanchez, Erick Newbill


[2020]
Jan. | Feb. | March | April | May | June | July | Aug. | Sept. | Oct. | Nov. | Dec.
[2019]
Jan. | Feb. | March | April | May | June | July | Aug. | Sept. | Oct. | Nov. | Dec.
[2001 - 2018]
Visit our complete MUSIC NEWS ARCHIVE