ROBBIE SEAY BAND NOMINATES LOCAL HOUSTON FAMILY FOR EXTREME MAKEOVER: HOME EDITION
"Beach Family" Episode To Air Late March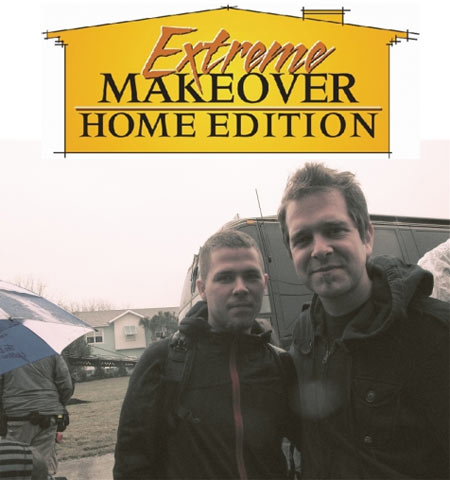 PHOTO: (l-r) Ryan Owens and Robbie Seay of Robbie Seay Band on location at "Beach Family" house build in Kemah, Texas last week.
NEWS SOURCE: Savvy Media
January 20, 2010
(NASHVILLE, Tenn.) Jan. 20, 2010—Sparrow Records artist Robbie Seay Band has nominated fellow Houstonians, the "Beach Family," for a complete home renovation, courtesy of the award-winning ABC reality program Extreme Makeover: Home Edition. The "Beach Family" was selected, and their episode taped last week. It will air in its entirety late March.
Larry and Melissa Beach lost their home in Kemah, TX, a suburb of Houston, to Hurricane Ike more than a year ago. The couple, who have thirteen children, nine adopted and many with special needs, have resided in FEMA trailers on their property since late 2008. Amidst such circumstances, the Beach's, who have fostered more than 85 children in their home, have continued to offer a home to children in need. During the storm, Larry served as a line-man for the power company, leaving his flooded home to help restore power to the city while Melissa volunteered at the local food pantry.
Robbie Seay, co-founder of Ecclesia Church, comments, "Larry and Melissa proved that their love was stronger than anything a storm could bring their way. Living in FEMA trailers, they continued to reach out and love these kids, no matter the circumstances. My connection to this family is deep. They served as my youth group Sunday school teachers and now I mentor their older boys who are aspiring musicians. I am beyond thrilled that this is happening for them."
Early last week, Seay was present for the Beach's surprise door knock and send-off to Orlando, Fla., while local volunteers and construction companies rallied their crews on-site for the renovation. He stayed at the build throughout the week, helping to make this the most amazing experience for the Beach family. "I always wondered if they really build these amazing homes in seven days," Seay comments. "Well, they do! The 'Beach House' is the largest house ever built on the show, and it's breathtaking. The one thing that really caught my eye was the kitchen table. There is seating for 18. This has been one of Melissa's dreams, to have all 15 (plus room for more) sharing a meal together at the same table. It's really an amazing piece of furniture that will be packed with kids for years to come." Seay also attended the final reveal on Thursday, Jan. 14. The "Beach Family" episode is scheduled to air late March. For more information and show times, visit http://abc.go.com/primetime/xtremehome/index?pn=index
About ABC-TVs Extreme Makeover: Home Edition
The Emmy Award-winning reality program Extreme Makeover: Home Edition, now in its 7th season, is produced by Endemol USA, a division of Endemol Holding. It's executive-produced by Anthony Dominici. David Goldberg is Chairman, Endemol North America. The show airs Sundays from 8:00-9:00 pm, EST on ABC.
About Robbie Seay Band
Known for a psalmist/songwriter worship style that features raw, insightful lyrics coupled with an equally engaging sound, the Houston-based Robbie Seay Band comprises Robbie Seay, Ryan Owens, Matthew Kidd, and Michael Lisenbe. Since signing with EMI CMG imprint Sparrow Records in 2005, the band has released two critically acclaimed albums, Better Days (2005) and Give Yourself Away (2007). The band's music has received high profile television placement in promotions for FOX's "American Idol," as well as CW programs "One Tree Hill" and "Life Is Wild." At radio, the band's Christian AC single "Song of Hope" climbed to No. 6 and remained on the charts for an entire year from 2007-2008. The song became the No. 7 song on the year end AC chart. Robbie Seay Band's latest project, Miracle, is slated to release March 23, 2010. When not on the road, the Robbie Seay Band leads worship at Ecclesia Church, a Houston-based community of faith that seeks to embrace culture through practical love. For more information, visit www.robbieseayband.com or www.myspace.com/robbieseayband.
###
For more info on Robbie Seay Band, visit the JFH Artists Database.


[2020]
Jan. | Feb. | March | April | May | June | July | Aug. | Sept. | Oct. | Nov. | Dec.
[2019]
Jan. | Feb. | March | April | May | June | July | Aug. | Sept. | Oct. | Nov. | Dec.
[2001 - 2018]
Visit our complete MUSIC NEWS ARCHIVE