EVERLIFE PARTNERS WITH NATIONAL RETAILER
TORRID TO ASK "WHAT'S BEAUTIFUL"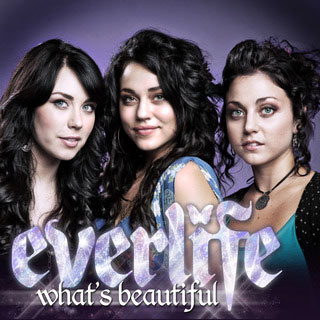 NEWS SOURCE: Nashville Publicity
January 21, 2010
(NASHVILLE, Tennessee) – National retail chain Torrid is now featuring the Nashville-based sister-rock-trio Everlife with an exclusive Torrid spotlight interview at their online destination, Torrid.com. Everlife discusses music and fashion, as well as the meaning behind their new single, "What's Beautiful," which is available now at iTunes and Shockhound.
"In our new single, 'What's Beautiful,' we talk about self-image - the everyday struggle that is never truly silent," says Everlife's Julia Ross. "The media is causing us to crave to be something or someone better. We want to say that you are not alone and encourage you to redefine the meaning of beauty along with us. We all define what's beautiful."
"Through their music, Everlife has demonstrated a sincere passion for empowering and inspiring young girls of all sizes, faiths, cultures and economic backgrounds. Torrid loves that," said Delia Douglas, public relations manager for Torrid. "Torrid believes that beauty comes in all sizes and Everlife's new song, 'What's Beautiful,' captures that same philosophy. Naturally, we are delighted to support the song's debut."
ABOUT EVERLIFE
Everlife has performed for millions of fans while on major tours with teen superstars Miley Cyrus, The Cheetah Girls and the Jonas Brothers. Their songs have appeared on twelve Disney compilations and numerous soundtracks including Hannah Montana, Bridge to Terabithia, Bring It On: In It to Win It (DVD), Lilo & Stitch, The Wild, Go Figure, Beethoven's Big Break and many more. The Ross sisters – Julia (20), Sara (23) and Amber (25) – are currently writing and recording new material with hit makers like Glen Ballard and Matchbox Twenty's Kyle Cook.
ABOUT TORRID
Torrid, the destination for fashion and denim, provides young women with fashion-forward apparel and accessories. As of January 2010, Torrid operates 156 stores nationwide and an Internet store: Torrid.com.
www.everlifeonline.com
www.torrid.com
# # #
For more info on Everlife, visit the JFH Artists Database.


[2020]
Jan. | Feb. | March | April | May | June | July | Aug. | Sept. | Oct. | Nov. | Dec.
[2019]
Jan. | Feb. | March | April | May | June | July | Aug. | Sept. | Oct. | Nov. | Dec.
[2001 - 2018]
Visit our complete MUSIC NEWS ARCHIVE