HOUSE OF HEROES TO HIT THE STUDIO TO BEGIN RECORDING 2010 RELEASE
BAND DONATES TRACK TO SONGS FOR HAITI EARTHQUAKE RELIEF
http://songsforhaiti.org

THE FIRST TOUR OF 2010 CONFIRMED WITH TOBY MAC AND SKILLET MARCH 4 – APRIL 11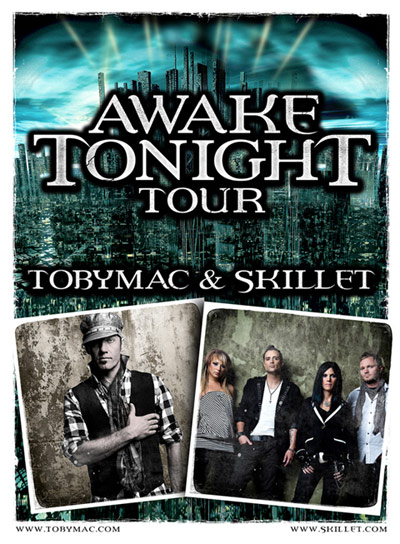 NEWS SOURCE: Independent Music Media
January 27, 2010
After a year of nonstop action in 2009 with the full CD release of The End Is Not The End and three EP release's The Acoustic End, House Of Heroes Meets The Beatles and House Of Heroes Sing The Christmas Classics as well as non-stop touring House Of Heroes gets set to hit the studio in February with producer Mark Townsend (Deas Vail, Relient K) to begin work on the next effort out later this year.
Look for the band to break from the studio in March for spring dates deemed The Awake Tonight Tour with Toby Mac and Skillet. Tour kicks off on March 4 in Aurora, IL, full list of dates below.
House Of Heroes also donated the acoustic version on the track 'Serial Sleepers' to Songs For Haiti 2010 Earthquake Relief (http://songsforhaiti.org) to help with relief efforts, 100% of money contributed through "Songs for Haiti" will be spread among three charities active in Haiti: Doctors Without Borders, Red Cross, and Wyclef Jean'sYele Haiti Earthquake Fund.
Check out the band's video blog here: http://www.youtube.com/watch?v=6QQzn3L9ies
House Of Heroes is –
Tim Skipper -lead vocals, guitar
Colin Rigsby - drums, backing vocals
AJ Babcock - bass guitar, backing vocals
Jared Rigsby- guitar, backing vocals
See them live: March 4 ACS Gymnasium Aurora, IL
March 5 Elliot Hall of Music W. Layette, IN
March 6 Valparaiso U Valparaiso, IN
March 7 Murray State Murray, KY
March 11 Assembly Hall Champaign, IL
March 12 Roberts Stadium Evansville, IN
March 13 Viking Hall Bristol, TN
March 18 Giant Center Lancaster, PA
March 19 1st Mariner Arena Baltimore, MD
March 20 War Memorial Arena Johnstown, PA
March 21 Lucas County Arena Toledo, OH
March 25 Tallahassee Civic Center Tallahassee, FL
March 26 Germain Arena Ft Myers, FL
March 27 Cruzan Amphitheater W. Palm Beach, FL
March 28 Beard-Evans Memorial Col Auburn, AL
April 1 UNO Lakefront New Orleans, LA
April 2 Oil Palace Tyler, TX
April 3 Mississippi Coliseum Jackson, MS
April 9 Big Sandy Arena Huntington, WV
April 10 Liberty University Lynchburg, VA
April 11 Civic Center Asheville, NC
For up-to-date information check out:
www.myspace.com/houseofheroes
www.gotee.com
For more info on House of Heroes, visit the JFH Artists Database.


[2020]
Jan. | Feb. | March | April | May | June | July | Aug. | Sept. | Oct. | Nov. | Dec.
[2019]
Jan. | Feb. | March | April | May | June | July | Aug. | Sept. | Oct. | Nov. | Dec.
[2001 - 2018]
Visit our complete MUSIC NEWS ARCHIVE