MICHAEL W. SMITH GATHERS A COMMUNITY OF ARTISTS TO RECORD "COME TOGETHER NOW" TO BENEFIT HAITI RELIEF EFFORTS
A Children's Choir of More than 250 Elementary School Students – Including 14 from Haiti - Joined Artists Wynonna, Steven Curtis Chapman, Casting Crowns, The Oak Ridge Boys, Mandisa, Matt Maher, Lee Greenwood, Phil Stacey, TobyMac, Travis Cottrell, Darwin Hobbs, Restless Heart, Point of Grace, Brandon Heath, Margaret Becker, Michael Tait, Kevin Max, The Newsboys, Ashley Cleveland, The Katinas, Kirk Sullivan, Meredith Andrews, Matthew West, Francesca Battistelli, Everlife and More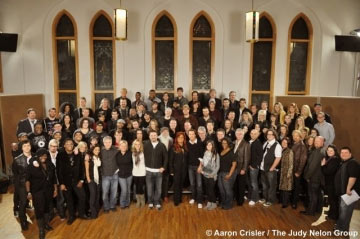 NEWS SOURCE: Provident Label Group
January 28, 2010
(NASHVILLE, TENN.) January 28, 2010 – Yesterday at Belmont University's Ocean Way Studios, multi-platinum, GRAMMY and Dove Award winning artist, Michael W. Smith gathered a who's-who list from the music community to record "Come Together Now." The song, penned by Smith, David Mullen and Cindy Morgan – and produced by Bryan Lenox – was written to remind people of the need to help those in Haiti.
"The crisis in Haiti has left us all trying to figure out how we can help," shares Smith. "We wanted to create something that the community could support, for the greater good of those in Haiti. Everyone gave of their time: the studio was donated, the musicians donated their time and all proceeds from this song will go to designated charity/relief work through The American Red Cross and Samaritan's Purse. It's incredible to be part of something that is going to help so many people."
In addition to lending their voices in song, several artists also recorded PSA's for The American Red Cross and Samaritan's Purse for use in upcoming months.
Contributing artists include:
Aaron Shust, Alathea, Amber Hezlep, Anthony Moreino, Anthony Skinner, Ashley Cleveland, Austins Bridge, B. Reith, Brady Toops, Brandon Heath, Britt Nicole, Byron Chambers, Calvin Nowell, Charmaine, Chris McClarney, Chris Sligh, Chuck Girard, Dana Jorgensen, Darwin Hobbs, David Mullen, Don Poythress, Donovan Tea, Dorothy Savage, Duane Allen, Echoing Angels, Everlife, Francesca Battistelli, Greg Jennings, Hillary McBride, Jaime Jamgochian, Jared Anderson, Jasmine Sagginario, Jason Baird, Jason Dunn, Jimmie Allen, Jody Davis, John Ford Coley, John Schlitt, Joseph Martino, Julia Ross, Justin Rivers, Kate Lazar, Kate Schettler, The Katinas, Kevin Max, Kirk Sullivan, Lara Landon, Lanae Hale, Lannie Anderson, Lee Greenwood, Mandisa, Manic Drive, Margaret Becker, Mark Hall and Megan Garrett of Casting Crowns, Matt Dowley, Matthew West, Matt Maher, Melinda Doolittle, Meredith Andrews, Michael Cavallo, Michael Olson, Michael Tait, Michael Tash, MIKESCHAIR, Mike Weaver, Natalie Grant, Nicole C. Mullen, The Oak Ridge Boys, Paige Armstrong, Phil Stacey, Point of Grace, PureNRG, Rachael Lampa, Rachel B. James, Reco Hight, Restless Heart, Ruben Mundo, Russ Mohr, Sarah Ross, Sarah Sadler, Selah, Shannon Cochran, Shawn Cavallo, Stephanie Smith, Steven Curtis Chapman, Terrence James, TobyMac, Tommy Coomes, Travis Cottrell, Trey Heffinger, Wynonna, and Yellow Cavalier. (Artist list subject to change.)
The song will be made available for sale soon, with all proceeds going to benefit relief efforts to Haiti. More details on the song's release date are forthcoming.
About Michael W. Smith: (Reunion Records/Provident Music Group):
Throughout his 27-year career as a recording artist, Michael W. Smith has amassed an impressive catalog of achievements. His 21 albums have garnered multiple honors including an American Music Award, three GRAMMY ® Awards (from 13 nominations), 44 GMA Dove Awards and 33 No. 1 radio hits. In addition, he holds 16 Gold and five platinum albums for career sales approaching 15 million.
Smith, who was inducted into the Gospel Music Hall of Fame in 2009, has scored several film projects, written 11 books and has been featured by media outlets including, NBC's Today Show, Good Morning America, NBC Nightly News, Larry King Live, FOX and Friends, Hannity and Colmes, USA Today, NY Times, The Washington Post, LA Times, Newsweek, has been named one of People Magazine's "Most Beautiful People" and has presented multiple times on the GRAMMY Awards show. His tours consistently rank among the best attended in the country, and he has performed to capacity crowds throughout the world.
Constantly giving back to the community, one of Smith's current projects is Rocketown--a nightclub for teens in his hometown of Nashville, Tenn.--which serves as safe place for young people to enjoy music and for artists to be discovered. He and wife Debbie Smith are the proud parents of five children. For up-to-date information on Michael W. Smith, please visit www.michaelwsmith.com
# # #
For more info on Michael W. Smith, visit the JFH Artists Database.


[2022]
Jan. | Feb. | March | April | May | June | July | Aug. | Sept. | Oct. | Nov. | Dec.
[2021]
Jan. | Feb. | March | April | May | June | July | Aug. | Sept. | Oct. | Nov. | Dec.
[2001 - 2021]
Visit our complete MUSIC NEWS ARCHIVE