BRITT NICOLE RIDES MOMENTUM OF THE LOST GET FOUND INTO 2010
New Radio Single, Ice Castles Release, National Tours On Agenda for New Year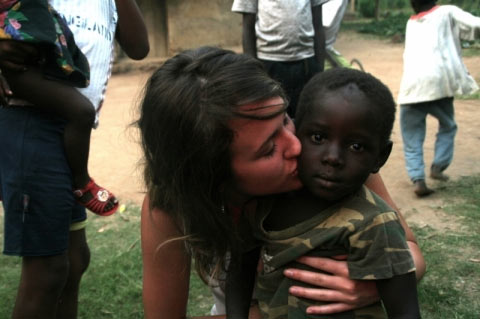 (above) Britt hugs a young boy she met at a displacement camp in Gulu, a small village in Uganda, last month.
NEWS SOURCE: Savvy Media
February 8, 2010
(NASHVILLE, Tenn.) Feb. 8, 2010--Pop rock vocalist Britt Nicole rides the momentum of her sophomore project The Lost Get Found, which debuted at No. 1 on the Billboard Top Christian/Gospel Albums chart, into the new year. Having recently been named among the "Top 10 Ones to Watch in 2010" by GospelMusicChannel.com, Britt continues the busiest season of her career with a number of high profile opportunities, including a song on the upcoming Sony Pictures Home Entertainment DVD release, Ice Castles, and two major national tours.
Most recently Britt was tapped to re-record "Through the Eyes of Love," the theme song from the 1978 Oscar® nominated romantic film, Ice Castles. The classic tale that inspired a generation of girls gets a modernized update when Sony Pictures Home Entertainment debuts the 2010 remake of Ice Castles on DVD February 9. Sony Pictures also hand-picked Britt's songs "The Lost Get Found," "Like A Star," "Holiday," and "Safe," to be included in the timeless remake as well. "Ice Castles is a fun, clean movie for all ages and I am excited for my music to be a part of it," says Britt. "The song 'Through the Eyes of Love,' works beautifully with the film, so it was very cool to be asked to sing it. Go rent it, your family will enjoy it."
Britt kicked off 2010 with a two-week missions trip to Uganda in January. She spent the first three days traveling to orphanages with Christian non-profit organization Visiting Orphans. She then teamed up with Exile International, and lived with the children in the Village of Hope for 4 days, working with former child soldiers and children abducted by the Lord's Resistance Army. She spent the last 3 days of her trip visiting orphans and families living in various displacement camps, one of which was in Gulu.(see photo)
"I was so blessed to join Visiting Orphans and Exile International to minister to some of the most broken children in Uganda, " Britt comments. "My heart breaks now thinking of them, but these children taught me what it means to have joy, in the middle of pain. They changed me , and I can't wait to go back. This is just the beginning of an amazing journey with the people of Africa."
Britt returned to the U.S. mid-January to join INO recording artist Building 429 on its 2010 Winter Blast tour, also featuring artists MIKESCHAIR , Chris & Conrad, and Echoing Angels. The tour will hit 14 cities through late March. An updated list of tour dates is available at http://brittnicole.sparrowrecords.com/ontour/.
Currently Britt is ruling the video and radio charts with The Lost Get Found, whose namesake music video just wrapped a four-week run at No. 1 on the Gospel Music Channel ( http://www.gmclife.com/video/pop ) and claimed the No. 1 position on the iTunes Christian/Gospel video chart. Additionally her latest radio single, "Walk On The Water," climbing the charts at multiple formats, has already landed in the Top 10 on the Radio & Records CHR chart in just a few short weeks.
This spring, Britt will continue to support the record by playing a direct supporting role on award-winning female vocalist Natalie Grant's "Love Revolution Tour," visiting 30 cities through May. The tour, which additionally features American Idol alumnus Phil Stacey, kicks off March 18 and wraps late spring on the West Coast.
"I have always looked up to Natalie," Britt says. "My very first performance as an artist was with her when I was 17. She loves God and loves people, and I will stand with anyone who has a heart like this. I believe this tour is going to be powerful and I am thankful and excited to be a part of it."
For a complete list of tour dates, visit http://brittnicole.sparrowrecords.com/ontour/.
About Britt Nicole:
Hailing from Salisbury NC, pop-rock artist Britt Nicole burst onto the Christian music scene in 2007 with her Sparrow Records debut, Say It. The finely crafted pop collection produced 3 Top 10 radio singles "You," "Set the World on Fire," and "Believe," while earning Britt a slot on "The Winter Jam 2007 Tour" and Superchick's spring 2008 "Cross The Line Tour." Her songs have been featured on LucasArt's Thrillville 2 video game, the "Legally Blonde 3" DVD, and most recently an episode of MTV's "The Hills." Produced by Robert Marvin (Mat Kearney, tobyMac) and Dan Muckala (Brandon Heath, Backstreet Boys), Britt's sophomore project, The Lost Get Found (Aug. 11, 2009) debuted at No. 1 on the Billboard Top Christian Albums chart, No. 62 on the Billboard 200, went straight to No. 1 on iTunes' Christian/Gospel Top Albums chart, and peaked in the Top 10 on iTunes Top 100 albums chart. The album's lead single, "The Lost Get Found," rocketed to No. 1 on the Radio & Records CHR chart, spending eight consecutive weeks in the top position while climbing to No. 1 on iTunes' Christian/Gospel Top Songs chart as well. For more information about Britt Nicole, please visit www.myspace.com/brittnicolemusic and www.brittnicole.com .
EMI CMG Label Group:
Brentwood, Tennessee-based EMI CMG Label Group is comprised of Sparrow Records, Forefront Records, and Credential Recordings, in addition to providing A&R and marketing support for sixstepsrecords via a joint venture and licensing partnership. Balancing freedom, discipline, creativity, profitability and ministry, EMI CMG Label Group strives for excellence in artist development. The Label Group is a division of EMI Christian Music Group. For further information, please visit www.emicmg.com.
###
For more info on Britt Nicole, visit the JFH Artists Database.


[2022]
Jan. | Feb. | March | April | May | June | July | Aug. | Sept. | Oct. | Nov. | Dec.
[2021]
Jan. | Feb. | March | April | May | June | July | Aug. | Sept. | Oct. | Nov. | Dec.
[2001 - 2021]
Visit our complete MUSIC NEWS ARCHIVE