Tooth & Nail Records February 2010 Update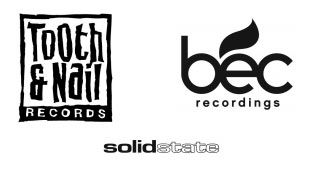 NEWS SOURCE: Overture Media
February 8, 2010
This year has kicked off with a bang as we are already one month down and flying through February. BEC Recordings and Tooth & Nail Records have many projects coming down the pipe in the coming weeks. Below are highlights from in the studio, tours, new projects and other news tidbits.
Looking forward to a fun 2010!
Lori Mahon
IN THE STUDIO
Children 18:3: This sibling trio blew away the punk music scene with their debut T&N release in 2008. They are now working on their sophomore release with producer Steve Wilson (Hawk Nelson, The Becoming), and mixer Ulrich Wild (Deftones, Static X, Project 86).
Emery: This month, the band will start recording their next full length LP in Seattle with producer Aaron Sprinkle.
Haste The Day: Has entered the studio with Andreas Magnusson to work on their next full length.
Hawk Nelson: Although they just released their fourth studio album "Live Life Loud" to much success, the band is back at it again in the studio in Nashville. Details to be announced soon.
The Museum: BEC Recordings' newest artist is currently recording in Seattle with Aaron Sprinkle for their debut EP. More details soon on this Atlanta-based band.
Run Kid Run: It has been almost 2 years since fans have heard a new studio project, but have no fear the band is wrapping up writing songs for their third studio album.
The Showdown: Recording their next full length LP with producer Jeremiah Scott.
Since October: Just finished production on their brand new sophomore release - release date and more to be announced soon! Stay tuned to www.myspace.com/sinceoctober for all the details of the release.
TOURING
August Burns Red: ABR will be on the road February/March touring Europe with Lamb Of God as well as March 31 - August 7th touring with A Day To Remember dates available on myspace.com/Augustburnsred
Chariot: The band will be on a headlining tour Jan 27th - March 13th with Greeley Estates, Inhale/Exhale, Memphis May Fire. On April 9th - May 15th, Chariot will be touring Europe with Iwrestledabearonce, & Dead and Divine dates available at myspace.com/thechariot
KJ-52: catch KJ-52 on the upcoming "Modern Day Heros" Tour with Group 1 Crew. Info available at www.myspace.com/kj52 and http://overture-media.com/2010/01/21/kj-52-modern-day-heroes-tour/
Jeremy Camp and Adie will be hitting the road together for the Unplugged Tour starting at the end of this month. Dates and details: http://overture-media.com/2010/01/13/jeremy-camp-announces-unplugged-tour-with-adie/
Living Sacrifice: Just released their new record "The Infinite Order" last month. They will be headlining with War of Ages, Shai Hulud, Lionheart and The Great Commission from now until February 28th. Dates available on myspace.com/livingsacrifice
Queens Club: The band will be on the road with Breathe Carolina through March 2nd; dates available on myspace.com/queensclub
Seventh Day Slumber: Catch the band on the "From The Inside Out Tour" with Chasen starting this week, February 12th! Tour dates on: myspace.com/7thdayslumber
Thousand Foot Krutch: You can see TFK this Spring with Breaking Benjamin in March as well as on the "Welcome To The Masquerade Tour" with Since October, The Letter Black, and Write this down. www.thousandfootkrutch.com
We are the Becoming: Touring with I Am Ghost until March 13th current dates available on myspace.com/wearethebecoming
Sent By Ravens will be touring throughout March and April with Disciple and Decyfer Down. Their debut album, "Our Graceful Words" will be available on itunes and at these shows. http://www.myspace.com/sentbyravens
Write This Down - another new T&N band will be touring in March with The Classic Crime, and in April with Thousand Foot Krutch and The Letter Black. Their debut, self-titled album will also be available at the TFK shows.
OTHER TIDBITS:
The Classic Crime is giving back to Haiti with their pre-sale of "Vagabonds," which is on sale now. All proceeds from the album's pre-sale will go to JiHM in Haiti, the orphanage and ministry that the band visited in November before the earthquake devastation. More info and pre-sale links here: http://overture-media.com/2010/02/02/the-classic-crime-release/
Demon Hunter is doing "50 Days of Demon Hunter" promotion leading up to their new release. Check it out everyday for something new! http://www.solidstaterecords.com/
mewithoutYou- "Catch For Us The Foxes" #1 album of the decade at Buzzgrinder.com: http://www.buzzgrinder.com/2010/best-of-the-decade-number-one-mewithoutyou-catch-for-us-the-foxes/
The Museum has debuted their first radio single from their debut album - check it out! http://www.youtube.com/watch?v=wCsFT0v-0Z8
Thousand Foot Krutch's "Fire It Up" is currently in the Top 20 on the Active Rock Radio chart. Please call your local station and request the song.
UPCOMING RELEASES
TOMORROW!! Fair- Brand new record "Disappearing World" in stores. Check out www.myspace.com/fair for new songs, videos, and interviews with the band!
3/9/10
Adie, "Just You And Me"
Demon Hunter, "The World Is A Thorn"
3/23/10
Poema, "Sing It Now" mini album
Queens Club, "Young Giant" full debut
3/30/10
The Letter Black, "Hanging On By A Thread"
Manafest, "The Chase"
4/06/10
The Classic Crime, "Vagabonds"
Secret and Whisper, "Teenage Fantasy"
For press releases, news and updates: http://overture-media.com/category/press/blog/
Twitter Updates on Artists: http://twitter.com/overturemedia/artists


[2022]
Jan. | Feb. | March | April | May | June | July | Aug. | Sept. | Oct. | Nov. | Dec.
[2021]
Jan. | Feb. | March | April | May | June | July | Aug. | Sept. | Oct. | Nov. | Dec.
[2001 - 2021]
Visit our complete MUSIC NEWS ARCHIVE