HOLT INTERNATIONAL ANNOUNCES UNITED SPRING 2010 TOUR WITH
SANCTUS REAL, DAVID NASSER, MIKESCHAIR, AND JONNY DIAZ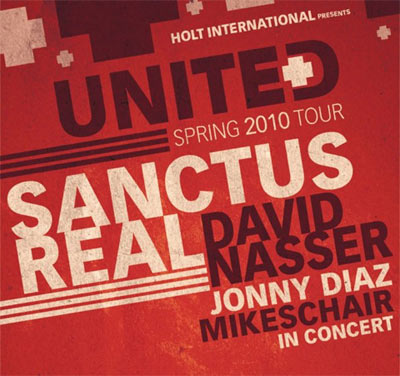 NEWS SOURCE: Muse Associates
March 19, 2010
MARCH 18, 2010-Eugene, OR-Holt International Children's Services, the 54-year old Christian ministry reaching vulnerable and orphaned children around the world and the chief sponsor of Winter Jam, Christian music's most successful annual tour; announced today their sponsorship of the much-anticipated UNITED Spring 2010 Tour featuring GRAMMY®-nominated, Dove Award-winning Sanctus Real with visionary speaker David Nasser and, not one but, two of this year's Dove-nominated artists-MIKESCHAIR (for Song and Album of the Year) and Jonny Diaz (for New Artist of the Year).
Starting April 23 in Denver, CO the UNITED Spring 2010 Tour (www.unitedtour2010.com) will be traveling to cities across America playing in markets as diverse as Louisville, Tulsa, San Antonio, and Lubbock. Tickets in select markets went on sale this week, and fans are already responding positively. Specially priced VIP tickets available in most markets-admitting holders to a separate worship time with the tour's artists-are being purchased quickly.
With Sanctus Real's March 9 release of their fifth studio album, Pieces of a Real Heart, on Sparrow Records; radio programmers around the country have already made the first single from the project, "Forgiven," a smash radio hit and the song continues to climb the charts. Interestingly, listeners are responding overwhelmingly to the song's message of hope. In fact, when the band began streaming "Forgiven" from their website (www.sanctusreal.com) and asking listeners to share their own stories of forgiveness, literally hundreds of stories flowed in from all over the world. Sanctus Real's lead vocalist Matt Hammitt explained, "I underestimated the power of forgiveness. I was expecting people to write 'God is good, I am forgiven,' which is a true statement of faith; but instead people began confessing their deepest, darkest secrets on the site, sending letters to others they needed forgiveness from or whom they needed to forgive. It's amazing to see how God is using my own insignificant insecurities, failures, and fears to spark a song that is ministering to so many people needing forgiveness."
David Nasser was only 9 years old when he escaped the bitter Iranian revolution with his family to begin a new life in the U.S. In the years that followed, David felt isolated and sought acceptance from his peers; turning to everything imaginable to fit in. Nothing worked. He still felt like an outsider. Finally, at the age of 18, Nasser found true acceptance, salvation, and purpose in a deep personal relationship with Jesus Christ. Today, as one of the nation's leading speakers, David Nasser is blessed with the talent to reach America's high tech, attention-lacking Generation Next culture. Involved in revivals, citywide rallies, camps, and school assemblies; he speaks to over 700,000 people each year. David is excited to be joining Sanctus Real in sharing God's message of forgiveness during the UNITED Spring 2010 Tour.
MIKESCHAIR began in a freshman dorm room at Belmont University in Nashville, TN. where several guys began playing and writing songs together. Mike Grayson, the only one of the group of writers not living on the same floor, was given a special chair to signify his place in the group. He later named it "Mike's chair." Thus the group, MIKESCHAIR, was born. Now as honorary "chair-man," Grayson is lead singer, guitarist, and shares the name with fellow "chair-men;" Sam Tinnesz, lead guitar; Jesse Hale, violin and keyboards and Jon Haire, bass guitar. MIKESCHAIR received critical acclaim with their first recording on Curb Records and have been nominated for four Dove awards.
Being a musician wasn't Jonny Diaz' first choice professionally, especially growing up in the Diaz family. Jonny, like three of his brothers, was awarded a college baseball scholarship. After high school he headed off to Florida State University to play baseball, but soon felt led to put down his bat and glove and focus on his music. After several successful independent recordings, Jonny signed with INO Records and released More Beautiful You, his first major label project in 2009. Since then the album's powerful first single, "More Beautiful You," has taken off, and quickly become one of the most played and requested songs on Christian radio. With this success Jonny has had the opportunity to open in concert for some of Christian music's biggest artists such as MercyMe and Steven Curtis Chapman.
Don't miss the UNITED Spring 2010 Tour, presented by Holt International, with multi-talented Sanctus Real, David Nasser, MIKESCHAIR, and Jonny Diaz in a city near you. For more information go online at www.unitedtour2010.com, or visit www.itickets.com.
For more info on Sanctus Real, visit the JFH Artists Database.


[2022]
Jan. | Feb. | March | April | May | June | July | Aug. | Sept. | Oct. | Nov. | Dec.
[2021]
Jan. | Feb. | March | April | May | June | July | Aug. | Sept. | Oct. | Nov. | Dec.
[2001 - 2021]
Visit our complete MUSIC NEWS ARCHIVE