SHOW HOPE'S SPRING CELEBRATION PRESENTS

Rodgers And Hammerstein's
"Cinderella"
In Concert

Friday, May 14th, 7pm
At Nashville's Schermerhorn Symphony Center

This SHOW HOPE Spring Celebration Honors The Life
Of Maria Sue Chapman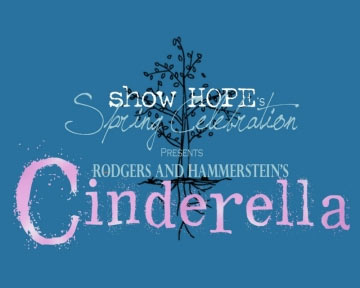 NEWS SOURCE: Vining Media
April 7, 2010
Nashville, TN - April 7, 2010 - show HOPE™ founders Steven Curtis and Mary Beth Chapman have dreamed for several years now to put together a major entertainment event for the Nashville community. They want to give back to this supporting community as well as to serve as a platform to celebrate and illuminate the mission of show HOPE, their adoption and orphan care organization. Their dream will soon become a reality on Friday, May 14th as show HOPE will present a unique concert production of Rodgers and Hammerstein's "Cinderella." With colorful costumes, a bit of dancing and a good measure of magic, the set will be Nashville's breathtaking Schermerhorn Symphony Center and the music will be performed by the Nashville Symphony.
This not-to-be missed show HOPE Spring Celebration of "Cinderella" is being produced by Steven Curtis Chapman and directed by Matt Logan, and will feature an all-star cast, such as Jodi Benson (the voice of Ariel from Disney's "The Little Mermaid") as The Queen, BeBe Winans as the King, Heather Headley as the Fairy Godmother, and Alli Mauzey as Cinderella. More cast information and detailed biographies are listed below.
This one night only concert performance of "Cinderella" is the ideal selection for a spring celebration. The title, the same as one of Steven Curtis Chapman's most well-known songs, "Cinderella" (from his 2008 project This Moment), was inspired by the Chapman's two youngest daughters, Stevey Joy and Maria Sue, both adopted from China. With Maria's tragic passing in May of 2008, the story of both the song and musical of "Cinderella" makes this event, as well as the compassionate work of show HOPE, more poignant than ever. The Chapman's see this special spring event to be held on May 14th as a perfect way to honor the life of Maria, whose birthday was May 13th, while also celebrating the mission of their organization that exists to help orphaned children around the world.

Friday, May 14th at 7:00 pm
Schermerhorn Symphony Center
One Symphony Place, Nashville, TN
Ticket Prices are $30, $55, $80, $105, $130, and are available now at the Schermerhorn box office, online at www.nashvillesymphony.org, or by calling #615/687-6400. Notice: Additional box office handling fees and charges may apply to ticket purchases. Castings are subject to change.
ABOUT THE CAST:
Jodi Benson (The Queen) is best known for providing the speaking and singing voice of Disney's Princess Ariel in "The Little Mermaid."An Illinois native, Benson has lent her voice to numerous other films, TV shows and video games.
Heather Headley (The Fairy Godmother) has performed on Broadway in such musicals as The Lion King and Aida. From Trinidad & Tobago, Headley is not only a singer and actress but a songwriter, and record producer. She has won both a Tony and Grammy Award.
Alli Mauzey (Cinderella) is a California native who has acted on both TV ("Full House", Harper Valley PTA") and made her Broadway debut in 2003 as Brenda in "Hairspray." She also starred as Lenora in "Cry Baby" and most recently as Glinda in "Wicked."
Anthony Federov (Prince Christopher) appeared in the 4th season of American Idol, placing 4th overall. Along with a few reality TV appearances, he has acted on off-Broadway productions and this Russian-born actor/singer performs at various events domestically and abroad.
Jake Speck (Lionel), is a graduate of Nashville's Christ Presbyterian Academy and is currently in the Broadway cast of "Jersey Boys."
BeBe Winans (The King) is a Grammy Award-winning Gospel and R&B singer and member of the noted Winans family. Winans is also host of The BeBe Winans radio Show.
ABOUT show HOPE™:
Originally named after the Chapman's first adopted daughter, Shaohannah's Hope (now known as show HOPE) began with a simple desire to help "assist" families in the process of adoption, particularly by helping tear down the financial barrier that prevents many of them from bringing an adopted child into their home. In 2009, the organization celebrated the giving of its 2,000th financial grant (affecting the lives of children from 41 different countries, including many from the U.S.) and changed it's name to show HOPE to reflect the fact that it has grown far beyond it's initial vision of helping a few orphans find forever homes. In addition to giving financial grants, show HOPE empowers families, churches and communities with adoption and orphan care resources and advocacy efforts.
In the summer of 2009, the doors to Maria's Big House of Hope opened, a six-story facility located in Luoyang, China, which provides surgeries and medical care for special needs orphans. The mission of this healing home is to provide the highest level of care for these orphans who are in desperate need of surgeries and medical attention, thus enabling the children to thrive and increase the orphans' chances of being adopted. Because of the healing home, the financial assistance, and its extensive resources, Show HOPE has become an internationally recognized "voice" for orphan advocacy and adoption awareness.
ABOUT "CINDERELLA":
Based on the fairytale character and story of Cinderella, Rodgers and Hammerstein worked together to create their first collaborative effort written for television. "Cinderella" aired in 1957 on CBS and starred Julie Andrews as Cinderella. Broadcast in black and white, it featured songs still treasured today, "My Own Little Corner", and "Impossible: It's Possible." After the success of the production, another version was presented in 1965 on CBS, and yet another in 1997 on ABC, starring Brandy, Whitney Houston, Bernadette Peters, and Whoopi Goldberg.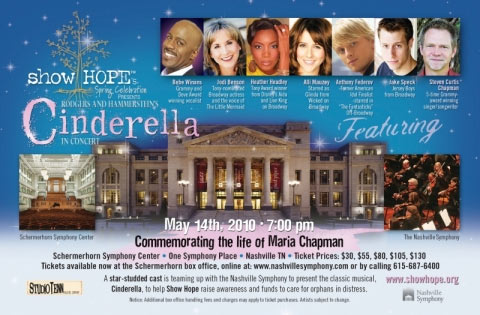 [2021]
Jan. | Feb. | March | April | May | June | July | Aug. | Sept. | Oct. | Nov. | Dec.
[2020]
Jan. | Feb. | March | April | May | June | July | Aug. | Sept. | Oct. | Nov. | Dec.
[2001 - 2020]
Visit our complete MUSIC NEWS ARCHIVE