BMI Christian Music Awards Honor the Genre's Most-Played Songs
Steven Curtis Chapman, tobyMac, Chris Stevens, Jason Walker & Universal Music Publishing Win Top Honors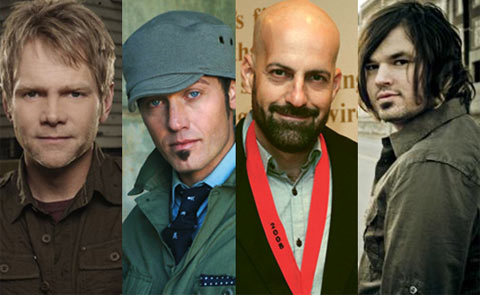 NEWS SOURCE: BMI
April 20, 2010
NASHVILLE, April 20, 2010 – Leading U.S. music rights organization Broadcast Music, Inc. (BMI) saluted the writers and publishers of the past year's most-performed songs on Christian radio and television during the annual Christian Music Awards tonight at the company's Music Row offices in Nashville.
By contributing two songs each to the most-performed list, genre-bender tobyMac, perennial favorite Steven Curtis Chapman, top-tier producer/songwriter Chris Stevens, and promising young singer/songwriter Jason Walker shared the Songwriter of the Year title, while "Lose My Soul," recorded and co-written by TobyMac and Stevens, garnered Song of the Year honors. Universal Music Publishing Group also earned its third consecutive Publisher of the Year crown, as host Jody Williams, BMI Vice President, Writer/Publisher Relations, Nashville, along with Senior Director Thomas Cain and Director Beth Mason, of BMI's Writer/Publisher Relations Department in Nashville, presented awards spanning five categories: Christian Rock, Contemporary Christian, Inspirational, Urban Gospel and Southern Gospel. BMI Senior Vice President, Writer/Publisher Relations Phil Graham joined his staff on stage for the presentation of the night's top honors, Song, Songwriter, and Publisher of the Year.
During the ceremony, the audience enjoyed intimate live performances of award-winning songs. The Booth Brothers delivered a stirring rendition of "What Salvation's Done for Me"; a new band called Caleb, featuring Caleb & Will Chapman, sons of Steven Curtis Chapman, offered a poignant performance of their father's hit "Cinderella"; and, as the rousing conclusion, tobyMac performed "Boomin'."
BMI also recognized the industry-shaping career of esteemed Christian music executive Billy Ray Hearn. Among numerous other influential endeavors, Hearn is the co-founder of genre-cornerstone Sparrow Records, which has launched and supported the careers of Christian and gospel greats, from Steven Curtis Chapman and CeCe and BeBe Winans to Switchfoot and Amy Grant.
A complete list of the 2010 BMI Christian Award winners is available at www.bmi.com.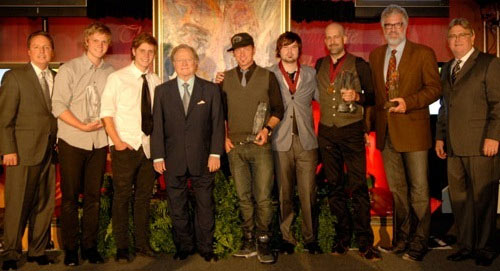 The night's big winners gather for a photo at the 2010 BMI Christian Awards in Nashville. Pictured are (l-r): Jody Williams, BMI Vice President, Writer/Publisher Relations; Caleb and Will Chapman, sons of Songwriter of the Year Steven Curtis Chapman; 2010 Special Citation of Appreciation Honoree Billy Ray Hearn; 2010 Songwriters of the Year tobyMac, Jason Walker and Chris Stevens; Publisher of of the Year, Universal Music Group's Dale Mathews; and Phil Graham, BMI Senior Vice President, Writer/Publisher Relations. (photo: Kay Willliams)
Broadcast Music, Inc.® (BMI) is an American performing right organization that represents more than 400,000 songwriters, composers and music publishers in all genres of music and more than 6.5 million works. BMI reported $905 million for its 2009 fiscal year in performing right collections. BMI has represented the most popular and beloved music from around the world for 70 years. The U.S. corporation collects license fees from businesses that use music, which it then distributes as royalties to the musical creators and copyright owners it represents.
###


[2021]
Jan. | Feb. | March | April | May | June | July | Aug. | Sept. | Oct. | Nov. | Dec.
[2020]
Jan. | Feb. | March | April | May | June | July | Aug. | Sept. | Oct. | Nov. | Dec.
[2001 - 2020]
Visit our complete MUSIC NEWS ARCHIVE