CHRIS AND CONRAD KICK OFF SUMMER WITH
'LISTENER APPRECIATION TOUR 2010'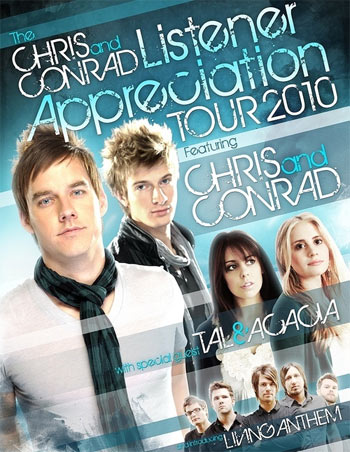 NEWS SOURCE: Turning Point Media
May 4, 2010
NASHVILLE, Tenn.—VSR Music Group recording artist Chris and Conrad—one of Christian music's leading new artists—will be bringing "The Chris and Conrad Listener Appreciation Tour 2010" to 30 cities in May and June. Also including performances by special guest Essential recording artist Tal & Acacia, and introducing Living Anthem, the free concerts are sponsored by World Vision and will be hosted by Christian radio stations across the country.
Kicking off May 22 in Lakeland, Florida, "The Chris and Conrad Listener Appreciation Tour 2010" will travel to New Orleans; Houston; Oklahoma City; Kansas City, Missouri; Atlanta; Nashville, Tennessee; and Tampa, Florida; among other cities, before wrapping up June 20 in Orlando, Florida.
"We're excited about heading out on this tour because it's a fresh way for us to say thanks to all those serving at Christian radio who are diligently getting the message of salvation out to as many people as possible," said Chris Kuti of Chris and Conrad. "And it's also a way to thank the people who keep Christian radio alive—the listeners. We can't wait to meet everyone who comes out to the shows."
Chris and Conrad's self-titled VSR Music Group debut released in May of 2009. The project's first single, "Lead Me To The Cross," was the #7 Christian song of 2009, according to Billboard Magazine. The single peaked at #3 and remained in the top 5 on Billboard's Christian AC chart for 12 consecutive weeks. The duo's "Christmas Time" reached #6 on Billboard's Christian AC chart during the holiday season, while their current single, "You're The One," is already top 15 and climbing. In the past few months, Chris and Conrad have toured with Big Daddy Weave, Phil Wickham and Jonny Diaz, and also appeared on World Vision's "WinterBlast Tour," with Building 429, MIKESCHAIR and Britt Nicole.
Released January 26, 2010, the quirky pop sound of Tal & Acacia's debut album, titled Wake Me, is a breath of fresh air—defined by catchy choruses—and girded in joy. Produced by Monroe Jones (Ginny Owens, Chris Rice, Third Day, Caedmon's Call), Tal & Acacia's Wake Me is distinctly rich and infectious, and intuitively embraces the clash between the principled, spiritual inner self and a confusing, glittery outer culture. Musically, Tal & Acacia bear resemblance to such acts as Feist, Norah Jones, Imogen Heap and Sixpence None The Richer, and credit songwriting inspiration from artists like Keith Green and Stevie Wonder. For more visit, www.talandacacia.com.
Living Anthem consists of Matt Seagle, Lucas Budde, Cory Estes, Toby Holloman and Matt Rawlins. Since forming in 2003, Living Anthem has released two independent albums and performed at some of Christian music's largest festivals, including Ichthus and Atlanta Fest. The band's debut radio single, "How Beautiful The Cross," was recently released independently and is currently receiving airplay on numerous Billboard reporting stations.
For further information on Chris and Conrad or "The Chris and Conrad Listener Appreciation Tour 2010" visit www.chrisandconrad.com.
For more info on Chris and Conrad, visit the JFH Artists Database.


[2021]
Jan. | Feb. | March | April | May | June | July | Aug. | Sept. | Oct. | Nov. | Dec.
[2020]
Jan. | Feb. | March | April | May | June | July | Aug. | Sept. | Oct. | Nov. | Dec.
[2001 - 2020]
Visit our complete MUSIC NEWS ARCHIVE