"SARAH'S CHOICE" MOVIE STARRING REBECCA ST. JAMES PREMIERS ON GMC ON MOTHER'S DAY -- SUNDAY MAY 9TH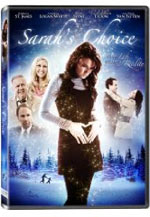 NEWS SOURCE: MorningStar PR
May 6, 2010
(Nashville, Tennessee) – May 6, 2010 – Rebecca St. James starring film role, "Sarah's Choice," will premier this Sunday, May 9th, as part of the GMC television network's special fare of Mother's Day programming.
Distributed by Pure Flix Entertainment, "Sarah's Choice" has won major national media and audience attention since its' November 2009 release.
The film, which carries a strong pro life message, offers St. James' gripping portrayal of a young career woman on the fast track to success when she discovers she's pregnant outside of marriage. The rubber-meets-the-road reality and dramatic head-on impact of the film's message has underscored "Sarah's Choice" with the support of a number of national Pro Life proponents and organizations across America.
"This is a film that every pregnancy center in America should not only have in their library but shown as a special event," noted Bill Donovan, whose executive work with CPC impacts the Anchorage, Alaska community.
Through her work in the film Rebecca has become personally passionate about the message.
She noted in a recent interview: "Every day, 3,300 women wake up believing there is no hope, and they tragically end their pregnancies. But there is hope! Through the compassionate network of pregnancy centers, outreaches such as Care Net are empowering women to choose life through the practical support and love of Jesus."
As an additional personal outreach the Australian born Grammy winner is adding a series of special national appearances at pro life organizational events throughout her 2010 concert schedule. She has also taken the message to mainstream media through recent appearances on the Fox New Channel, and will again return to Fox on June 8th for another guest appearance on "Hannity."
"Sarah's Choice" will air on GMC this Sunday, May 9th at 4:00 P.M. Eastern.
# # #
For more info on Rebecca St. James, visit the JFH Artists Database.


[2021]
Jan. | Feb. | March | April | May | June | July | Aug. | Sept. | Oct. | Nov. | Dec.
[2020]
Jan. | Feb. | March | April | May | June | July | Aug. | Sept. | Oct. | Nov. | Dec.
[2001 - 2020]
Visit our complete MUSIC NEWS ARCHIVE