JACI VELASQUEZ' STELLAR CAREER REACHES OUTER SPACE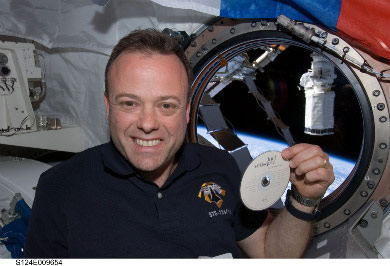 NEWS SOURCE: Nashville Publicity
May 14, 2010
(NASHVILLE, Tennessee) -- The career of Jaci Velasquez, one of the world's most successful and beloved Christian/Latin/pop singers, has expanded beyond the planet Earth thanks to NASA astronaut Ron Garan, who carried Velasquez's album Llegar a Ti with him on a recent trip to space.
Garan flew onboard the Space Shuttle Discovery on a recent 14 day mission that included nearly 9 days docked at the International Space Station, 220 miles above Earth. The disc orbited Earth 218 times, traveling over 5.7 million miles and reaching speeds over 17,000 miles per hour (Mach 25).
"I want you to know how much I appreciated listening to your music while I was in space," wrote Garan. "The environment on board the space station is very sterile and the only sounds you hear are that of pumps and fans. It was very important to be able to listen to music while living and working onboard. You definitely have a feeling of isolation while you're off the planet and listening to music allows you to have a real connection with your home. It was a wonderful experience to be able to look down at Earth while listening to your beautiful music."
Following the mission, Garan sent the disc that he had carried into space to Velasquez, along with a Certificate of Authenticity and a photo of Garan holding the CD on board the International Space Station.
"There are so many milestones in my career that I could never have anticipated," says Velasquez. "And this is definitely one of them. To hold this CD in my hands and to know that it's literally been around the world is incredible. I'm so honored."
Throughout her career, Velasquez has sold over 3.5 million albums, garnered 3 RIAA certified Platinum recordings, 3 RIAA certified Gold recordings, 16 #1 radio hits and has graced more than 50 magazine covers. This highly decorated artist has received 6 Dove Awards, Latin Billboard Female Pop Album of the Year award, 3 Grammy nominations, 2 Latin Grammy nominations, 5 Latin Billboard Award nominations, an American Music Award nomination and many more. Her resume includes ad campaigns for Pepsi, Doritos, Target, Frizz-Ease and Helzberg Diamonds, not to mention starring roles in the 20th Century Fox film Chasing Papi and the upcoming film Jerusalem Countdown opposite country star Randy Travis.
For more information on Jaci Velasquez, visit www.jacivelasquez.com.
# # #
For more info on Jaci Velasquez, visit the JFH Artists Database.


[2021]
Jan. | Feb. | March | April | May | June | July | Aug. | Sept. | Oct. | Nov. | Dec.
[2020]
Jan. | Feb. | March | April | May | June | July | Aug. | Sept. | Oct. | Nov. | Dec.
[2001 - 2020]
Visit our complete MUSIC NEWS ARCHIVE