TO SAVE A LIFE
Coming to Blu-ray™ and DVD August 3
Inspirational Movie Featuring Extensive Bonus Materials, Behind-the-Scenes Featurette, Deleted Scenes, Music Videos and More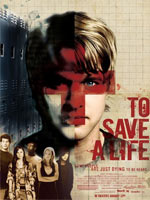 NEWS SOURCE: SPHE Publicity
May 17, 2010
CULVER CITY, CALIF. (May 17, 2010) – How far would you go to save a life? The inspirational film, To Save A Life, debuts on Blu-ray and DVD on August 3rd from Sony Pictures Home Entertainment and tells the story of the difference one person can make when they use their influence and time for others. Written by youth pastor Jim Britts and directed by Brian Baugh, To Save A Life stars Randy Wayne (The Haunting of Molly Hartley, The Dukes of Hazzard: The Beginning), Deja Kreutzberg (TV's "As the World Turns," "CSI Miami"), Joshua Weigel (The Butterfly Circus), Robert Bailey, Jr. (The Happening), Kim Hidalgo (Ball Don't Lie), Sean Michael Afable (Akeelah and the Bee), Bubba Lewis (TV's "Medium"), and Steven Crowder (TV's "Greek"). The film was produced by Nicole Franco, Steve Foster and Jim Britts, with Scott Evans serving as executive producer and Grammy award-winning Charlie Peacock as Music Supervisor. To Save A Life is loaded with bonus content including deleted scenes, music videos, filmmaker commentary track, a gag reel, and the featurette "To Save A Life: Behind the Scenes." To Save A Life will be available on Blu-ray for $34.95 SRP and DVD for $24.96 SRP.
SYNOPSIS:
Jake Taylor has it all, friends, fame, a basketball scholarship and the hottest girl in school. What could be better? Enter Roger Dawson. Roger has nothing. No friends. No hope. Nothing but put-downs and getting pushed aside. Jake and Roger were best friends when they were kids. But the politics of high school quickly pulled them apart. Now Roger doesn't fit in Jake's – or anyone's circle – and he's had enough. He walks onto campus with a gun in his pocket and pain in his heart and makes a tragic move. Jake's last-ditch effort can't stop Roger, and the sudden tragedy rocks Jake's world. Something breaks loose inside and sends him questioning everything. Most of all, he can't shake the question; could I have saved Roger? In a quest for answers, Jake finds himself looking for the next Roger and reaching out to the outcasts and lonely. But he quickly finds that crossing class castes threatens all his world is built on. And it could cost him his own friends, his girl, his dreams and even his reputation. Is it worth the price to find the answer to his ultimate question; what do I want my life to be about?
Blu-ray and DVD Special Features Include:
§ Filmmaker Commentary
§ Deleted Scenes
§ Gag Reel
§ Featurette: To Save A Life: Behind the Scenes
§ Music Videos:
o "Bounce" by J-Rus
o "Sunset Cliffs" by Paul Wright
DVD Catalog #: 35445 / BD Catalog #: 35702
DVD UPC Code: 0-43396-35445-6 / BD UPC Code: 0-43396-35702-0
DVD Order Date: 7/12/10 / BD Order Date: 7/12/10
DVD SLP: $24.96 / BD SLP: $34.95
To Save A Life has a running time of approximately 120 minutes and is rated PG-13 for mature thematic elements involving teen suicide, teen drinking, some drug content, disturbing images and sexuality.
For more on To Save A Life, visit www.ToSaveALifeMovie.com
Visit Sony Pictures Home Entertainment on the Web at www.SonyPictures.com
ABOUT SONY PICTURES HOME ENTERTAINMENT
Sony Pictures Home Entertainment is a Sony Pictures Entertainment company. SPE is a division of Sony Corporation of America, a subsidiary of Tokyo-based Sony Corporation. SPE's global operations encompass motion picture production and distribution; television production and distribution; digital content creation and distribution; worldwide channel investments; home entertainment acquisition and distribution; operation of studio facilities; development of new entertainment products, services and technologies; and distribution of filmed entertainment in more than 100 countries. Sony Pictures Entertainment can be found on the World Wide Web at http://www.sonypictures.com. For more info on Blu-ray Disc™, visit hollywoodinhighdef.com.
ABOUT AFFIRM FILMS
Affirm Films is a division of Sony Pictures Worldwide Acquisitions Group (SPWAG), a Sony Pictures Entertainment (SPE) company, dedicated to producing, acquiring and marketing films which inspire, uplift, and entertain audiences.
ABOUT NEW SONG PICTURES
New Song Pictures is proud to release To Save A Life, their debut production. New Song Pictures is based in Oceanside, CA, making films that tell relevant stories while being encouraging and uplifting.
###


[2021]
Jan. | Feb. | March | April | May | June | July | Aug. | Sept. | Oct. | Nov. | Dec.
[2020]
Jan. | Feb. | March | April | May | June | July | Aug. | Sept. | Oct. | Nov. | Dec.
[2001 - 2020]
Visit our complete MUSIC NEWS ARCHIVE