INPOP RECORDS ARTISTS TOP iTUNES CHRISTIAN CHARTS
Jimmy Needham's Album Nightlights & newsboys' Single "Born Again" Climb to No. 1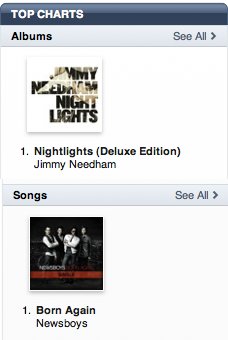 NEWS SOURCE: Savvy Media
May 19, 2010
(NASHVILLE, Tenn.) May 19, 2010 -- Inpop Records is in the spotlight this week on iTunes' Christian music charts. Singer/songwriter Jimmy Needham's May 18, 2010 release, Nightlights, rules the Top 200 Christian & Gospel Albums chart, while newsboys garnered the No. 1 position on iTunes' Top 200 Christian Songs chart with its current single "Born Again."
Needham's third label project, Nightlights, released yesterday to critical acclaim, with reviewers calling it his best album to date. Nightlights additionally landed at No. 25 on the iTunes Top 200 Albums chart that covers all music genres. The album's current single, "Yours To Take," is No. 22 this week on the Billboard Christian AC Monitored chart and No. 25 on the Christian CHR chart.
newsboys is also making impressive headway toward the July 13, 2010 release of the band's latest studio project, Born Again. The album's title track and debut radio single, which is currently No. 1 on the Billboard Christian CHR chart for a second consecutive week, released to iTunes yesterday and has already rocketed to No. 1 on iTunes' Top 200 Christian Songs chart.
Andrew Patton, Inpop Records general manager, comments, "Inpop Records continues to assert its status among today's top independent Christian music labels. This week's iTunes chart numbers merely affirm that Inpop remains on the up and up, and I am excited about the precedent this sets for the label moving forward. Congratulations to both Jimmy and newsboys!"
Katy, Texas native Jimmy Needham released his first album, Speak, on Inpop Records in 2006. The album earned wide recognition among industry circles and generated three singles "Fence Riders"(#14), "Dearly Loved"(#8), and "Lost At Sea," which spent 12 weeks at No. 2. Needham's second project, Not Without Love, produced four hit singles including "Forgiven and Loved," his break-out Christian AC hit which climbed to No. 6, while "A Breath Or Two" peaked at No. 3 on Christian CHR radio. His third album, Nightlights, released May 18, 2010 to rave reviews, showcasing Needham's growth as a singer/songwriter and performer. The album's first single, "Yours To Take," is currently climbing the Christian AC and CHR radio charts.
GRAMMY®-nominated and Dove Award-winning band newsboys has achieved what few artists have in their lifetime. The band has sold more than 6.5 million units, garnered five Gold albums, 21 No. 1 hits, and are renowned for its heart-pumping live shows. Last year, when longtime members Jody Davis (guitar), Jeff Frankenstein (keys) and Duncan Phillips (drums) welcomed the vocal strengths, writing talents and boundless energy of former dc Talk member Michael Tait to the band, it was clearly a good reason for newsboys to feel 'born again' and share brand new songs with fans old and new. Born Again is newsboys' 15th studio project.
Inpop Records is an independent Christian music label based in Brentwood, Tenn. Founded in 1999 by newsboys founder and longtime frontman Peter Furler, artist manager Wes Campbell and Australian businessman Dale Bray, Inpop is home to some of the best-known bands in Christian music. Distributed by EMI Christian Music Group, Inpop Records has become one of the top-selling independent labels within the industry, having established a reputation for seeking out the best artists in emerging talent and for expanding the Christian music marketplace with sound and ideas. Inpop artists have scored numerous No. 1 radio hits, earned multiple awards and nominations and achieved recognition around the world. Inpop's current roster includes newsboys, Superchick, Mat Kearney, Shane and Shane, Jimmy Needham, Newworldson and Article One, among others.
###
For more info on Jimmy Needham, visit the JFH Artists Database.
For more info on newsboys, visit the JFH Artists Database.


[2021]
Jan. | Feb. | March | April | May | June | July | Aug. | Sept. | Oct. | Nov. | Dec.
[2020]
Jan. | Feb. | March | April | May | June | July | Aug. | Sept. | Oct. | Nov. | Dec.
[2001 - 2020]
Visit our complete MUSIC NEWS ARCHIVE