FOR TODAY HIT THE STUDIO TO RECORD NEW ALBUM "BREAKER"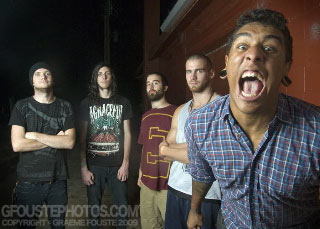 NEWS SOURCE: Facedown Records
May 26, 2010
For Today have begun recording their new album at The Machine Shop with Will Putney (bloodsimple., Haste The Day) handling the production duties. The follow up to 2009's Portraits will be called Breaker and is expected to be released later this year. In the meantime, you can catch For Today on the Scream The Prayer tour this summer. (dates below)
Facedown Records asked Mattie about For Today's progress on the new album:
"For about two weeks now, we've been working on recording our new album out here in New Jersey at The Machine Shop. It's so amazing to see these songs beginning to come together! This album is shaping up to be the heaviest, most intense, confrontational material we've ever released, and we are all so ready to get it out.
The album will be called "Breaker", and stands as a post in the ground, signifying a moment that has been in the works since before the foundations of the earth were laid. I see a generation of hopeless, abandoned, and addicted people finally having the chains of deception broken off of them, and being sent forth, no longer as broken people, but in unity, as the Breaker. This album is their manifesto."
Scream The Prayer Tour

6/30 Bushnell, IL @ Cornerstone Festival
7/1 Bushnell, IL @ Cornerstone Festival
7/2 Nashville, TN @ Rockettown
7/3 Charlotte, NC @ Amos
7/4 Douglasville, GA @ The 7 Venue
7/5 Orlando, FL @ Lyrica
7/6 Jacksonville, FL @ Murray Hill Theatre
7/7 Birmingham, AL @ Zydeco
7/8 Pensacola, FL @ American Legion
7/9 Houston, TX @ The Warsaw
7/10 San Antonio, TX @ White Rabbit
7/11 Dallas, TX @ The Door
7/12 Tulsa, OK @ The Marquee
7/13 Memphis, TN @ The Arbor
7/14 Louisville, KY @ Headliners
7/16 Willmar, MN @ Sonshine Festival
7/17 Omaha, NE @ Grace University
7/18 St Louis, MO @ Firebird
7/20 Albuquerque, NM @ Wool Warehouse
7/22 Las Vegas, NV @ The Farm
7/23 San Diego, CA @ Epicenter
7/24 Pomona, CA @ Glasshouse
7/25 Orangevale, CA @ Club Retro
7/27 Seattle, WA @ Studio Seven
7/30 Salt Lake City, UT @ In The Venue
7/31 Denver, CO @ Heavenfest
8/3 Dayton, OH @ The Attic
8/5 Gilford, NH @ Soulfest
8/6 Vineland, NJ @ Hangar 84
8/7 Allentown, PA @ Crocodile Rock
8/8 Baltimore, MD @ Sonar
###
For more info on For Today, visit the JFH Artists Database.


[2021]
Jan. | Feb. | March | April | May | June | July | Aug. | Sept. | Oct. | Nov. | Dec.
[2020]
Jan. | Feb. | March | April | May | June | July | Aug. | Sept. | Oct. | Nov. | Dec.
[2001 - 2020]
Visit our complete MUSIC NEWS ARCHIVE